Words can't describe it ....
   We're not kidding---This one is HUGE!!

..and here it comes!!

ESTATE OF

DONALD & MARY ANN ENGLEBERT
Saturday, June 23, 10:30 a.m.
1453 County Road C, Brussels, WI

More auction info, Mark (920)559-0669 

Selling…Complete Farm Equipment Line,

Super Selection of Antique Farm Equipment,

Primitives, and Collectibles!

All that is Brussels in Door County History from over 100 years in the family.

Auction includes many items from the Estate of Howard Springliare whose farm  was equally rich in history as evident by the many old log buildings. The Springliare farm  shared a fenceline with and went on to become part of the Englebert Farm.

This type of untouched original-owner farm auction is fast becoming a thing of the past as

typical family farms and their history fade into the history books now being written--

and as the landscape changes, and the old buildings full of the rural history they preserved are left with no "next generation" to run & preserve them.

Come for a few hours to relive the history, and take home a piece of Door County History

to preserve and enjoy on your own.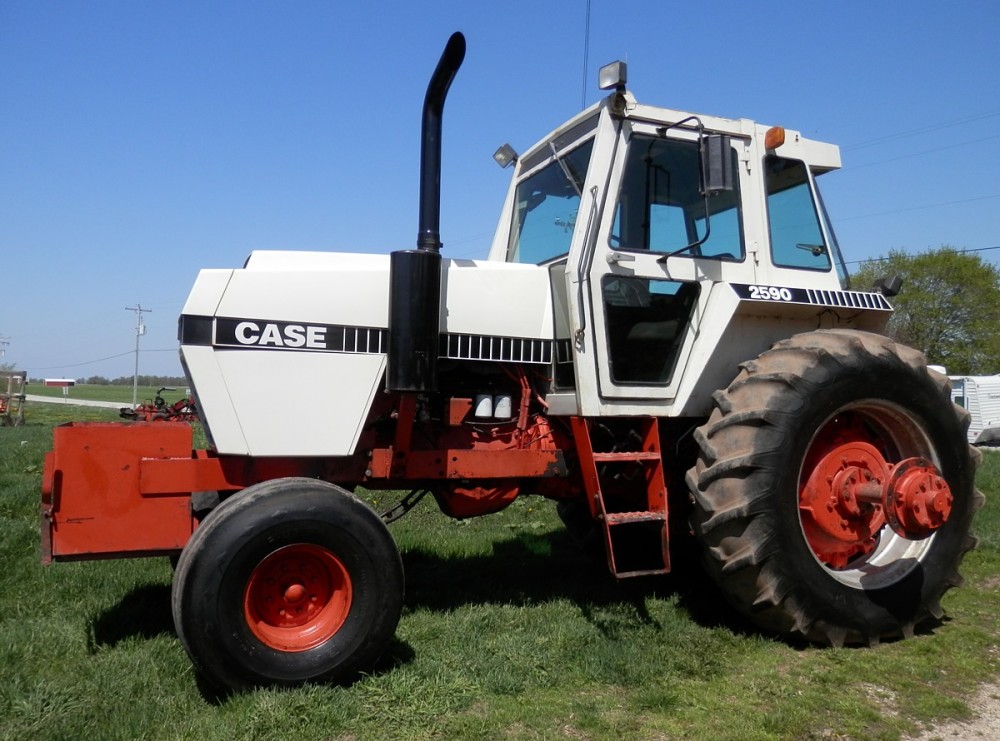 Case 2590 Cab, PS, TR, 20.8-38's w/good hub duals.

 A clean, clean Case!  (Offered on Bidspotter)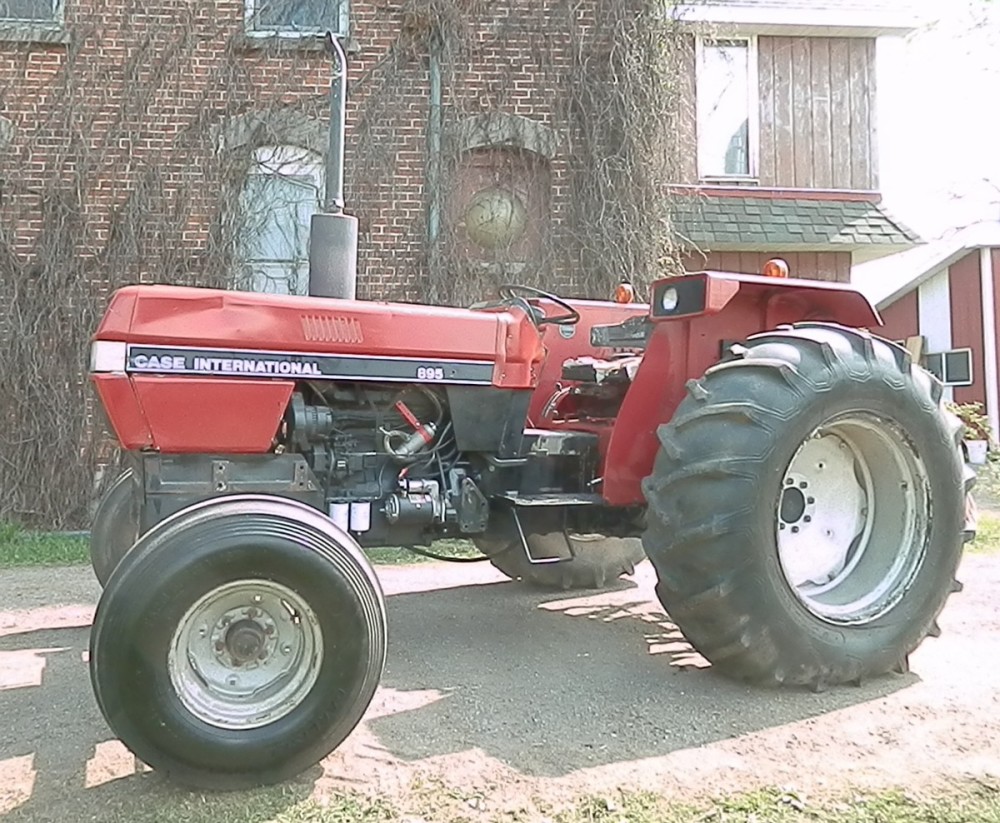 CIH 895 ROPS Utility Tractor, DL, DR, TA, 18.4-30's, 3-pt. (Offered on Bidspotter)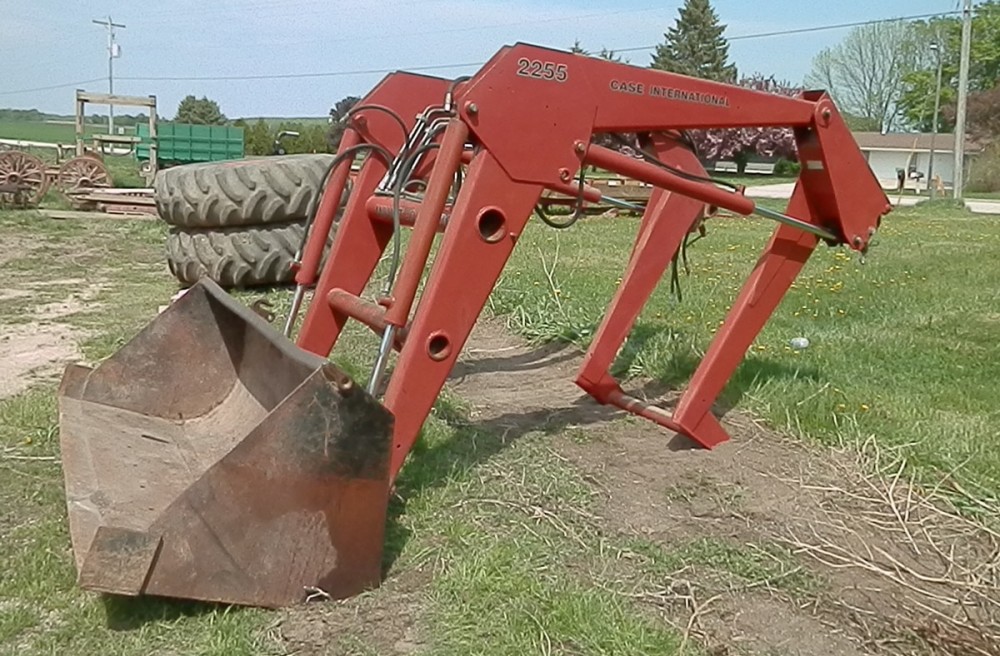 Case IH 2255 All-Hyd. Loader w/brackets, Ind. Valve,

Hi-Clearance (Offered on Bidspotter)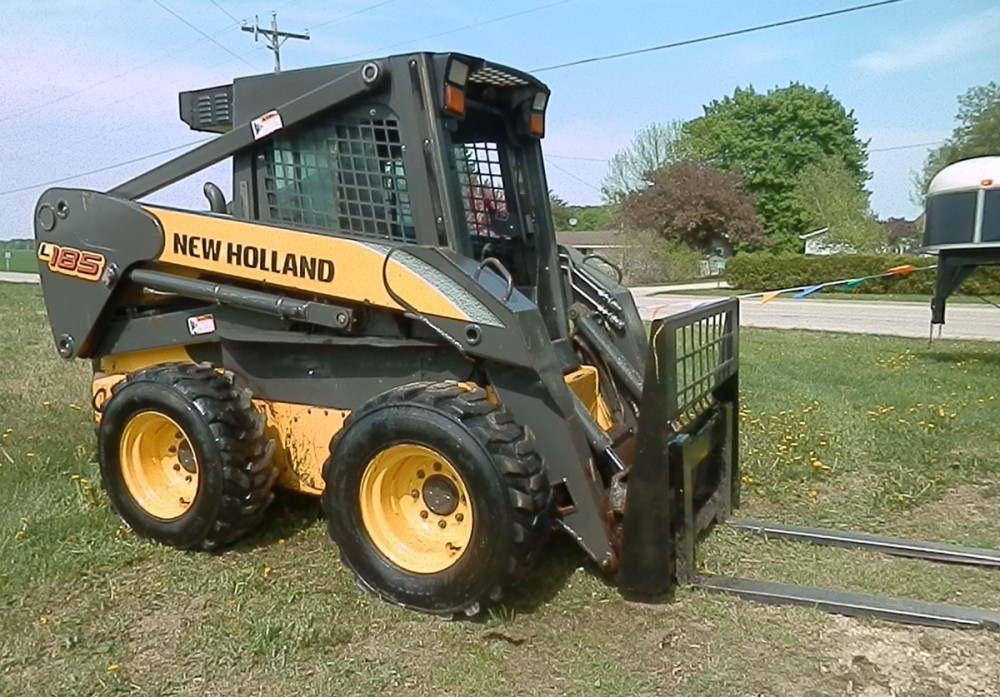 FNH 185 Skid Steer, 2-spd., QT, Cab, 1752 Hrs.—Popular!  (offered on Bidspotter)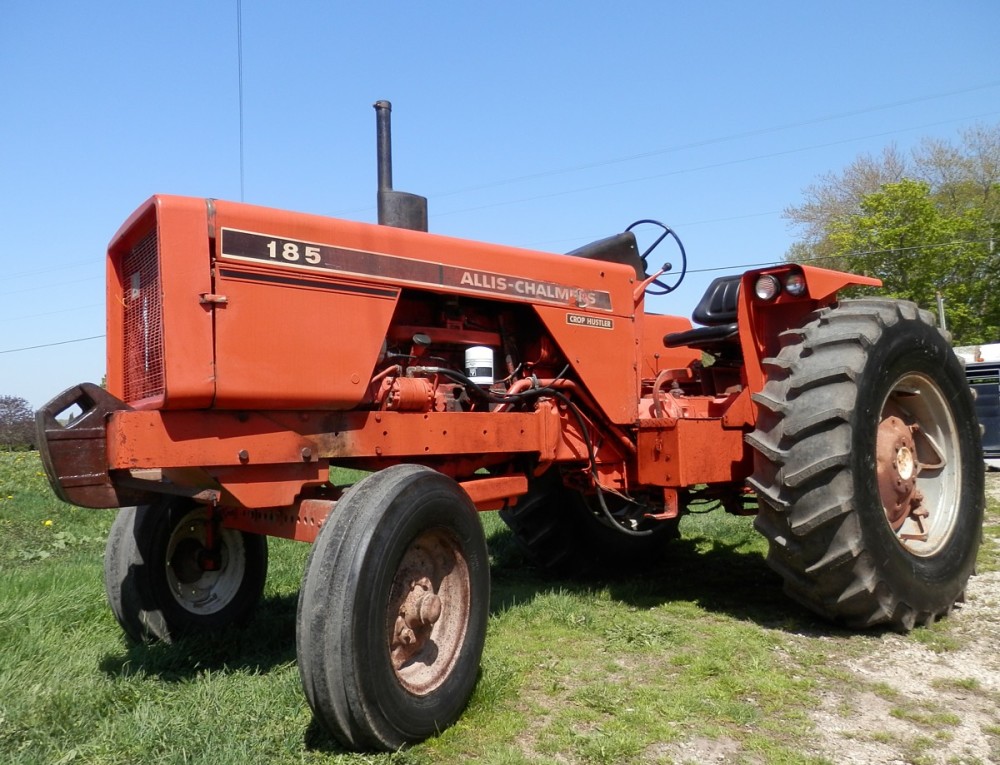 Allis Chalmers 185 "Crop Hustler" Dsl., DR, 18.4-30
Showing 2400 hrs., meter not working.  (Offered on Bidspotter)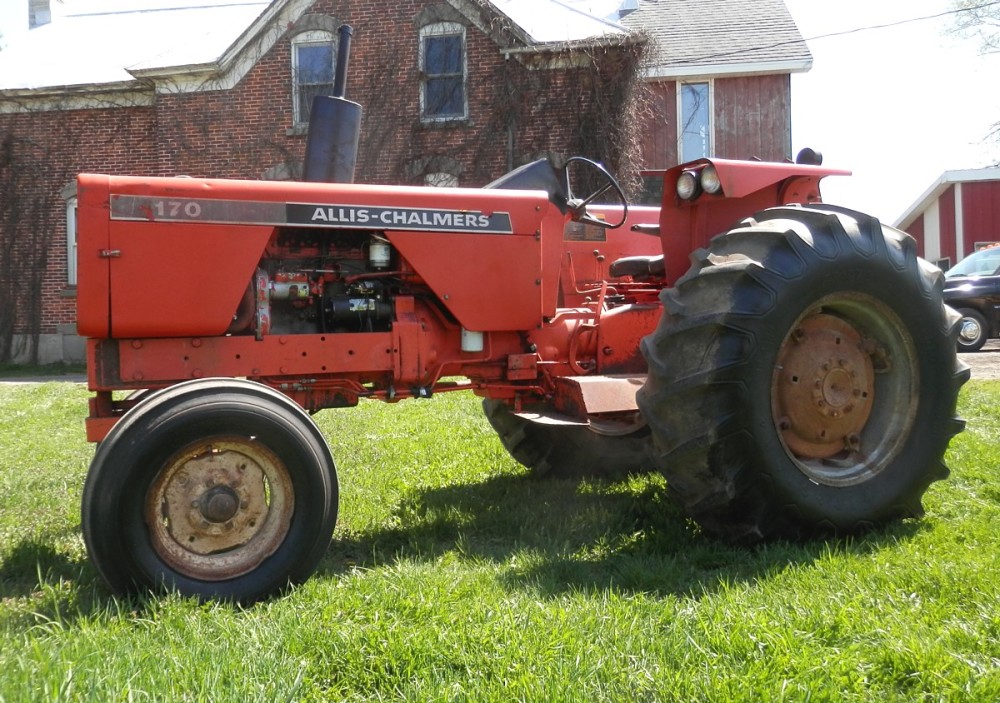 Allis Chalmers 175 (with a 170 decal), showing 2335 hrs.,
Foot throttle, 3-pt., SR, 540 RPM  (Offered on Bidspotter)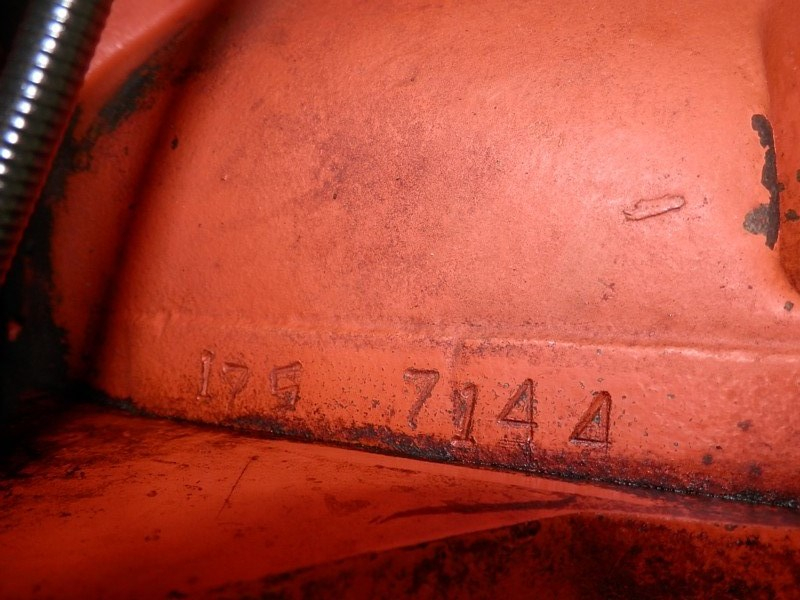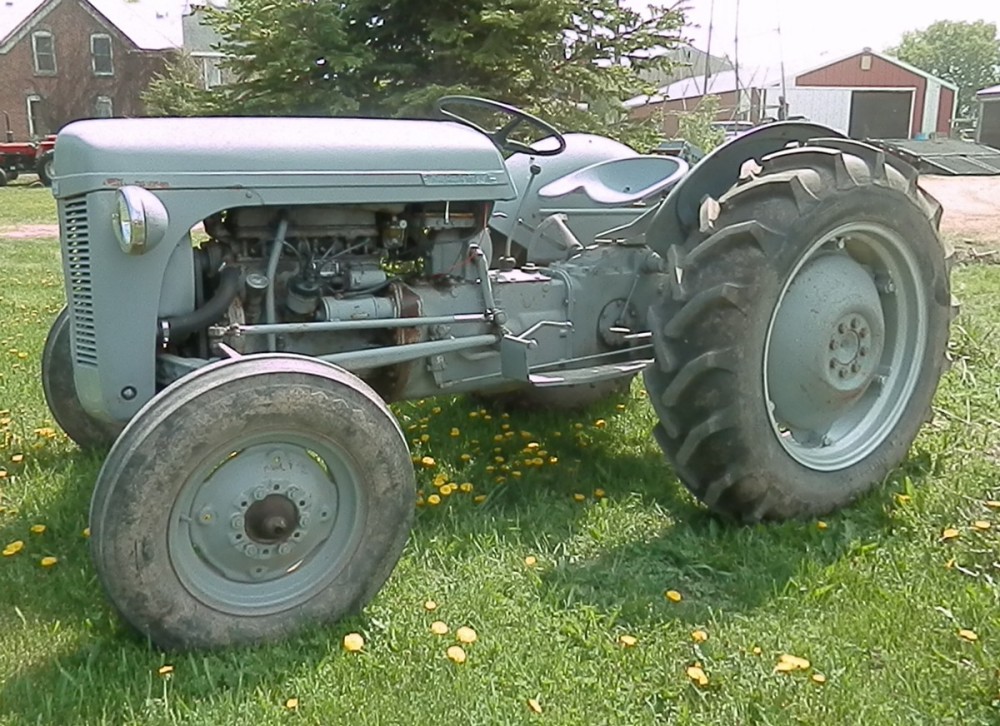 Ferguson T-30, Straight tin, runs good!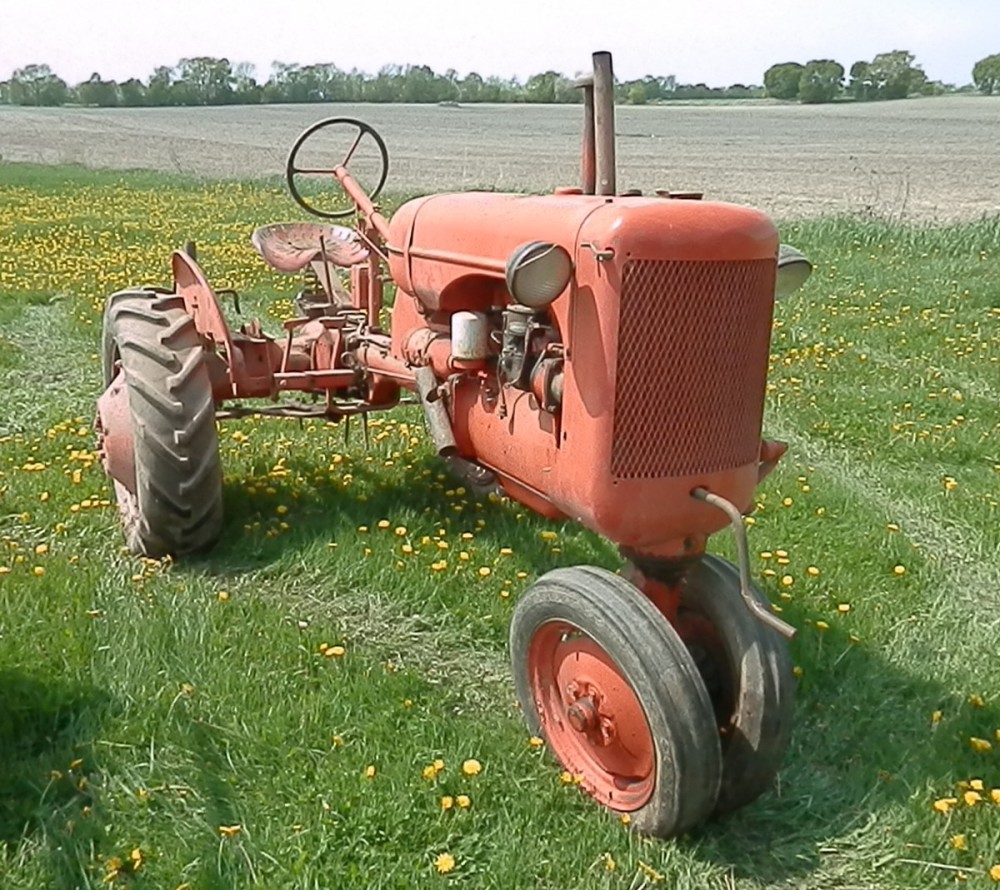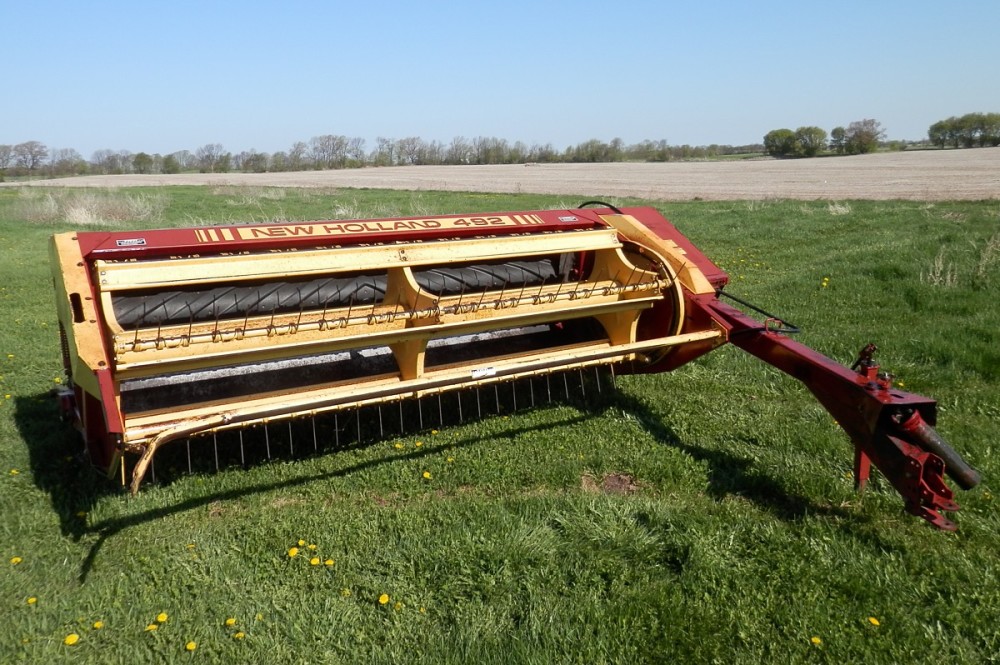 Ford NH 492 9' Haybine, nice rolls, part of a great hay line! (Offered on Bidspotter)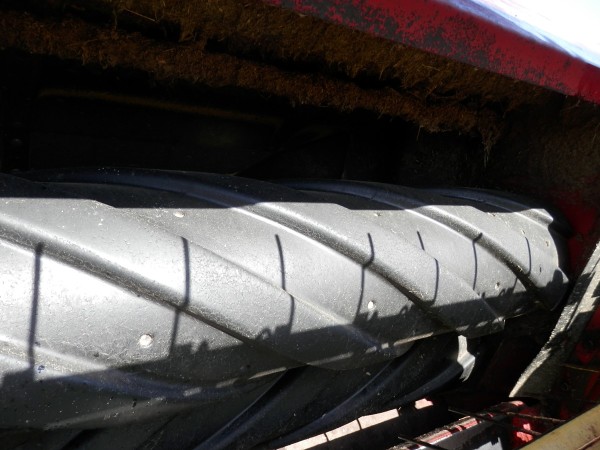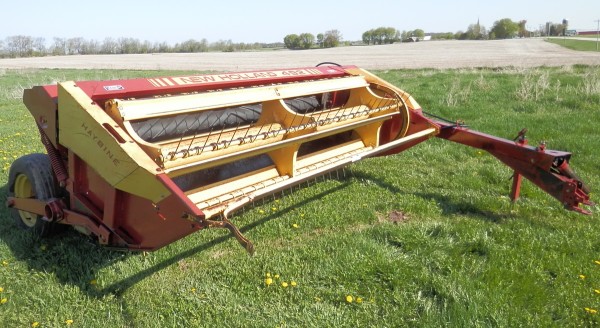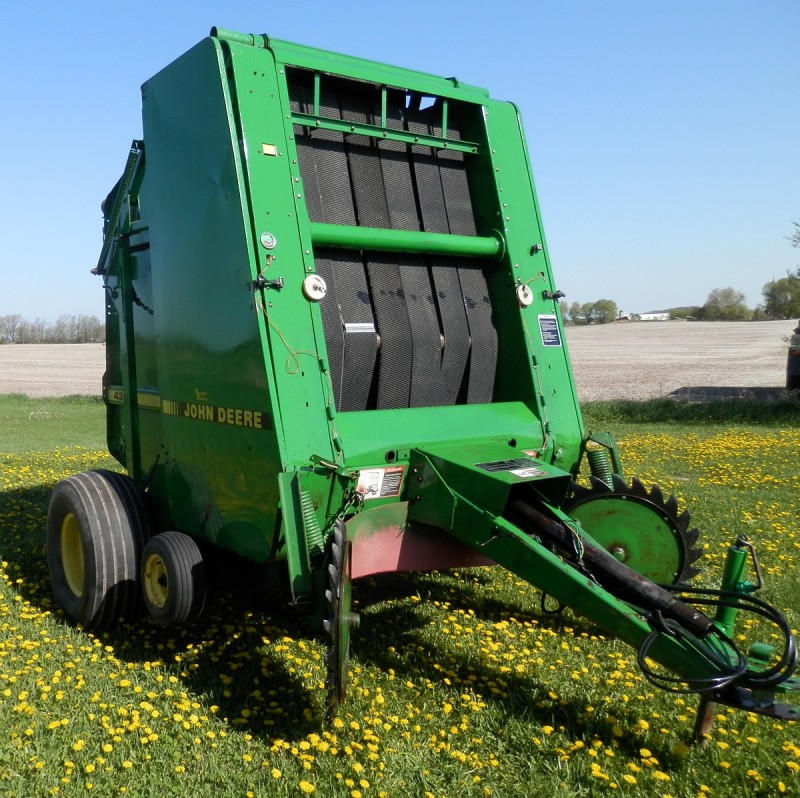 JD 435 Rd. Baler, Merge Wheels, like new belts, elec. controls—

recent dealer PM. (Offered on Bidspotter)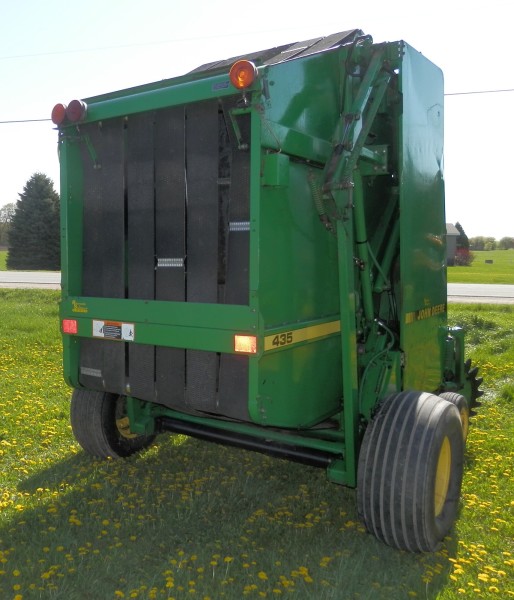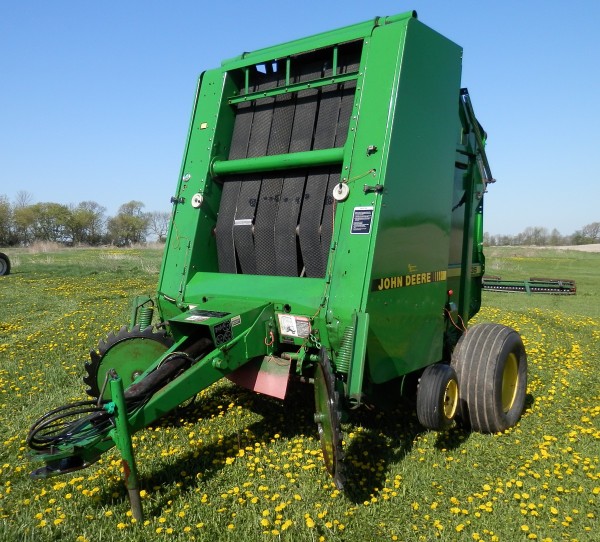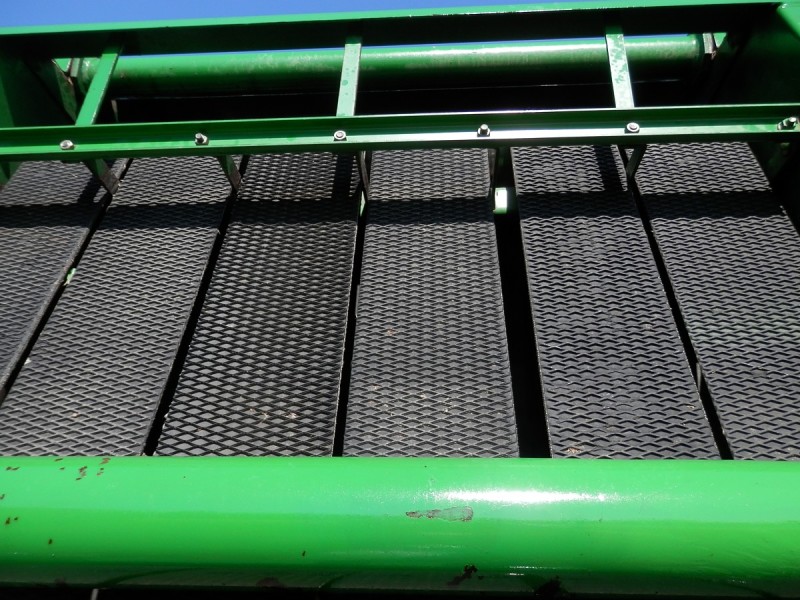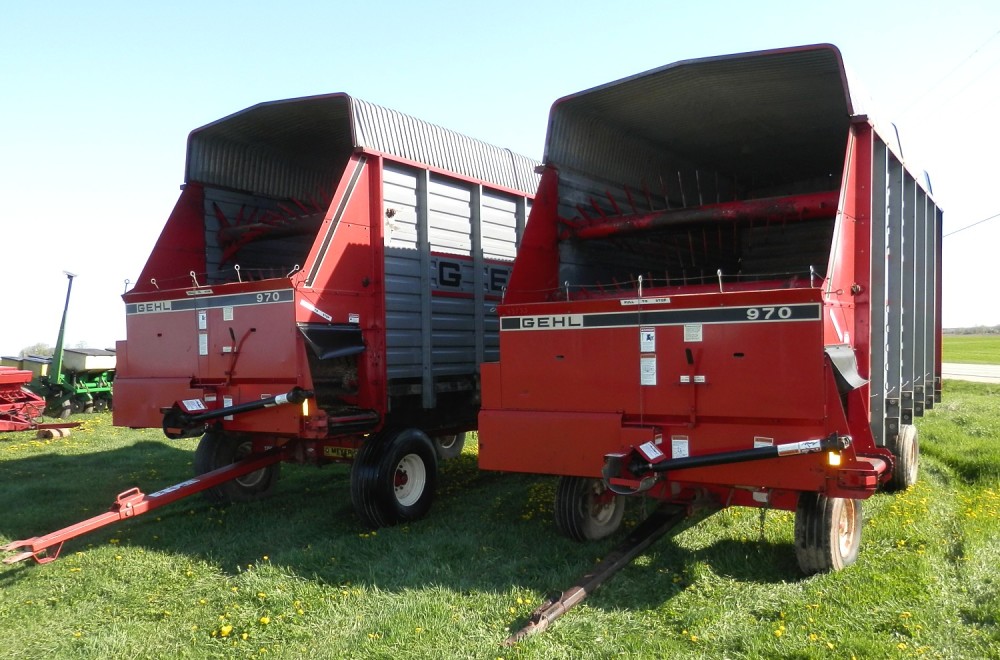 2-Gehl 970 16' LH SU wagons....Great Paint & Very Clean! (Offered on Bidspotter)
One on Knowles 6-bolt gear...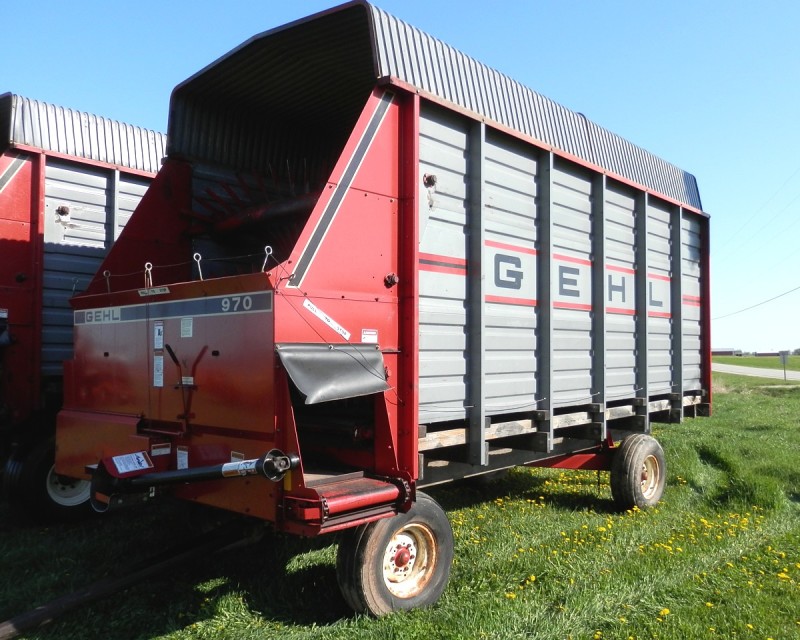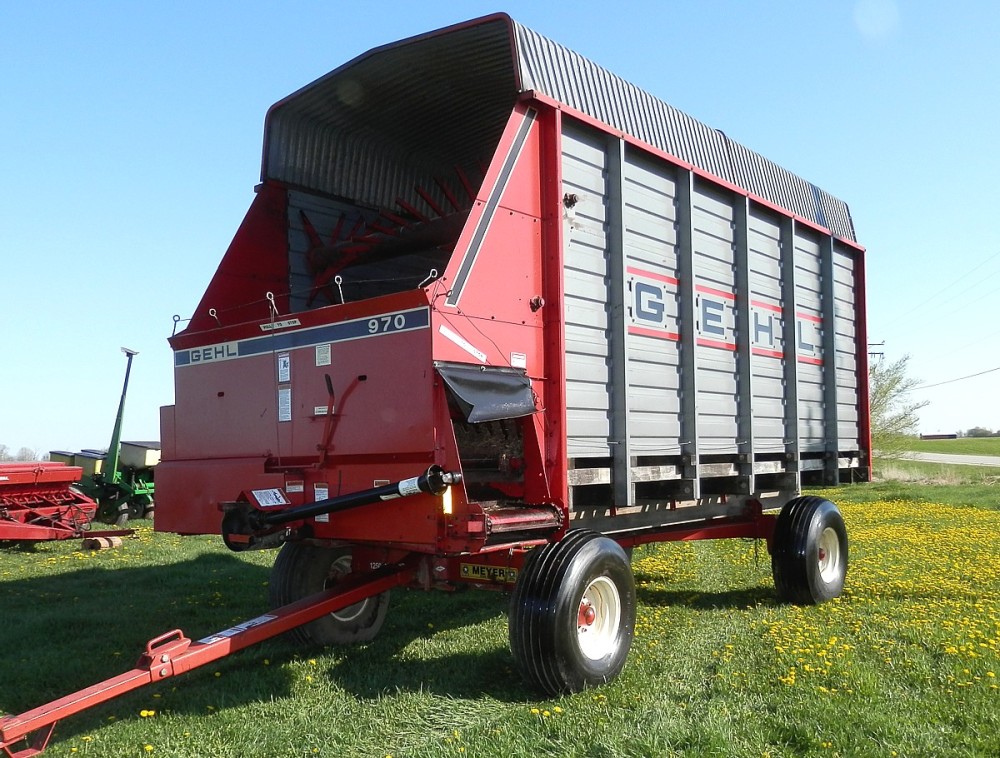 This one on a like new Meyers 1250 Series 8-bolt 14T Gear w/16.1x16.5 imps.  BOTH NICE!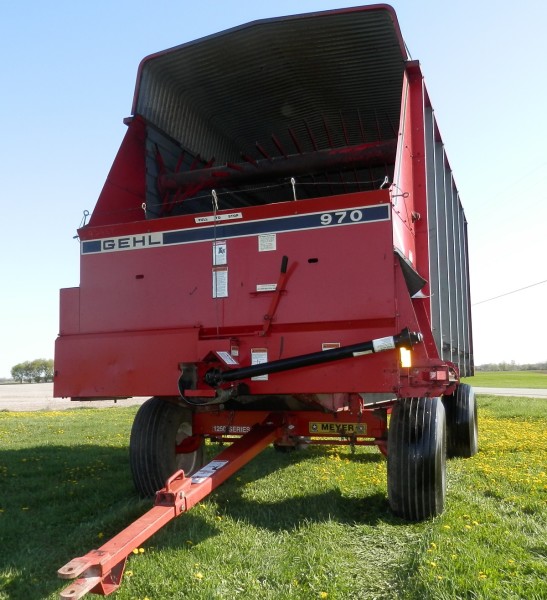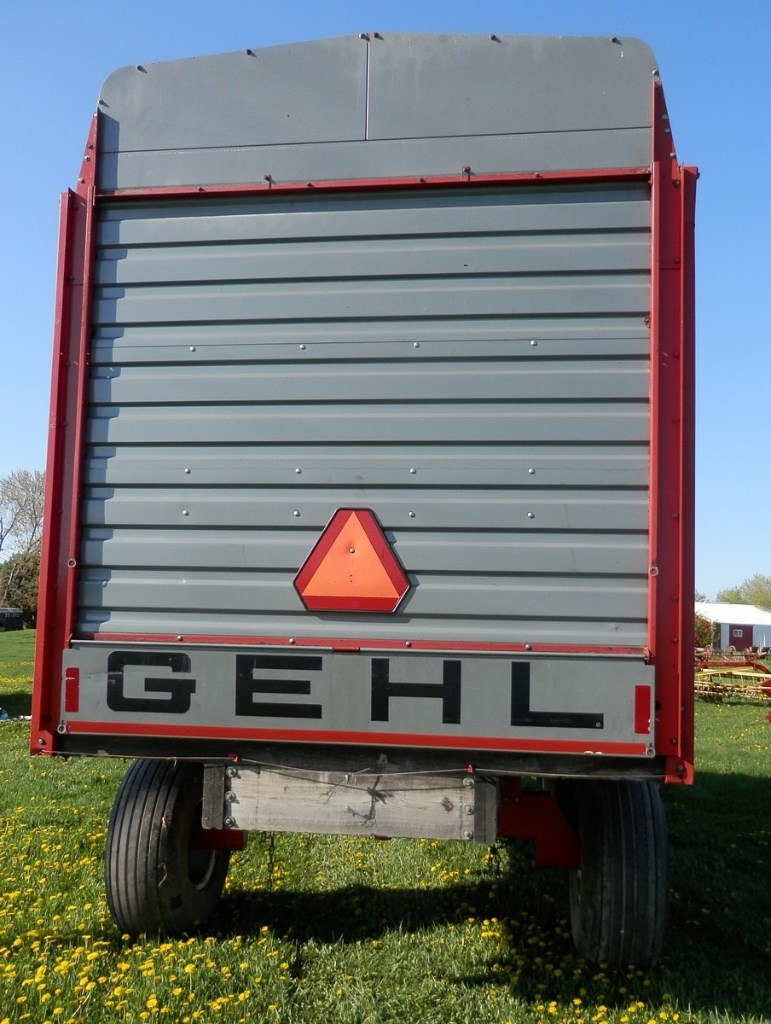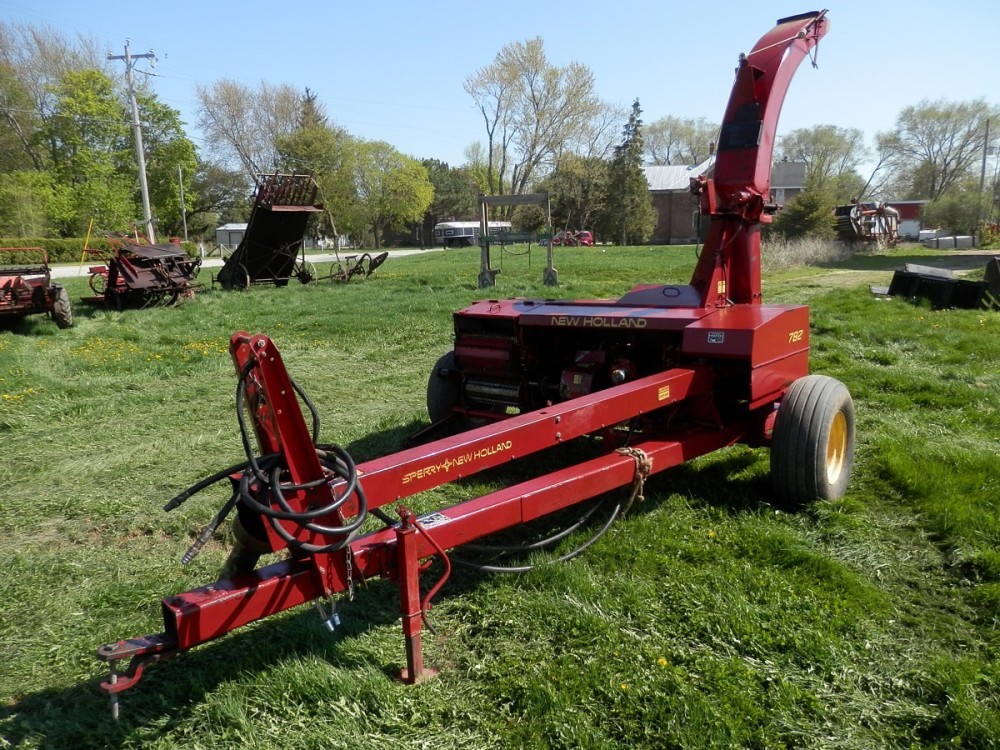 NH 782 Forage Chopper--base only, elec. controls.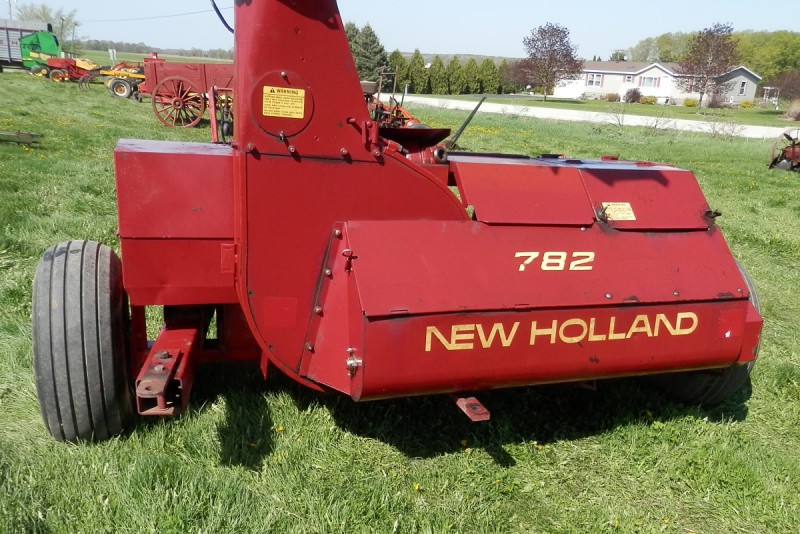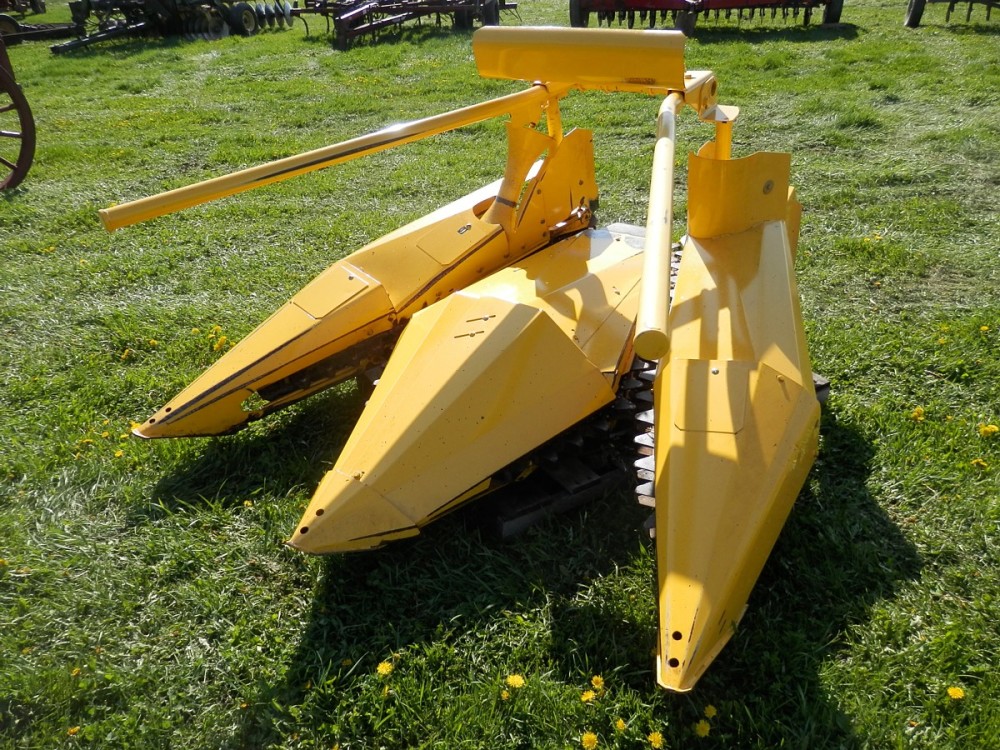 CIH NH 824 Corn Head, very limited use--filled two small silos! (Offered on Bidspotter)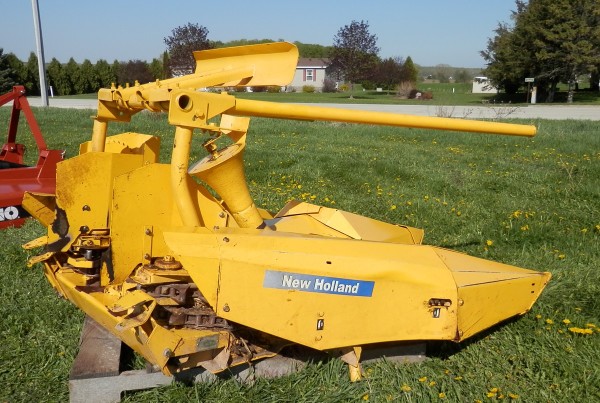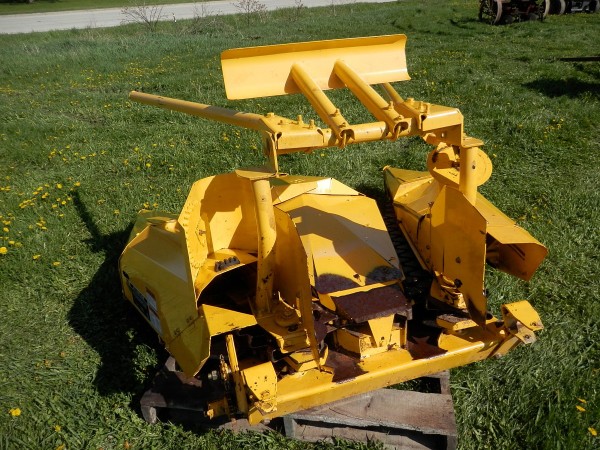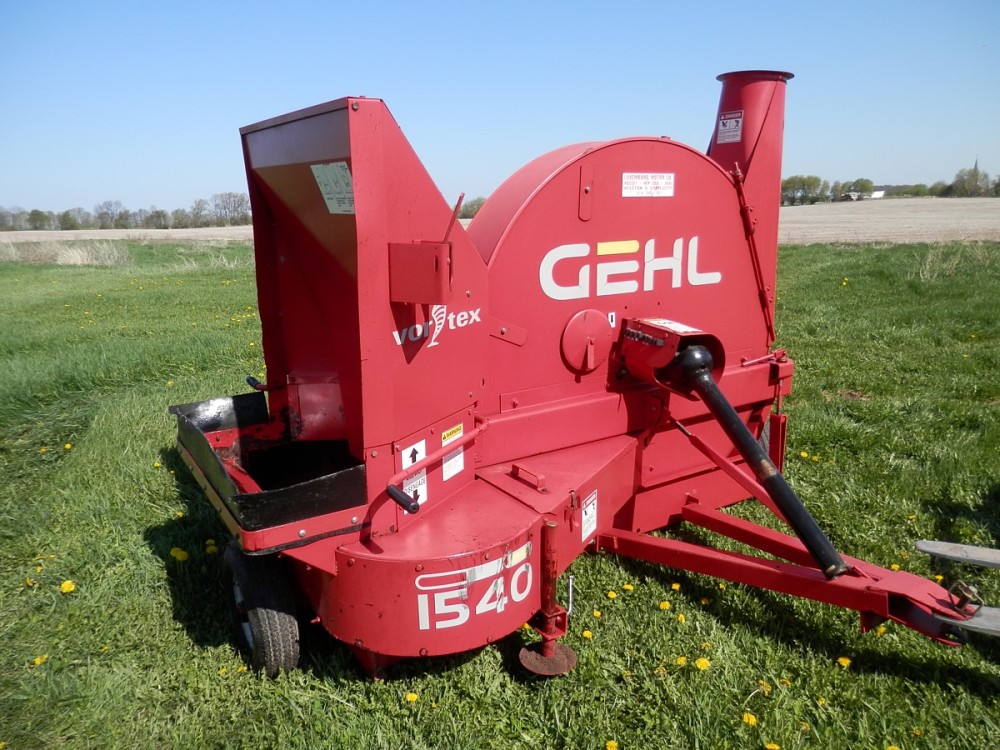 Gehl 1540 Vortex Forage Blower (Offered on Bidspotter)

540 pto, most of the paint still on the spinner--purchased new & limited lifetime use!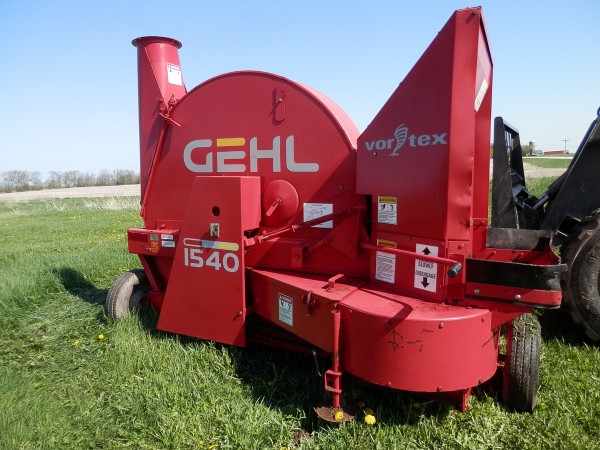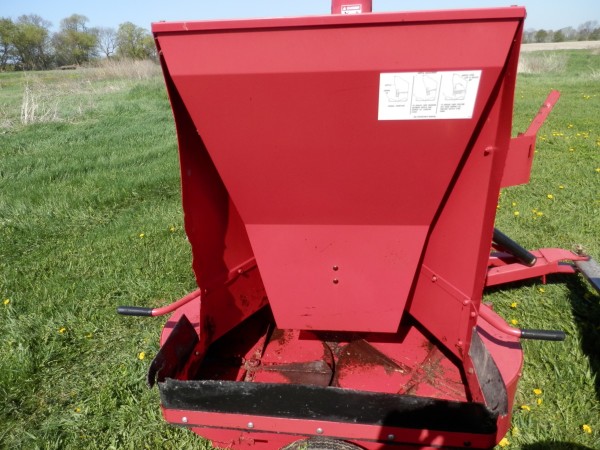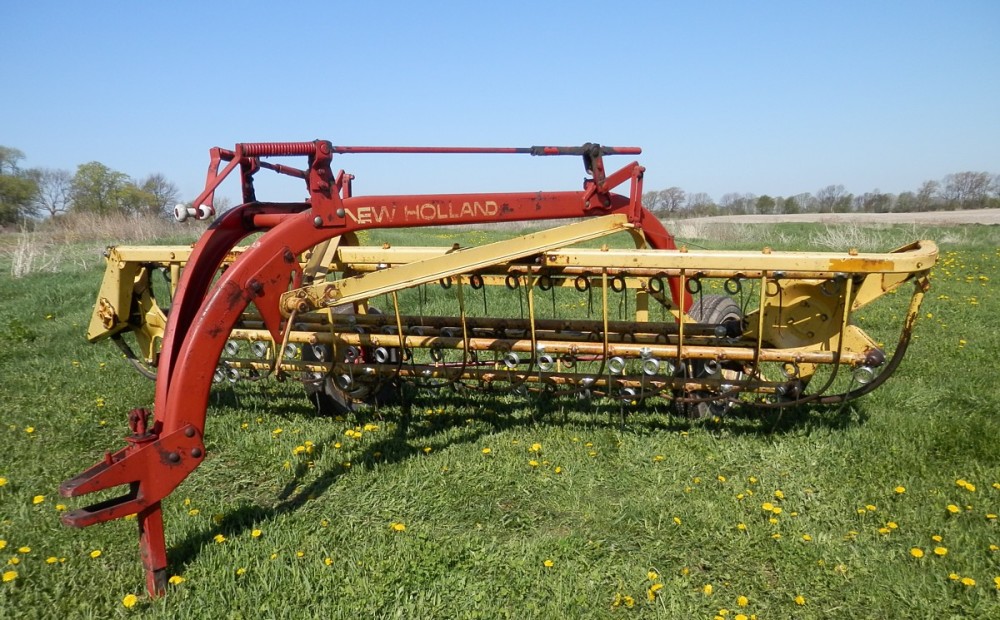 New Holland 258 5-bar rake, completely gone through by dealer---

over $3,000 in repairs & rebuild--gear box, new teeth, and end rollbar bearings.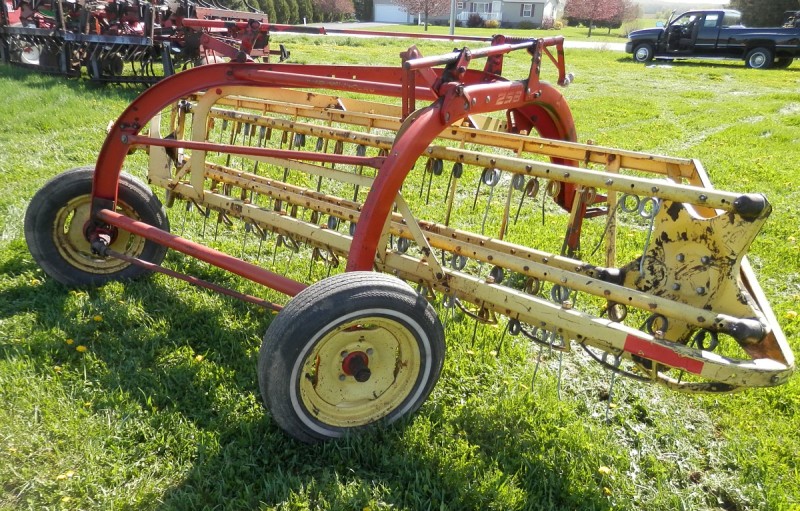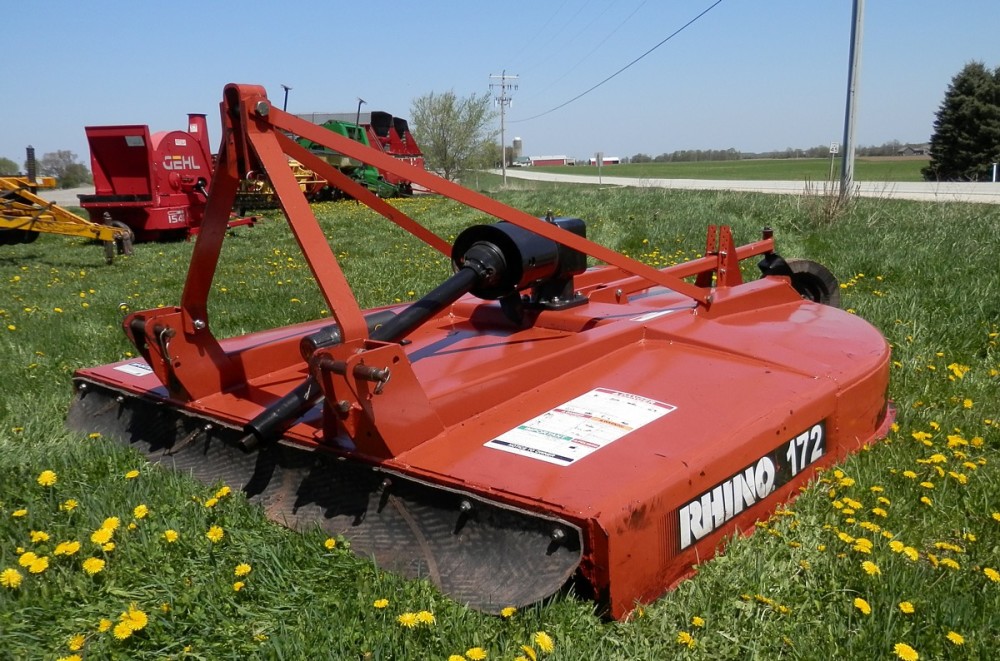 Rhino 172 7-ft. 3-pt. Rotary Mower, Slip Clutch---Excellent!! (Offered on Bidspotter)


TILLAGE & PLANTING....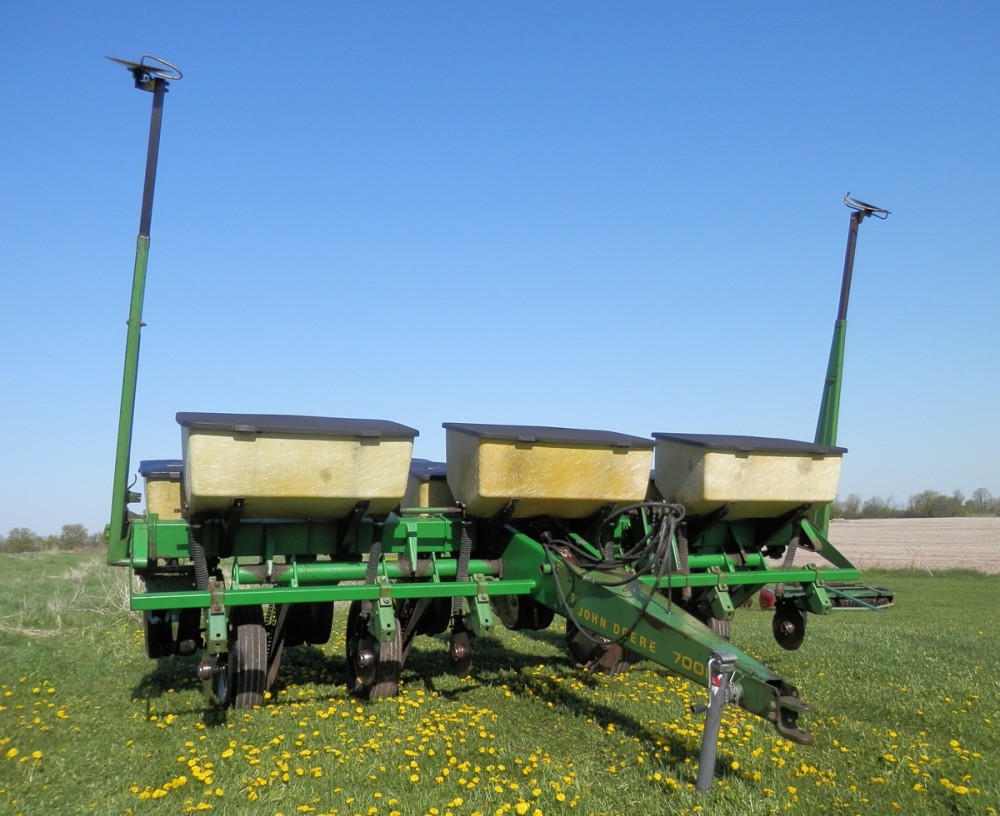 JD 7000 6RN Planter, dry fert, monitor-straight!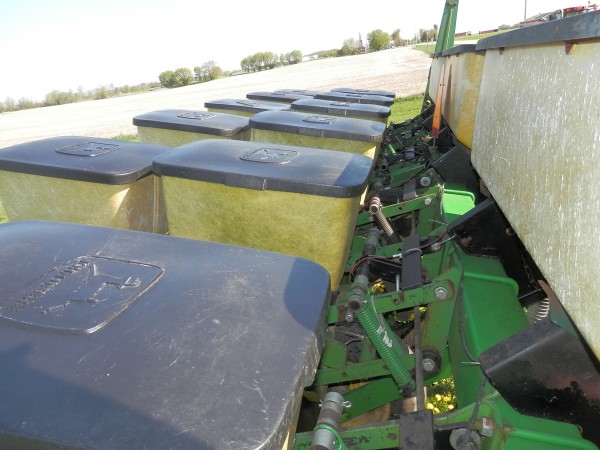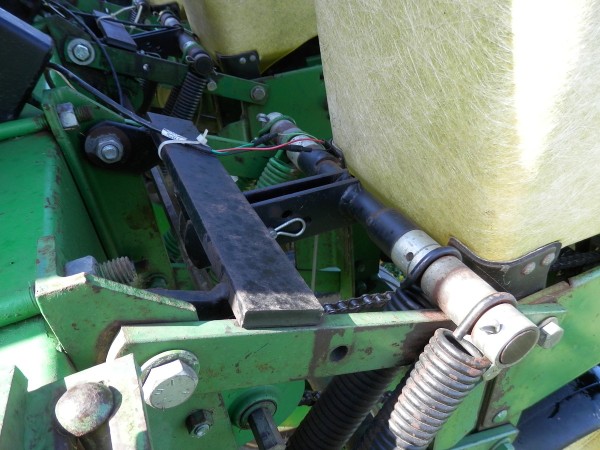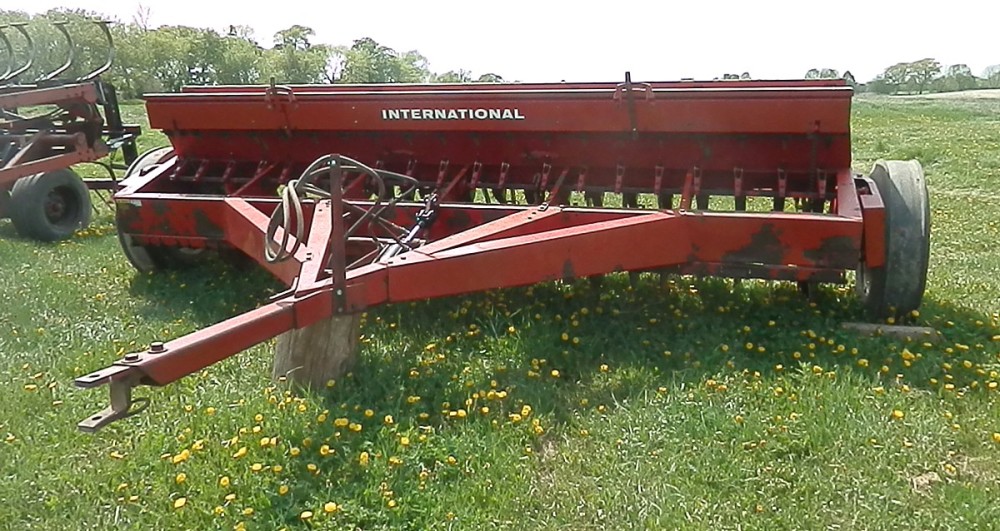 IH 5100 14' 20x8" Drill, Marker tires.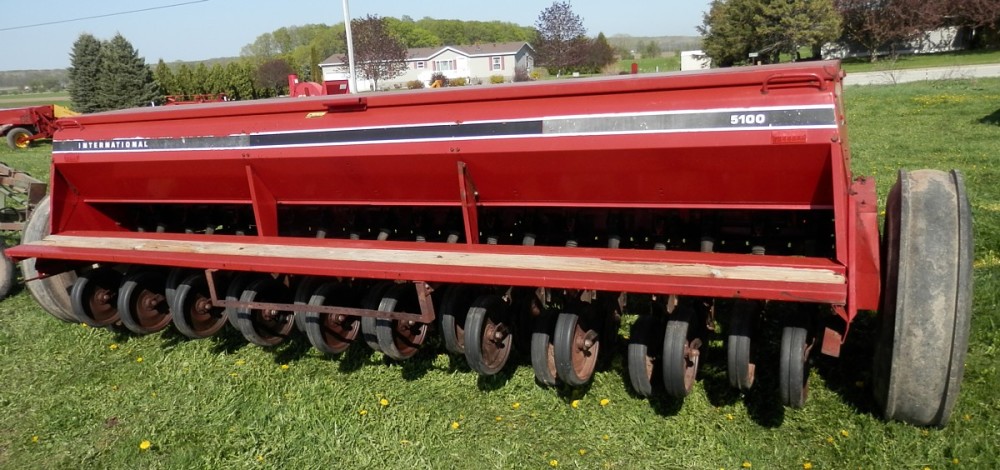 Brillion 16' Cultimulcher, dual inboard wheels, C-shanks w/shovels.  Good Condition!

Landoll Mdl. 275 Soil Master 7 sh. DisK Chisel

Fore/aft adj., curved shanks--Good Paint!
Also selling...JD 230 Cushion Gang Dual-Wing Disk, 4 wheels on base, single wheels on wings.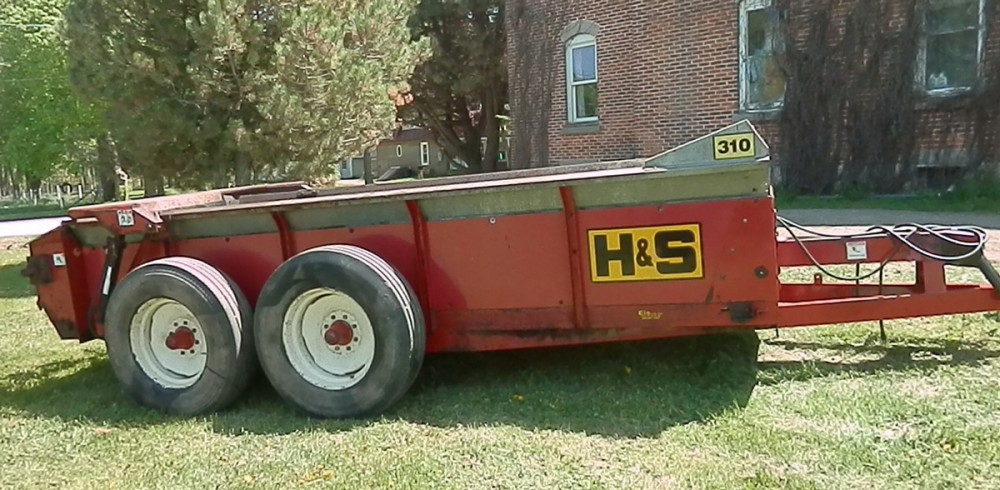 H&S 310 tandem axle manure spreader, Poly Floor, Hyd. Endgate--Solid! (Offered on Bidspotter)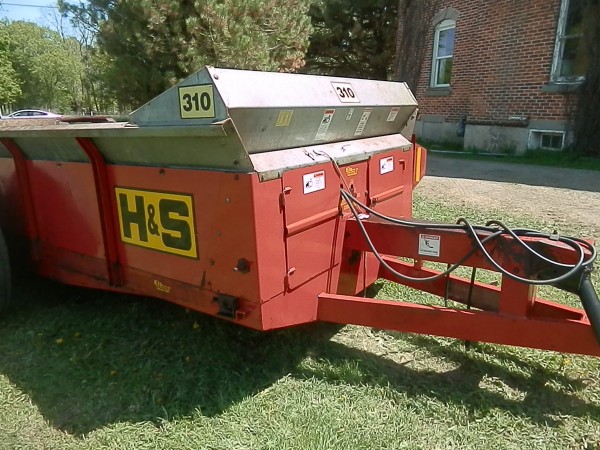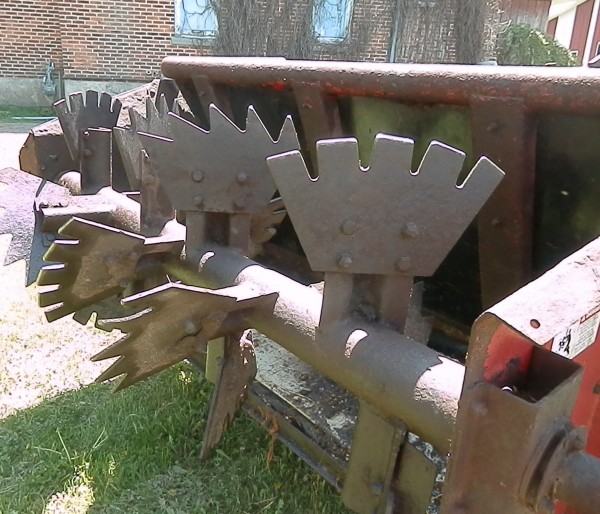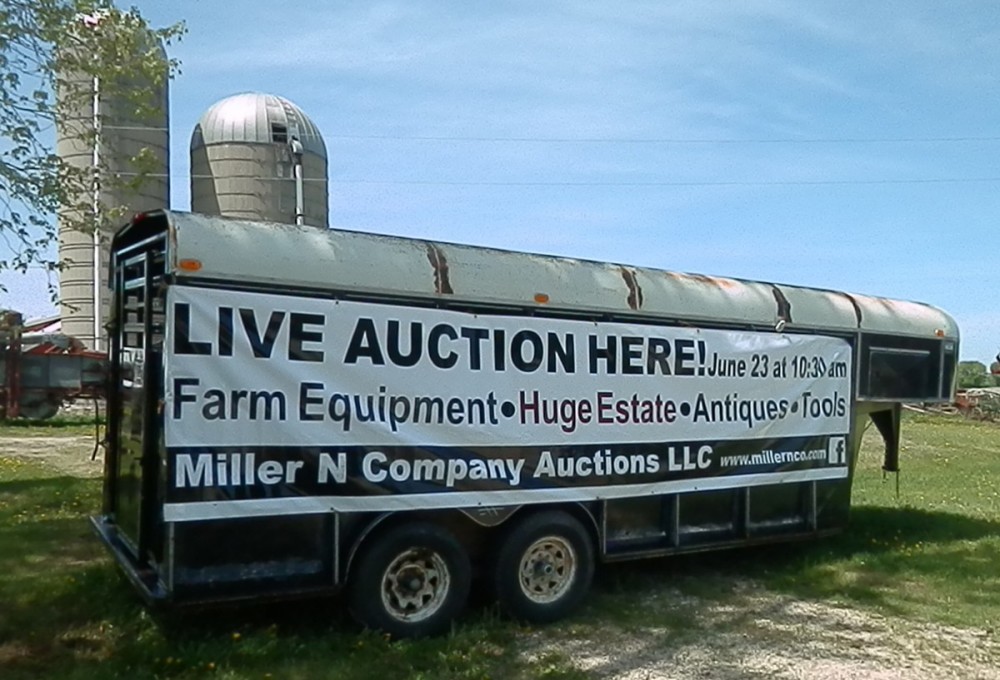 Chaparral 18' Stock Trailer, 8-bolt hubs, center splitter w/roller—solid! (Offered on Bidspotter)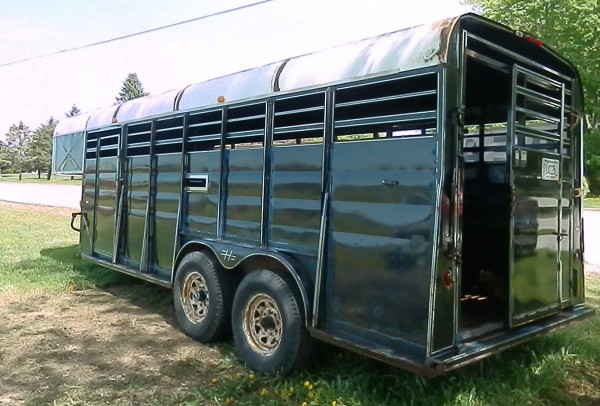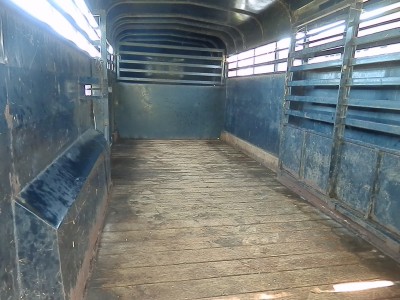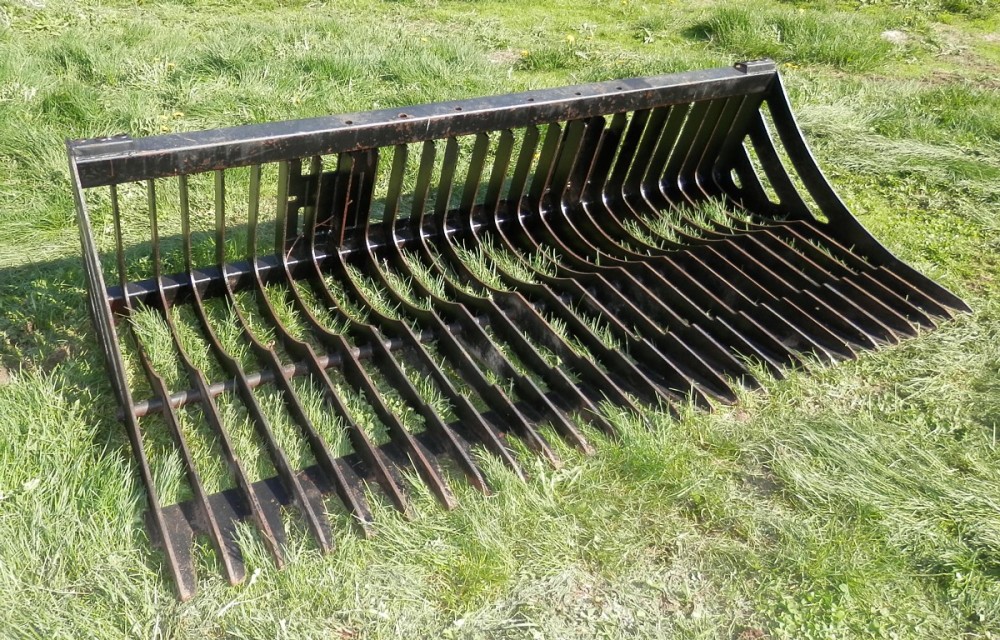 Nice 7-ft. QT Rock Bucket!
The line-up in progress.....
Farm Equipment---Now & Then starting @ 12:30 p.m. with
online items offered at Bidspotter.com starting at 1 p.m.
Look for some great antique machinery, horse drawn & automated--
shedded and stored for years on the Englebert's farm.
There's a new count.....14 wagons and over 80 pallets!
We'll be selling in 2 rings for a portion of the auction, bring a friend--and a TRAILER!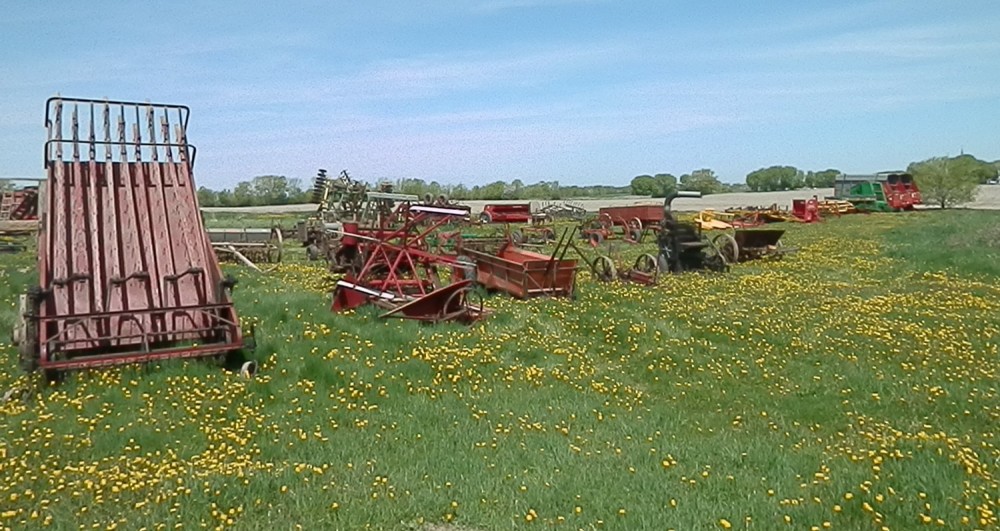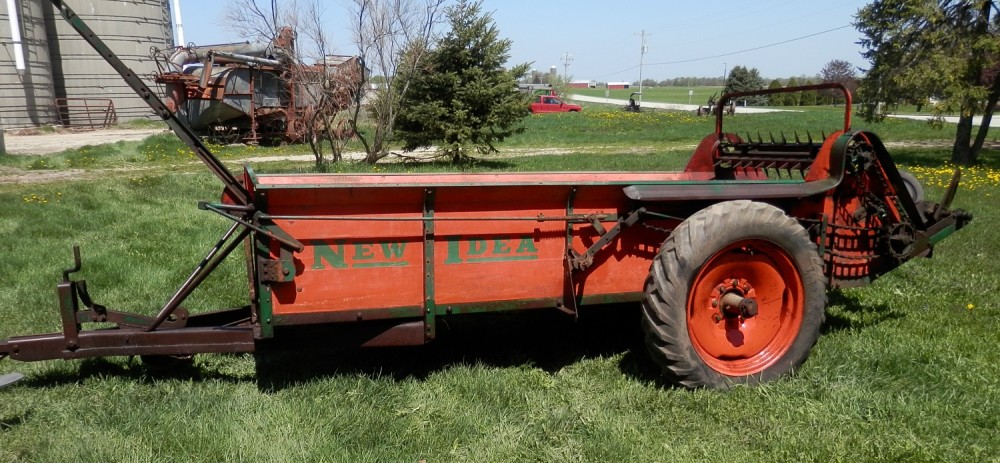 New Idea No. 12A ground driven manure spreader, dresser beater, 7.5-24 traction tires,

good combs. 

A nice looking & solid working spreader!  She's a beauty!  (Offered on Bidspotter)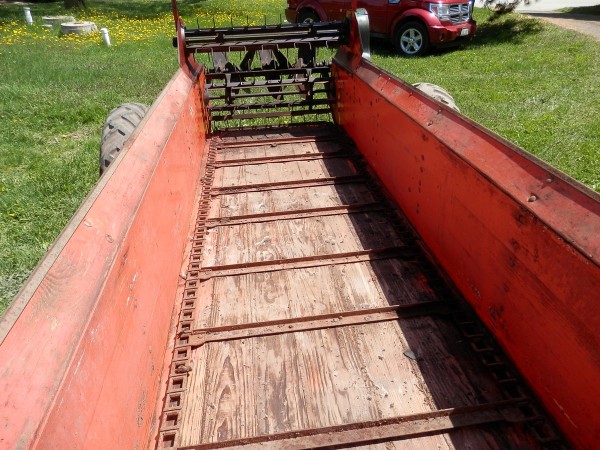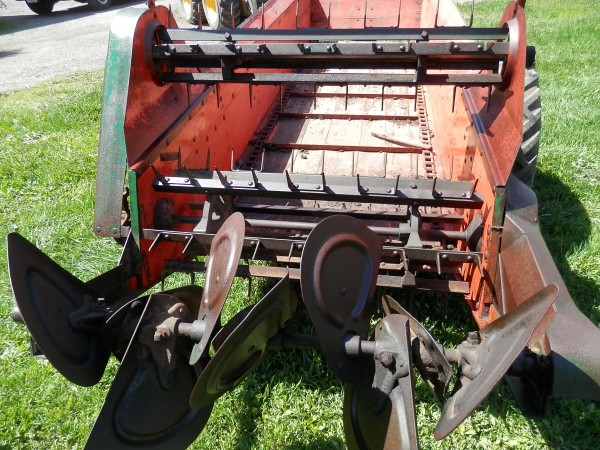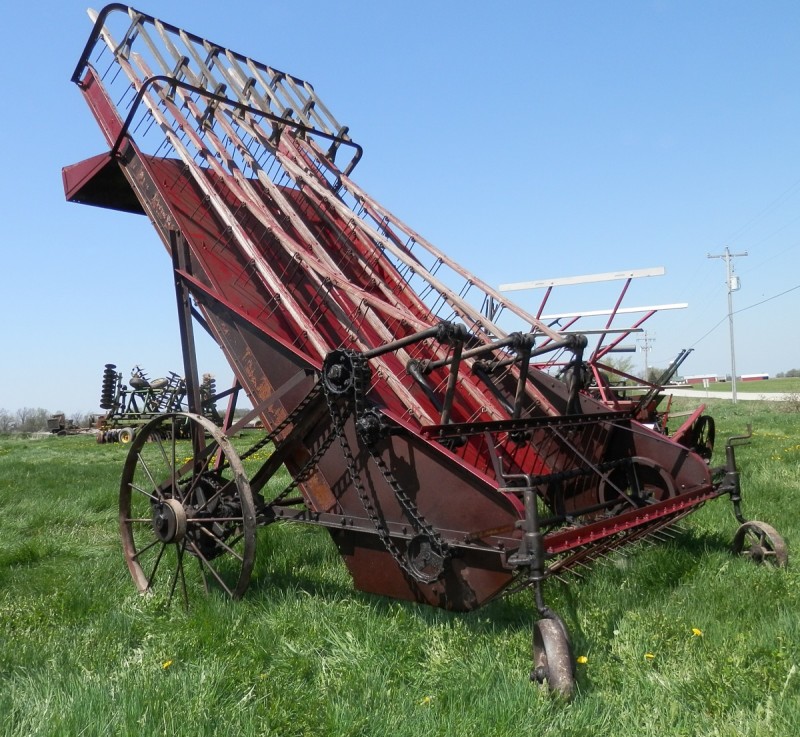 IH Mc Cormick Deering Hay Loader (Offered on Bidspotter)

Of course we ran it---works great!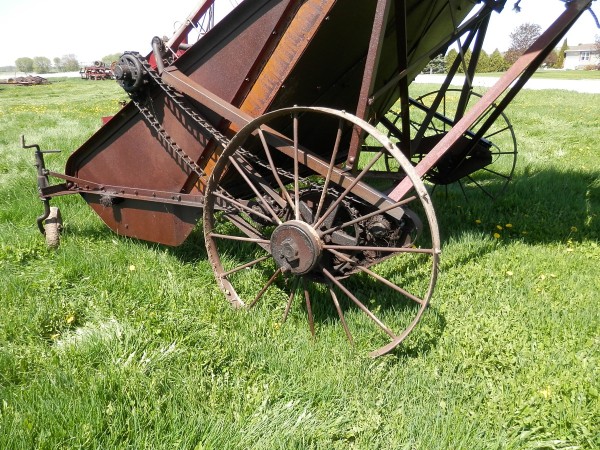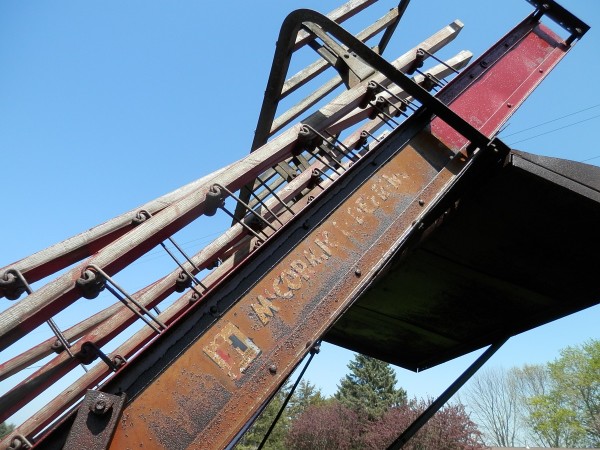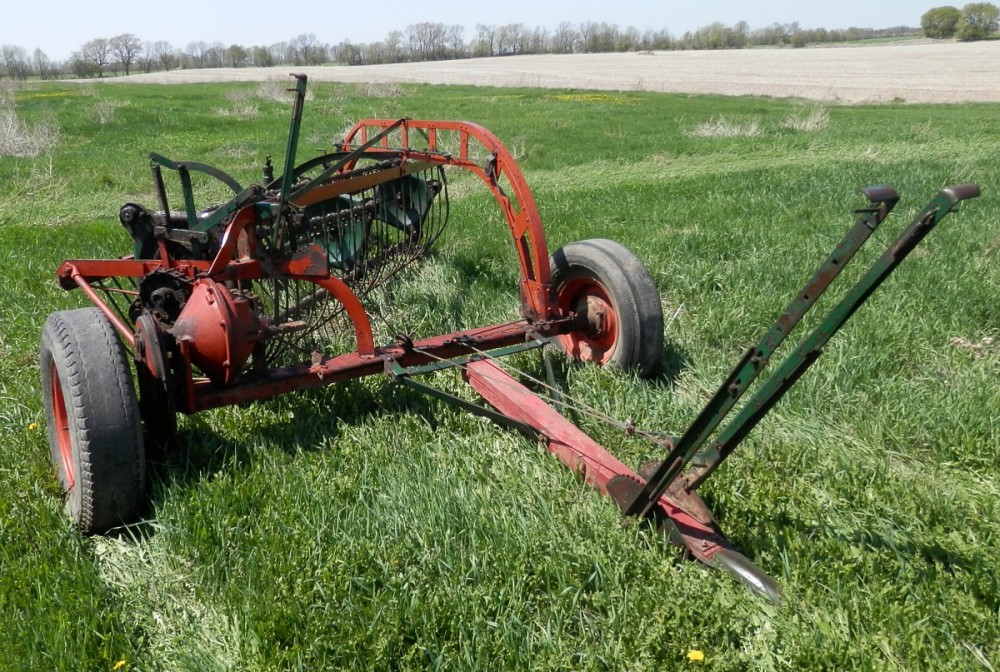 New Idea Rake/Tedder, ready for 4th of July hay makin'---very nice!!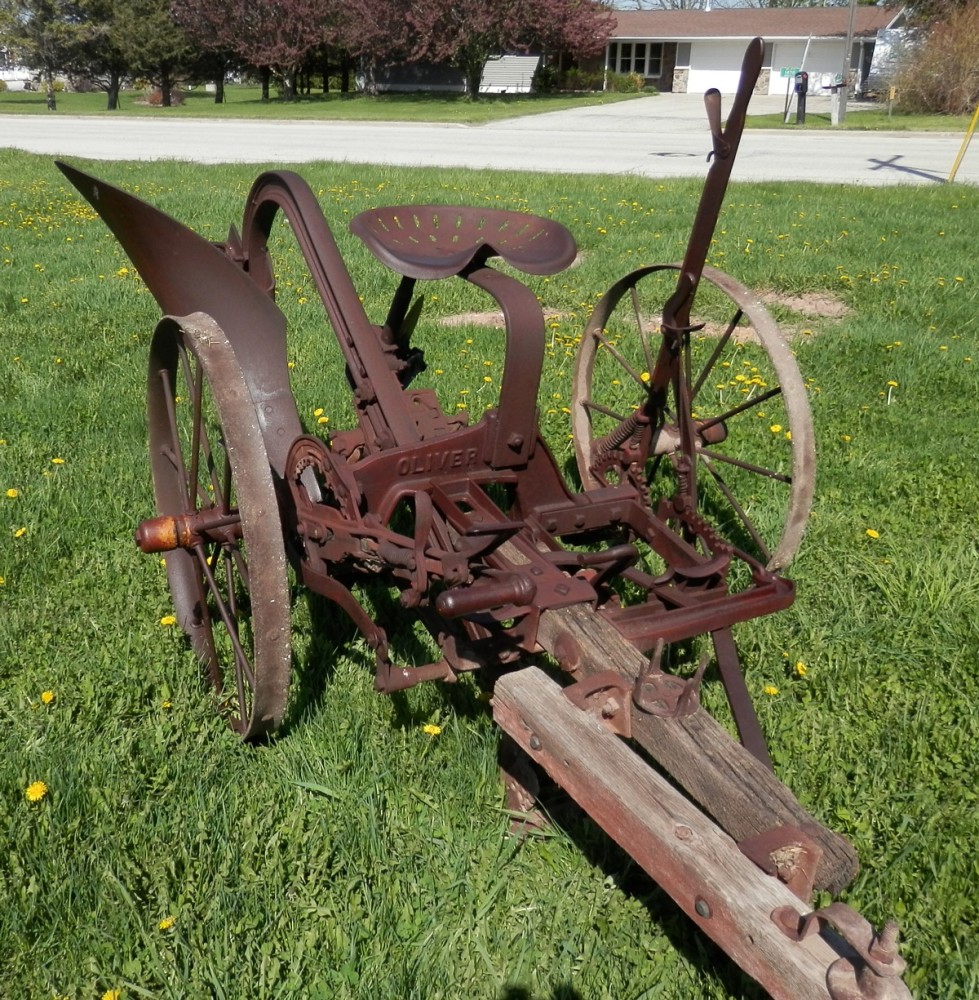 OLIVER V-161 Sulky Plow---Very Nice!! (Offered on Bidspotter)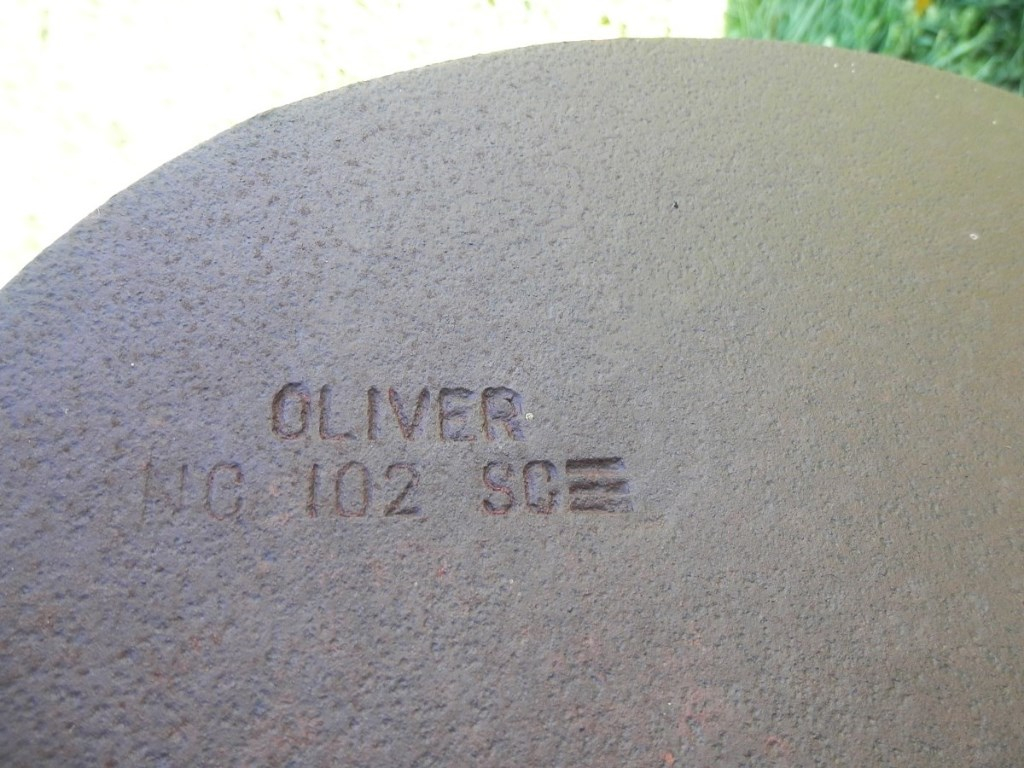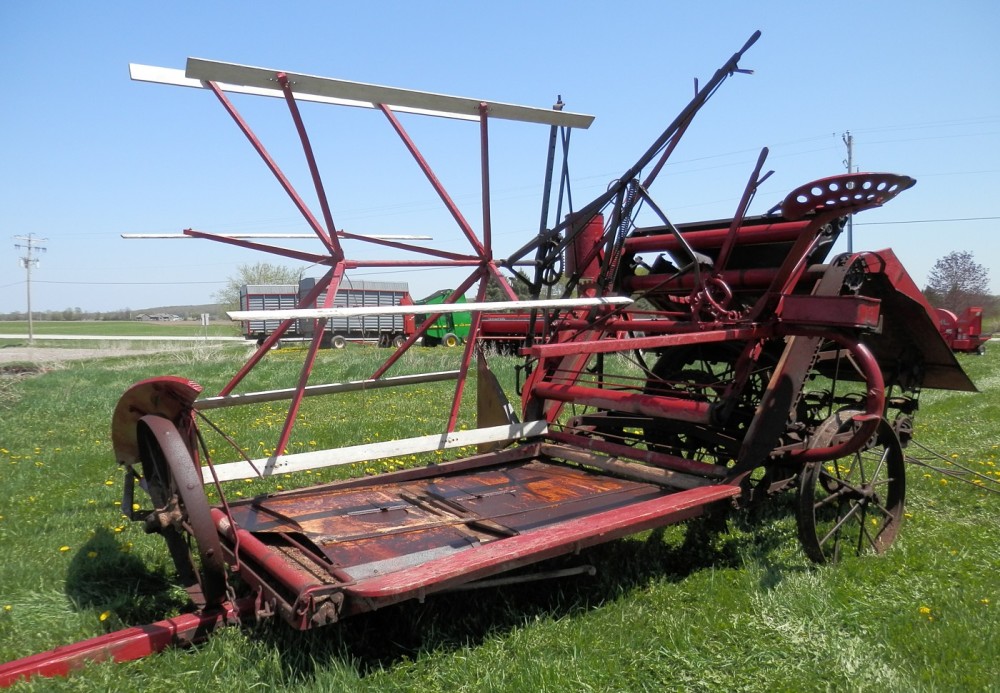 IH Grain Binder w/nice canvas, stored away a long time.  (Offered on Bidspotter)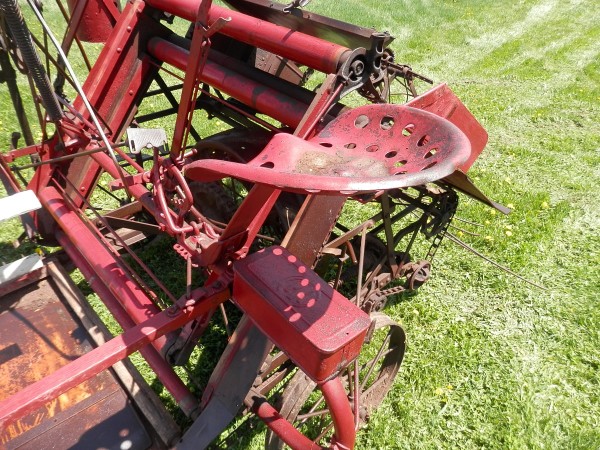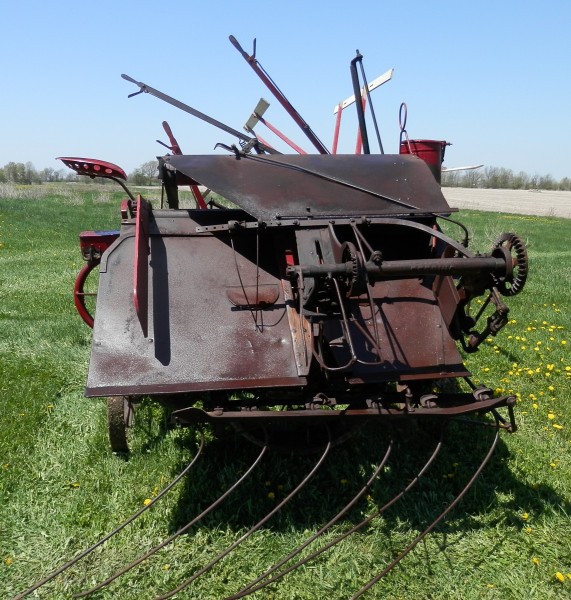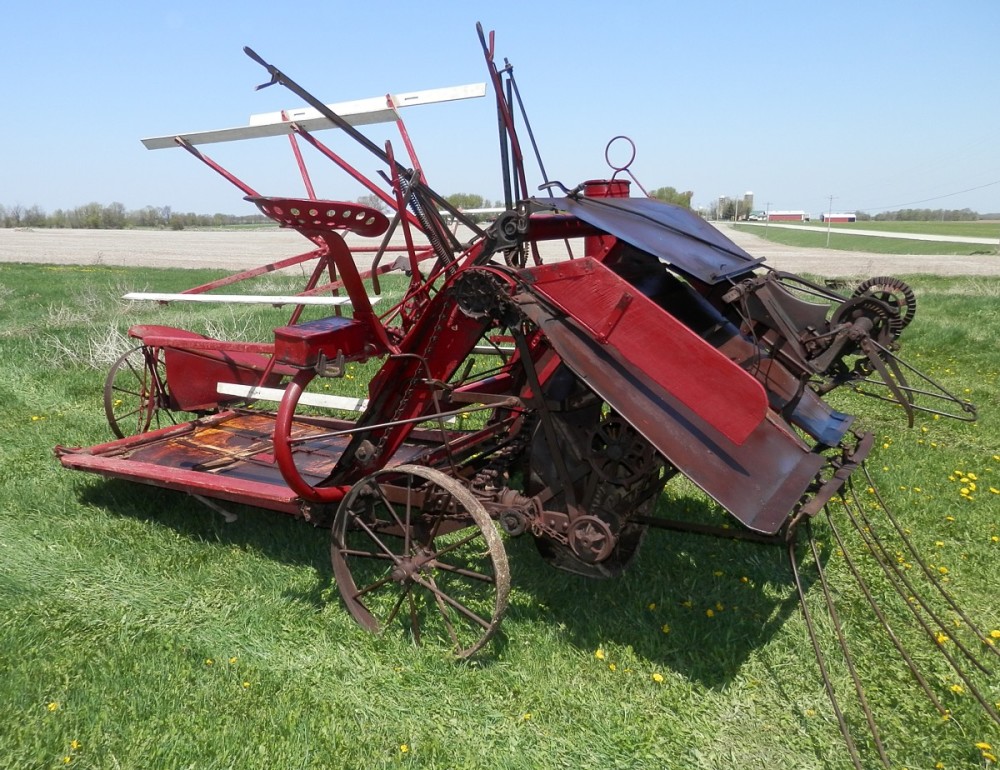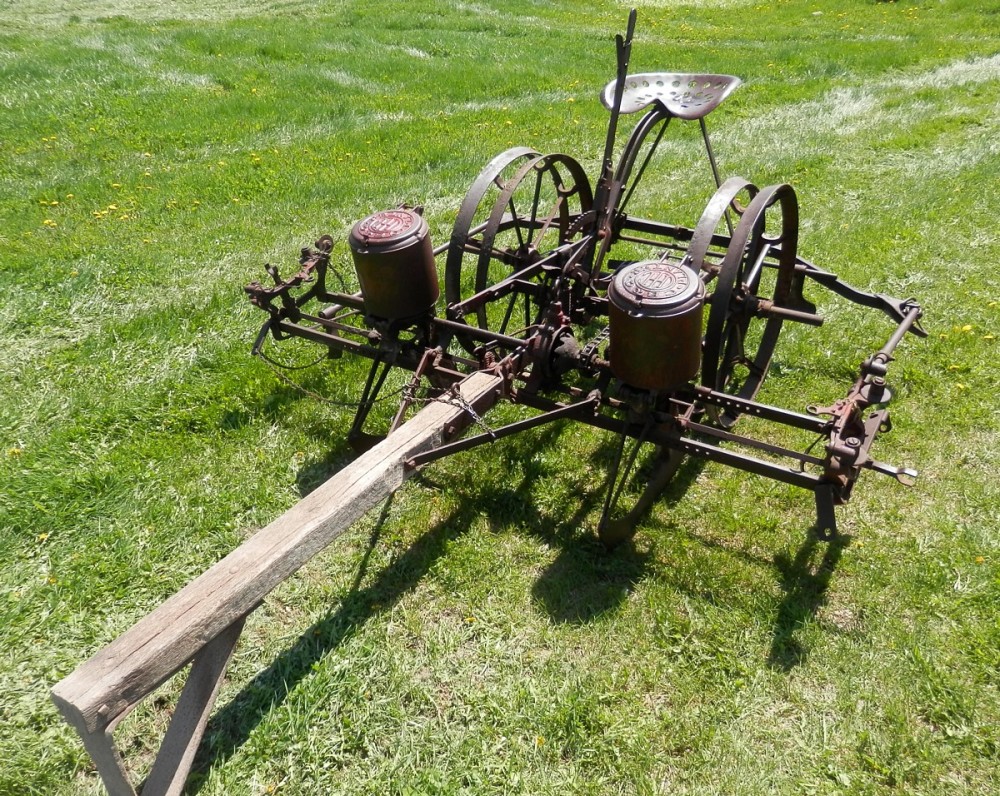 CB&Q IH 2R Horse drawn planter, nice seed boxes!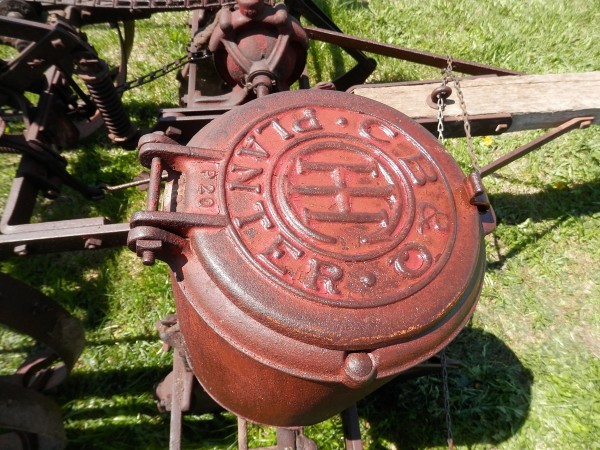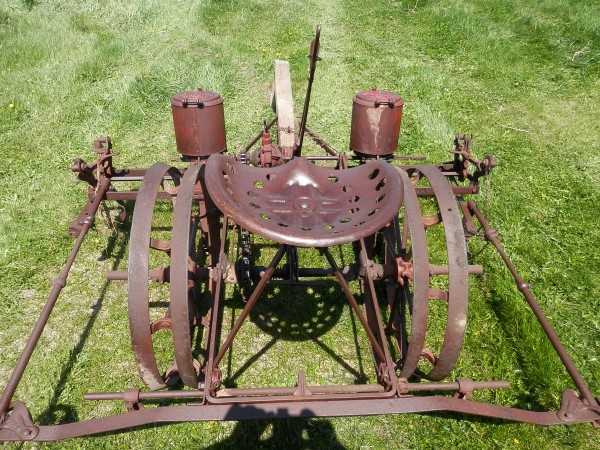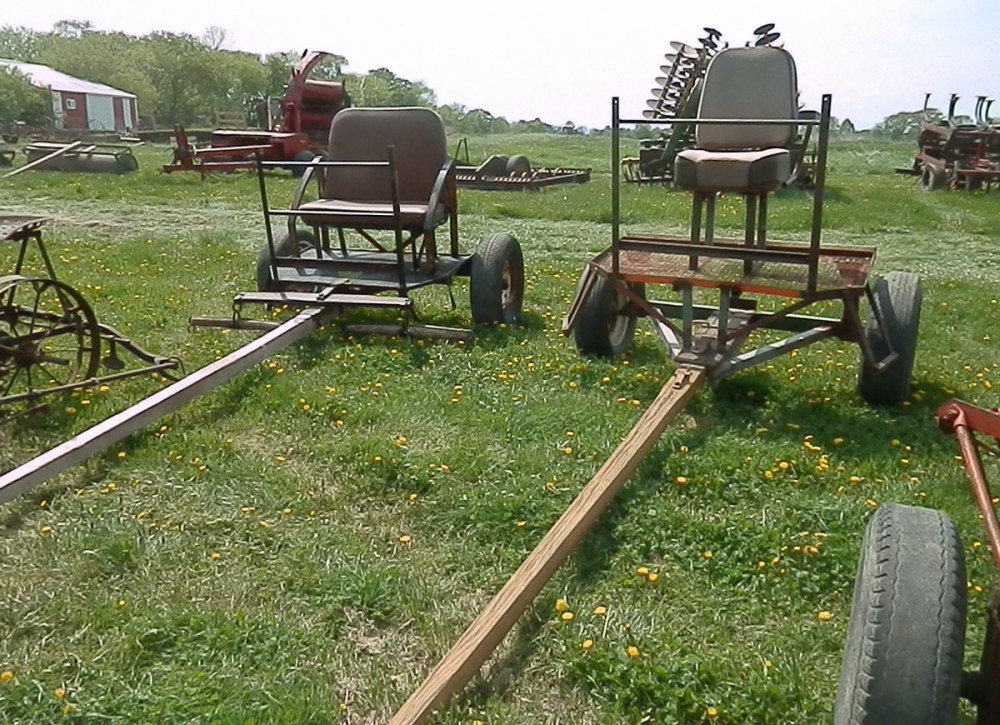 One & Two Seater Fore Carts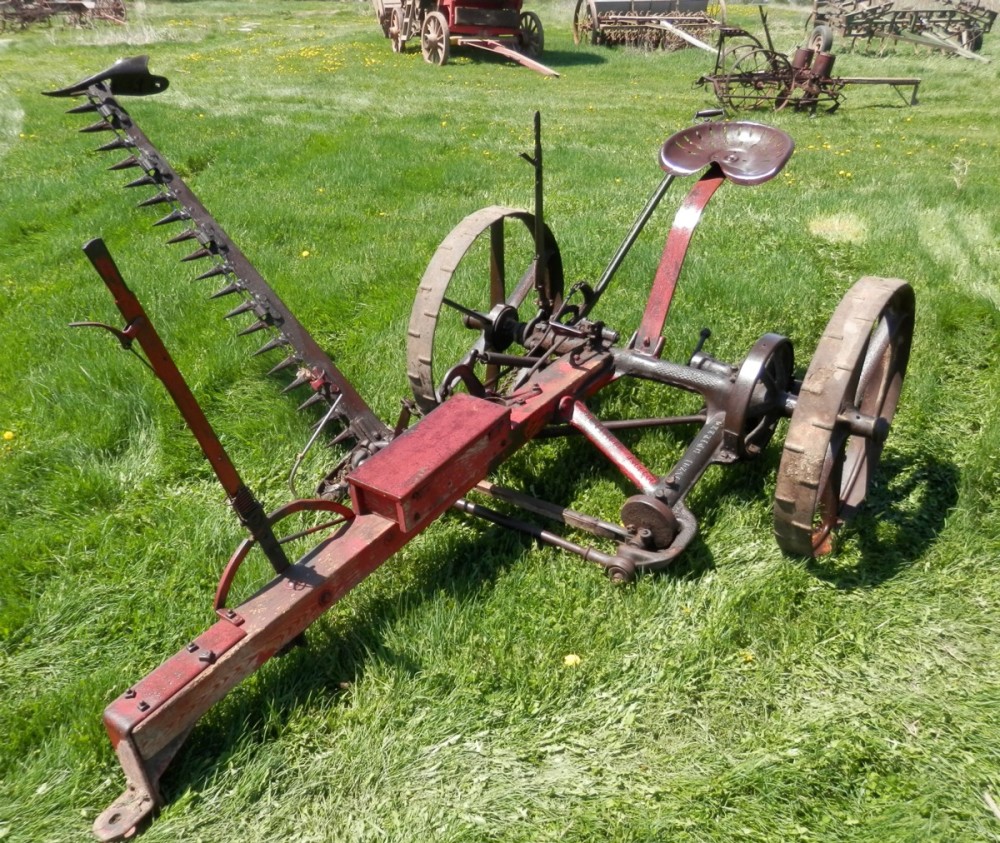 Deering Ideal 5' Horse Drawn Sickle Mower--
Complete & Nice!  (Offered on Bidspotter)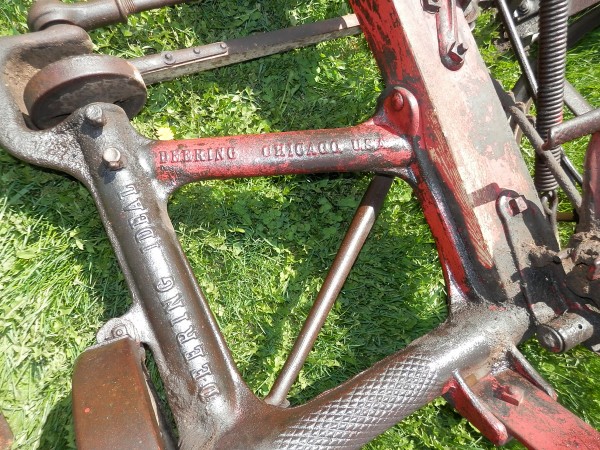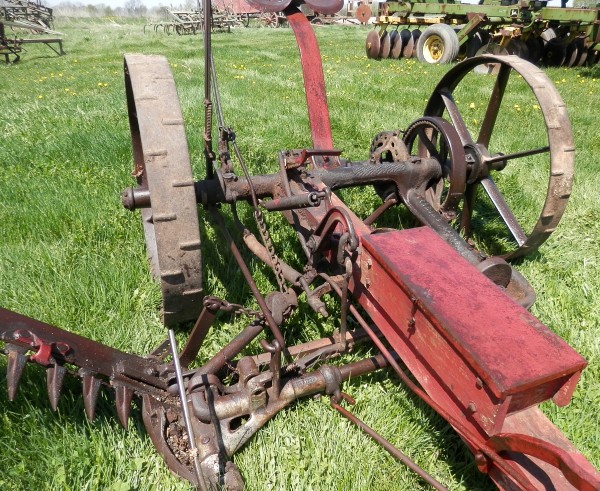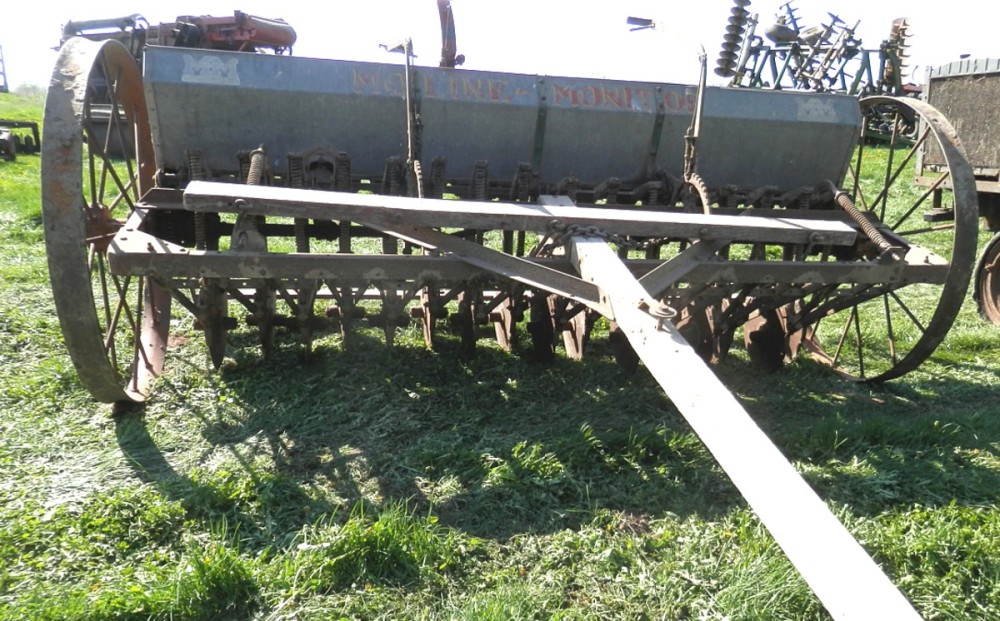 Moline Monitor Horse Drawn Grain Drill, Tall Steel Wheels

16x6", Hand Mech. Lift--A Clean Working Drill!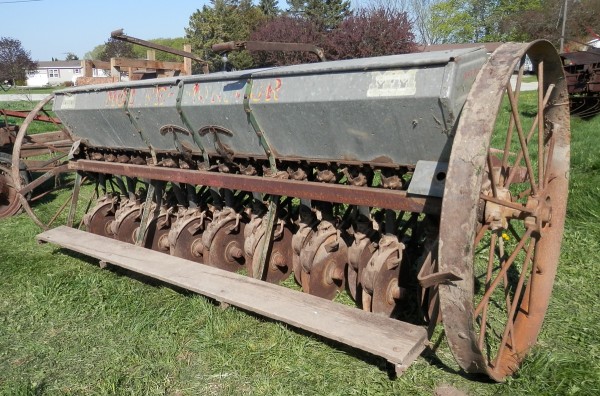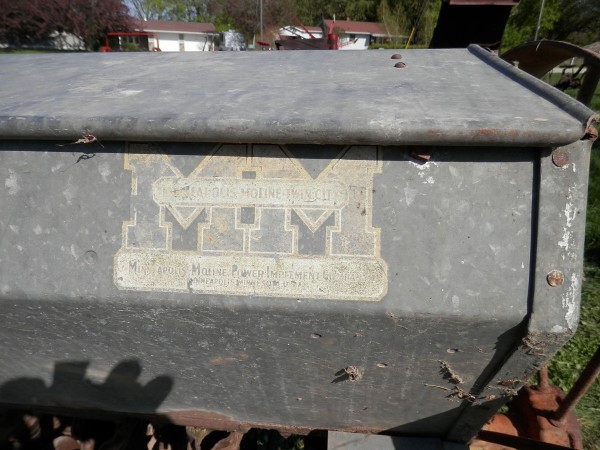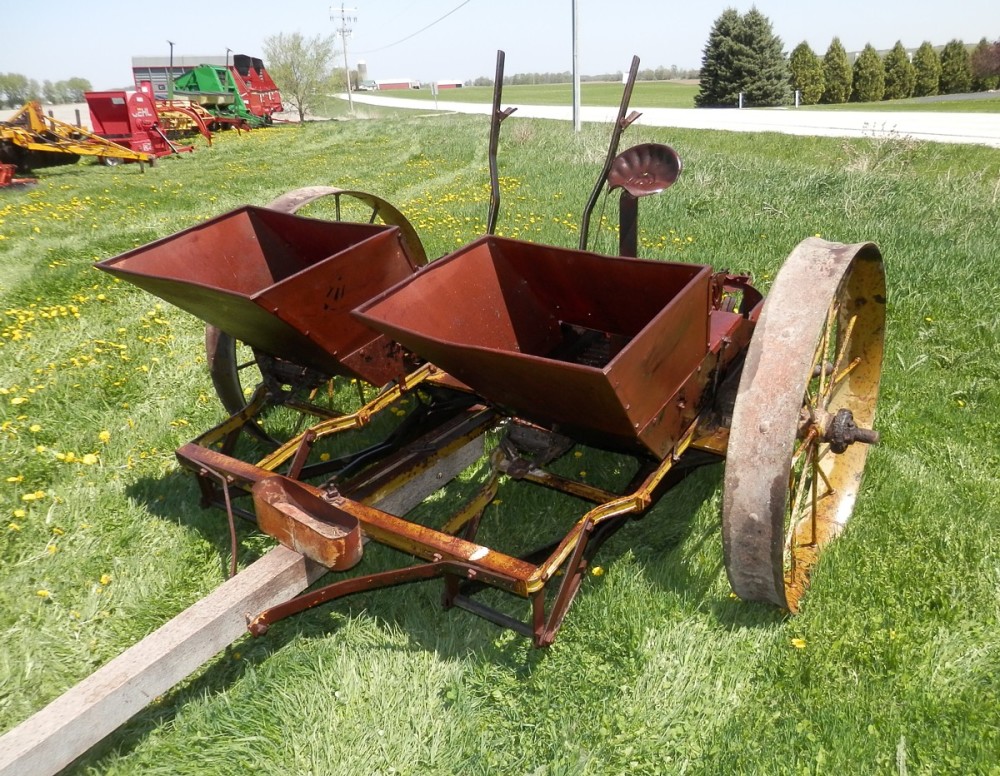 Eureka Mower Co., Utica NY
2 Row Horse Drawn Potato Planter--
for the "really big family"! (offered on Bidspotter)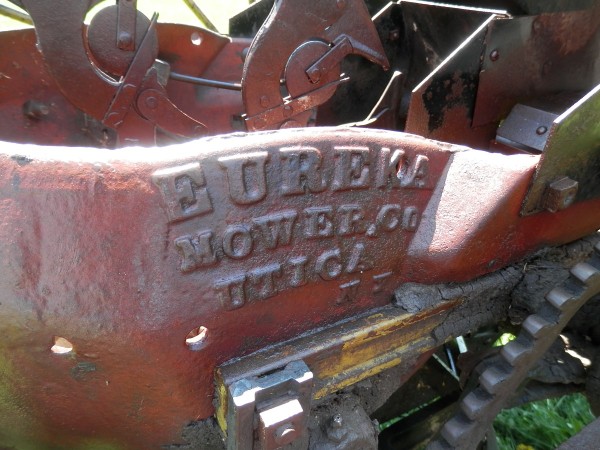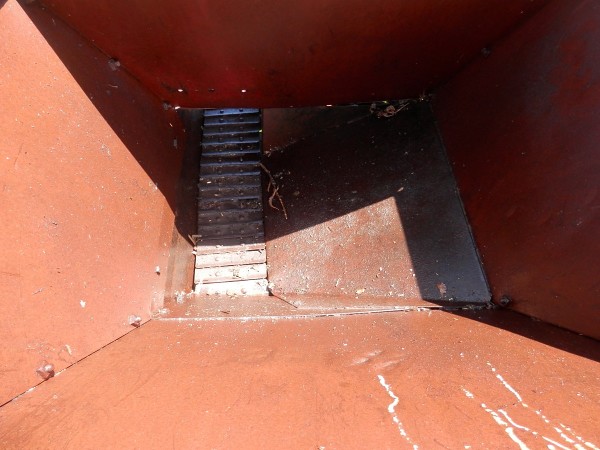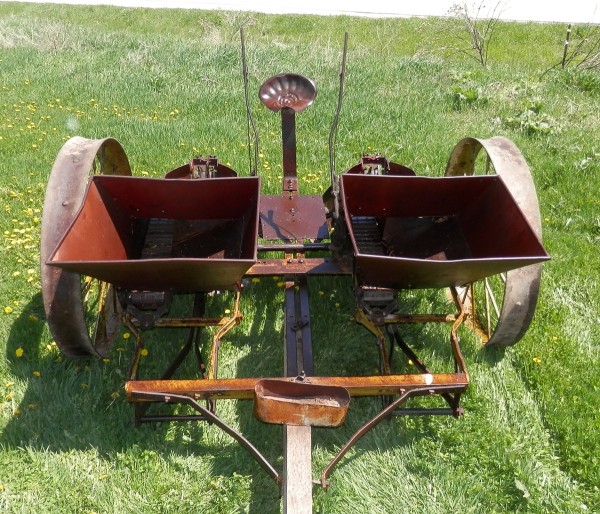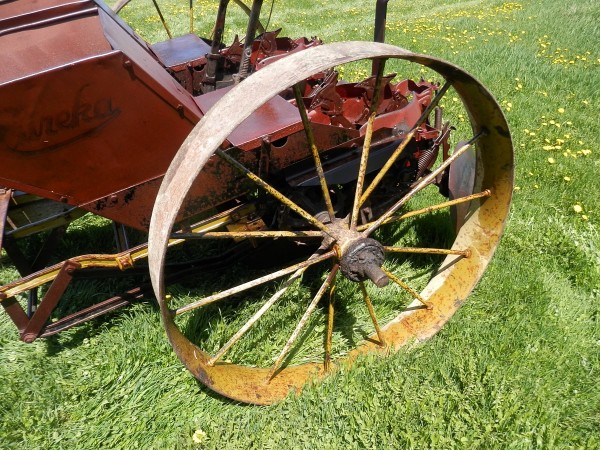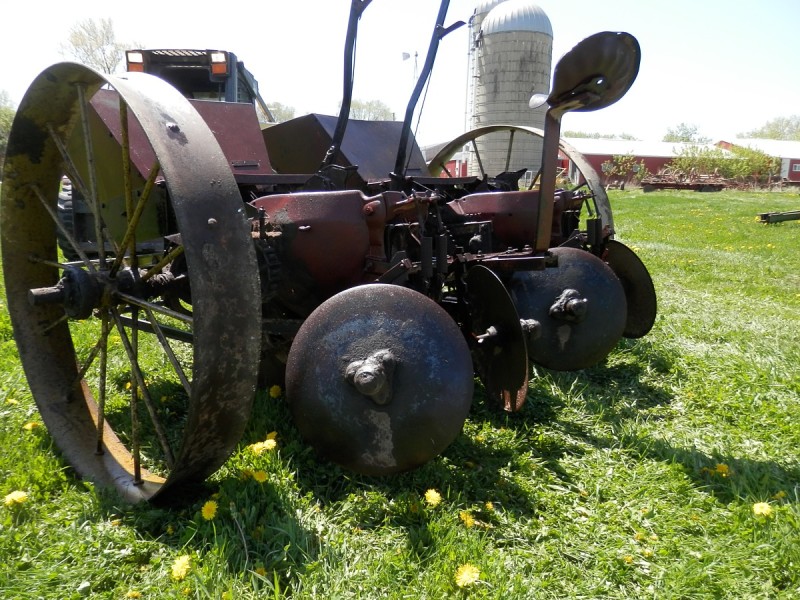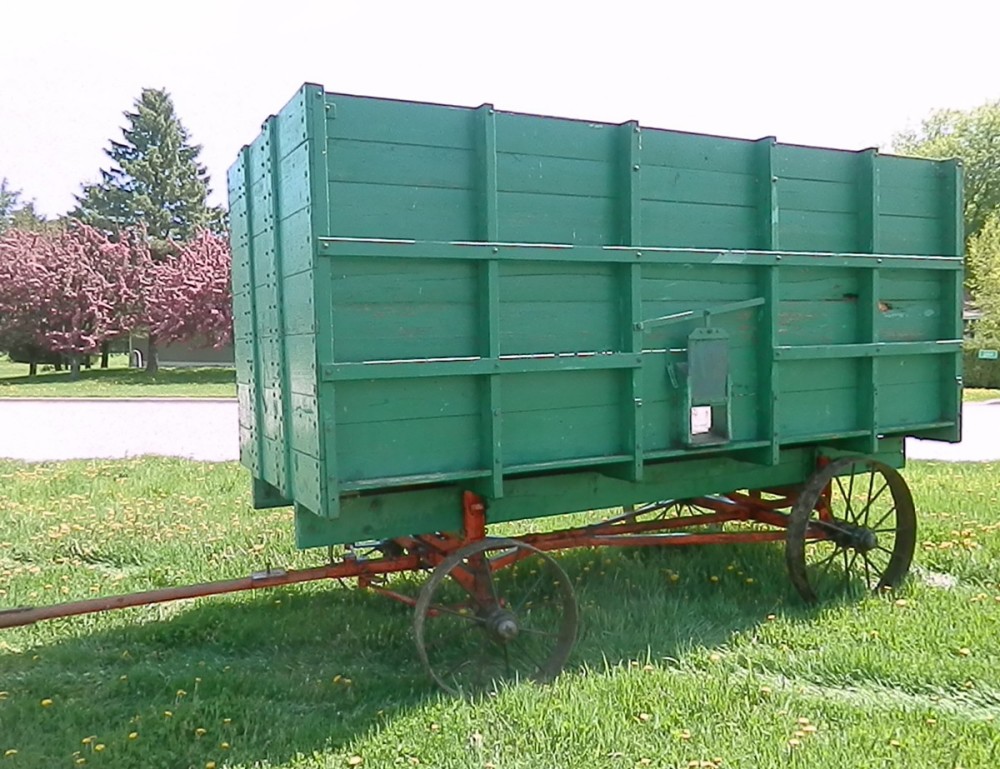 Barge Box on Steel Wheel Gear

Tapered Floor with Side Grain Door--EXCELLENT!
(both offered on Bidspotter)
A second Barge Box on a rubber tire gear also sells!!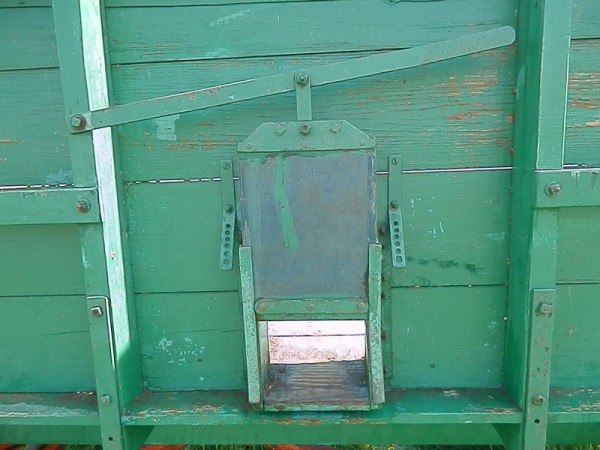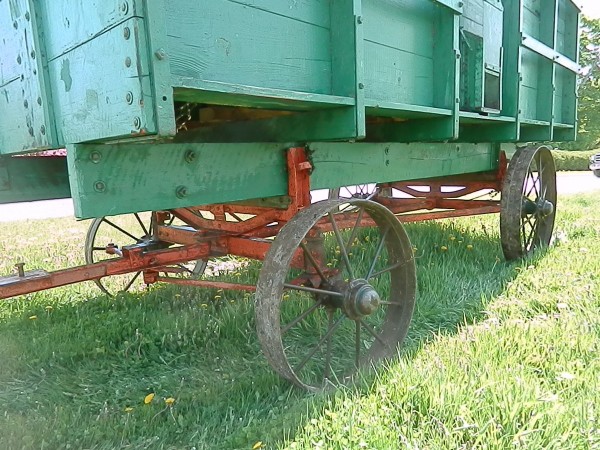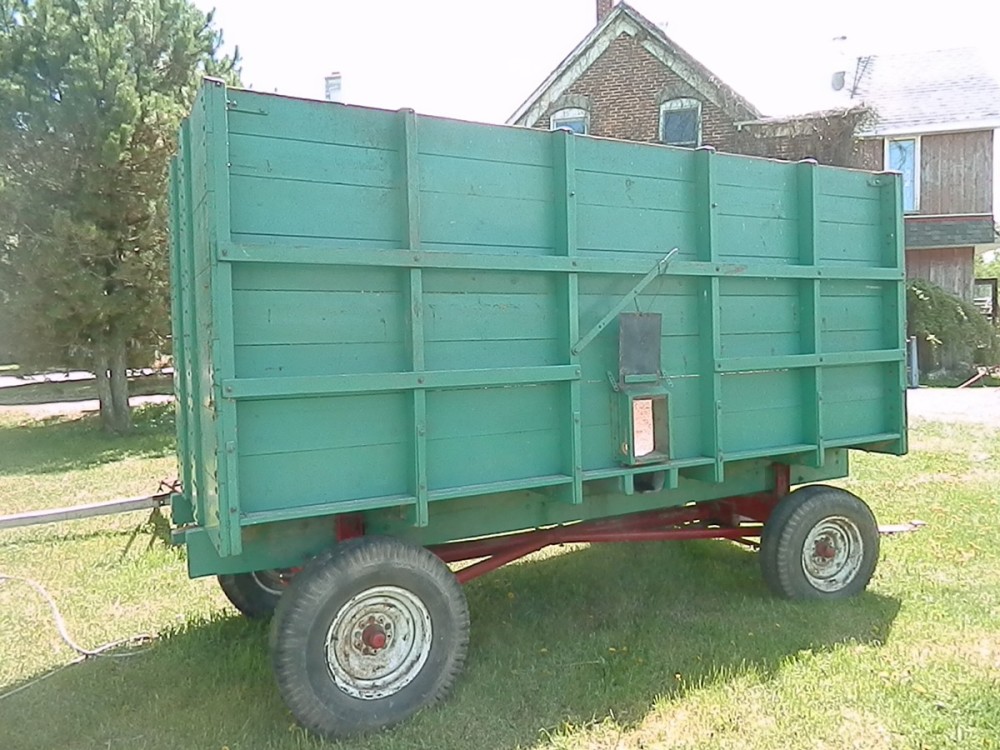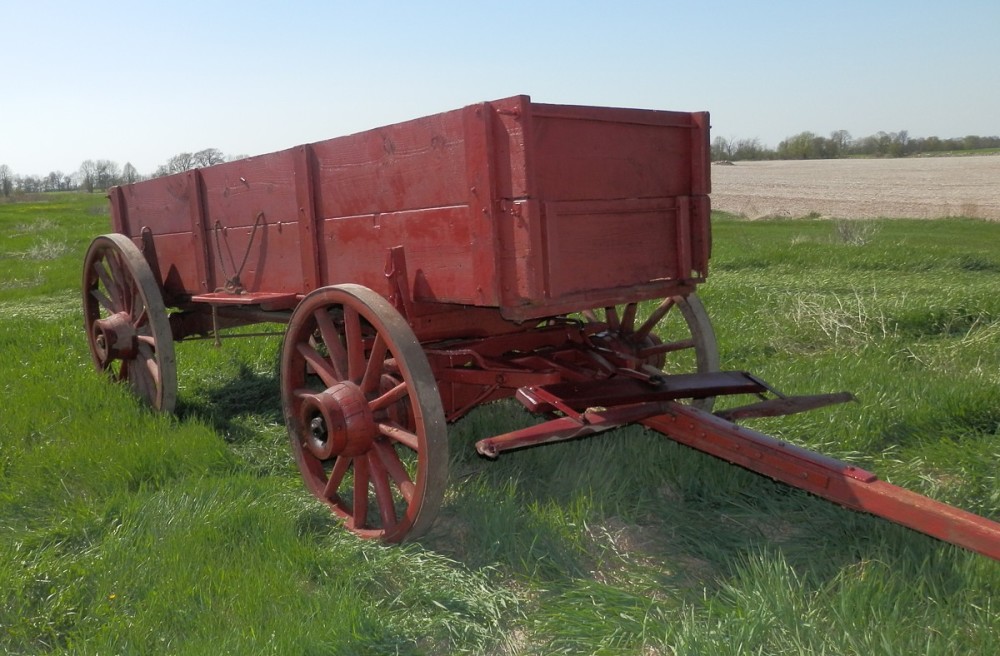 Nice Red Wooden Farm Wagon with  big wood wheels--
ready for work, or for display....
(Mom said she'd like this for her birthday!) Offered on Bidspotter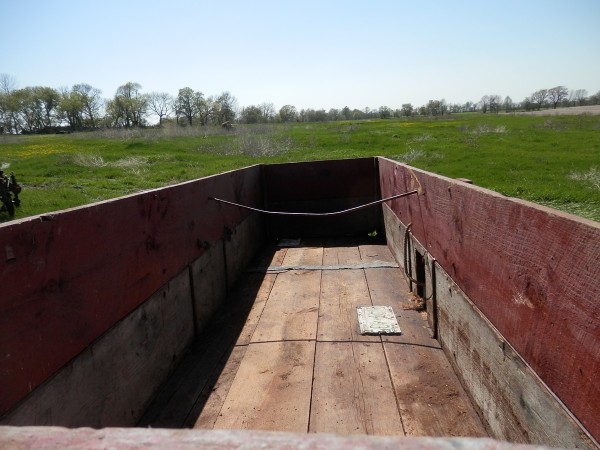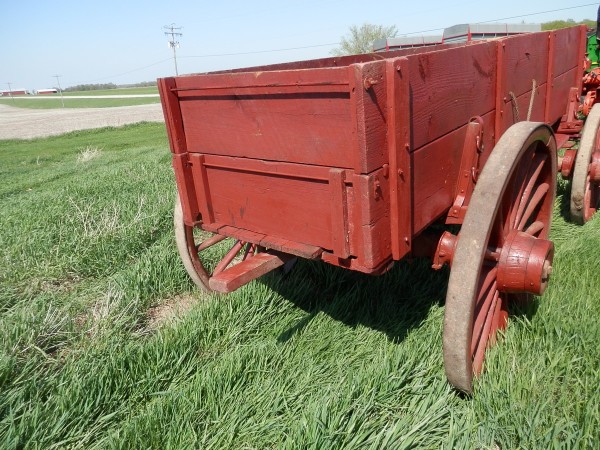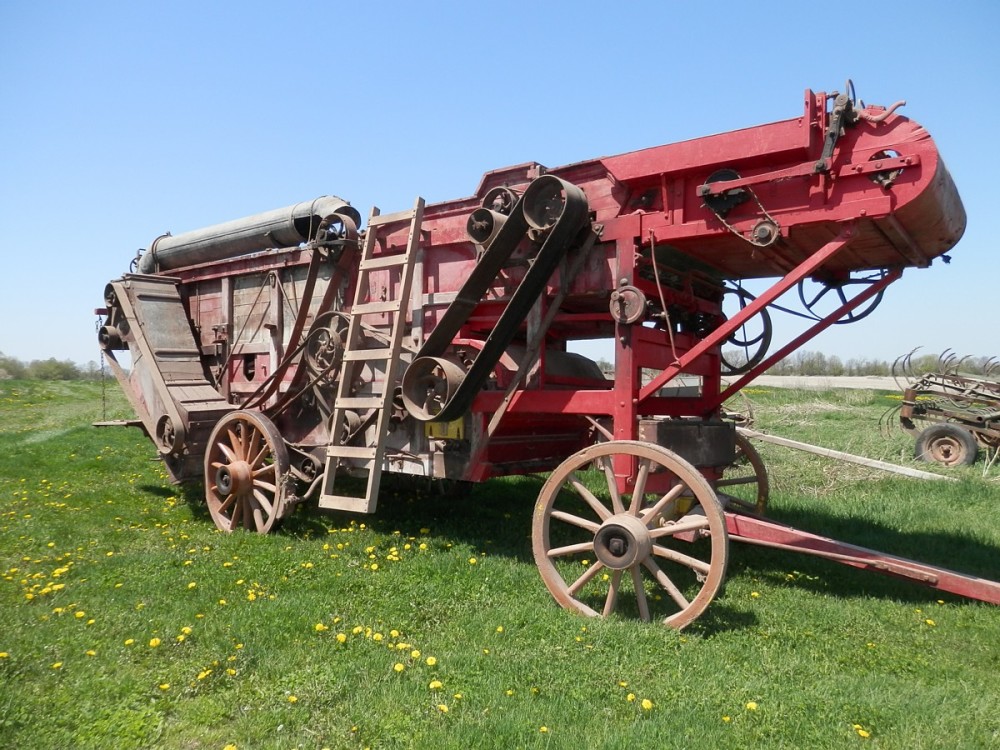 One of 3 Threshing machine in various stages of need--

Projects, parts, or Lawn Decor!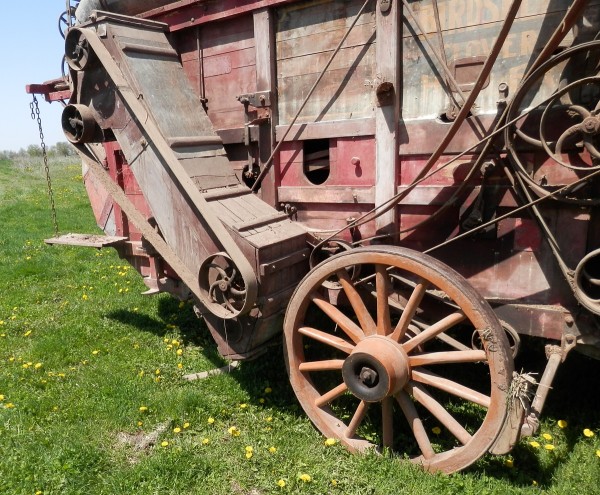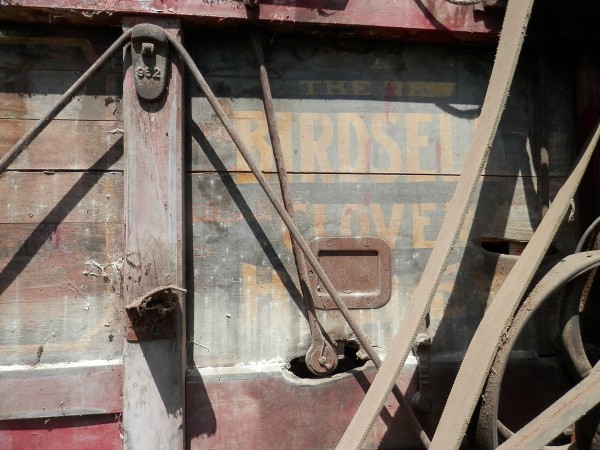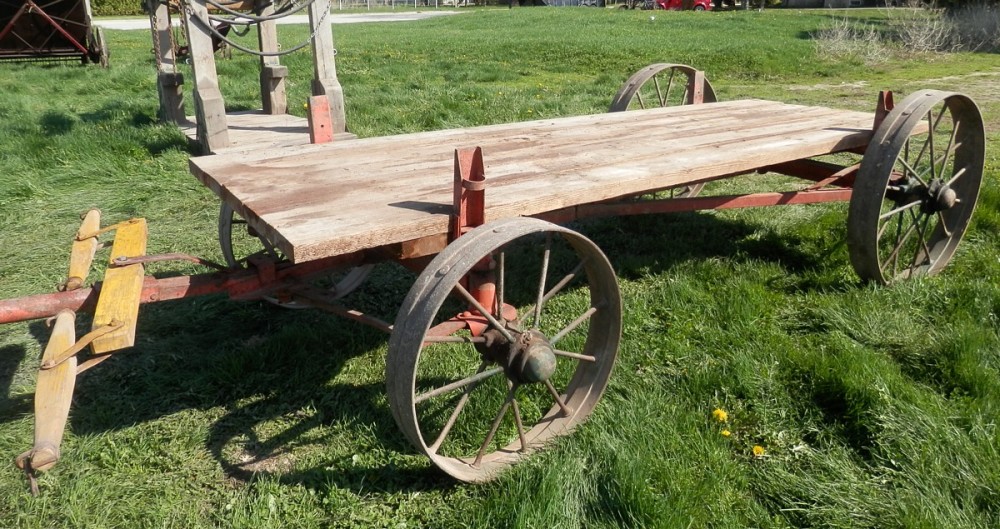 New Idea gear on steel with plank flat bed (offered on Bidspotter)

Original, Complete, and Nice!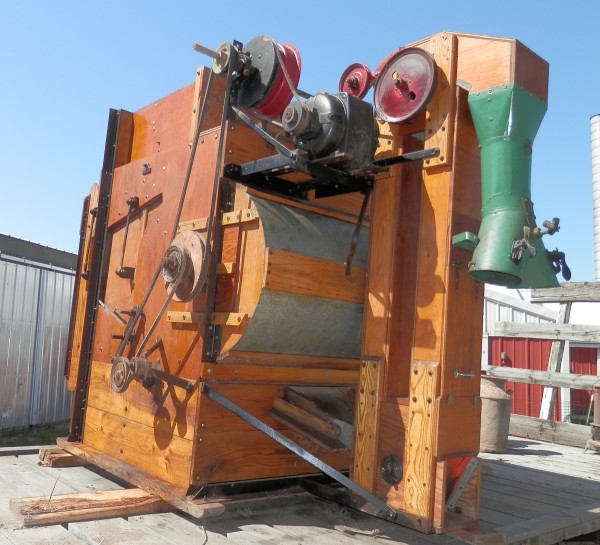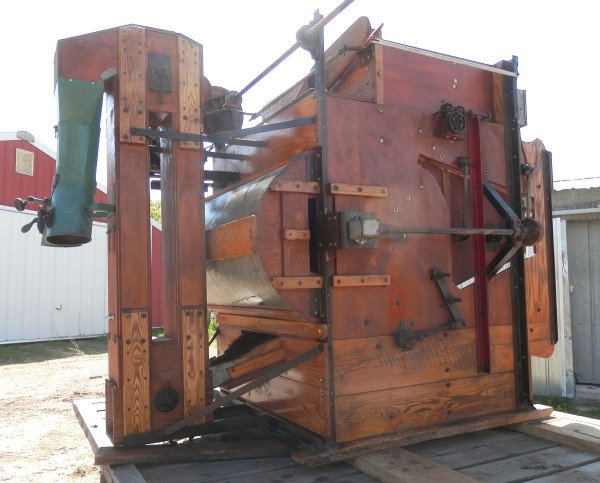 Homemade LARGE grain cleaner-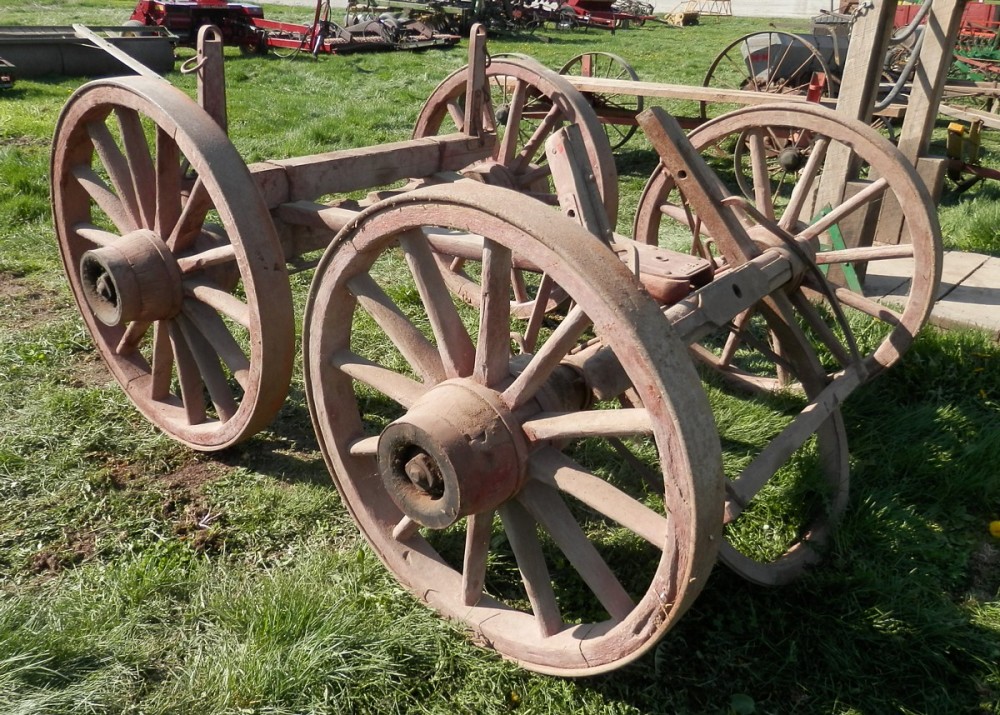 Heavy duty wooden wheel gear (offered on Bidspotter)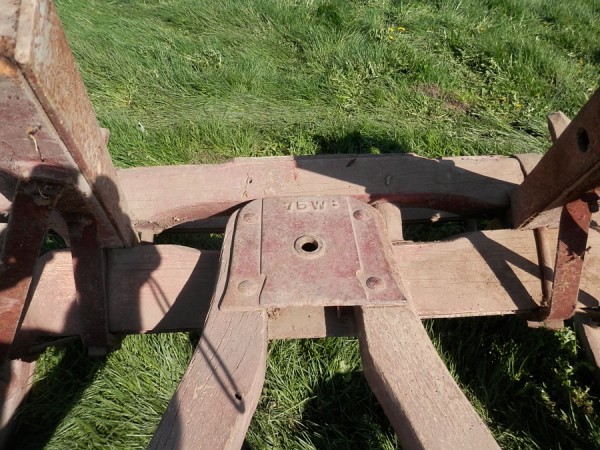 More farm and special equipment from the Englebert Farm!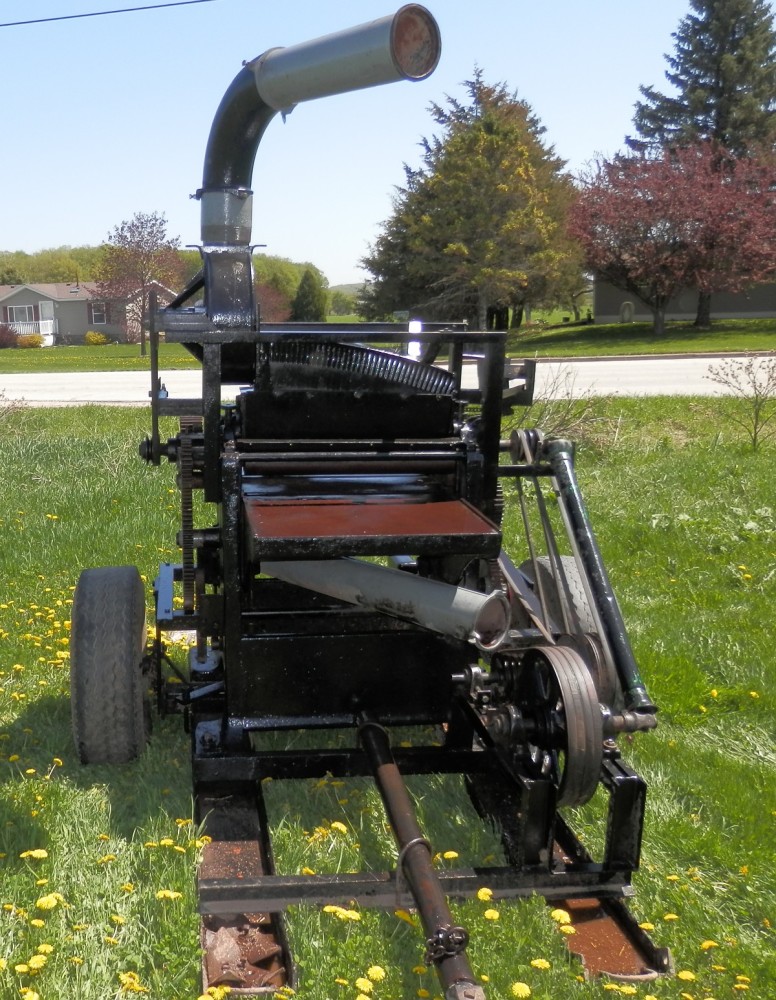 Portable PTO Drive "BIG BOY" Planer, 2' throw, remove tires to set on steel skid base,

swivel OH dust discharge,

a HD Unit....where will you find another? (offered on Bidspotter)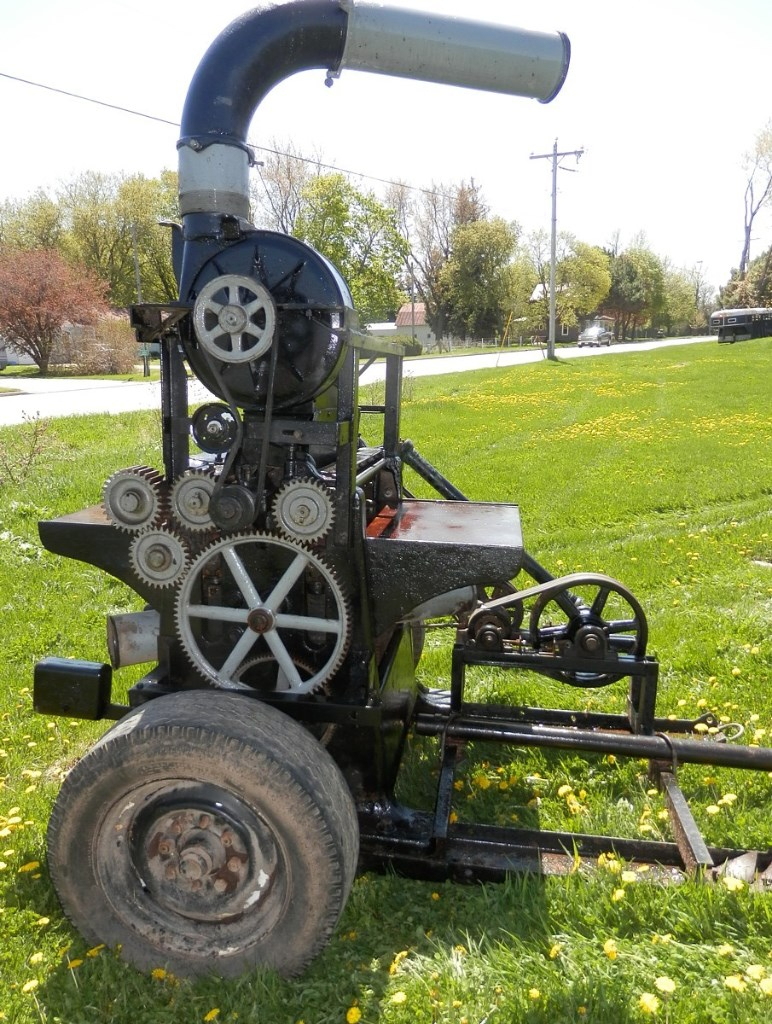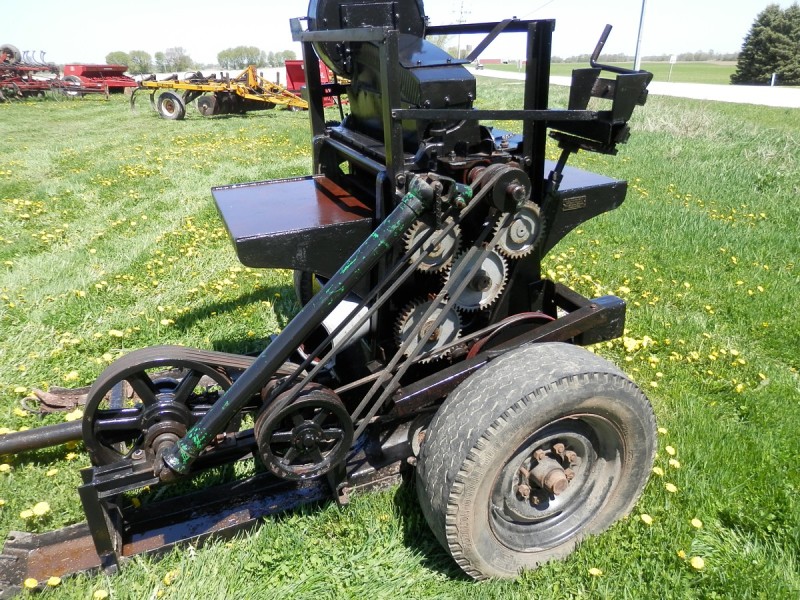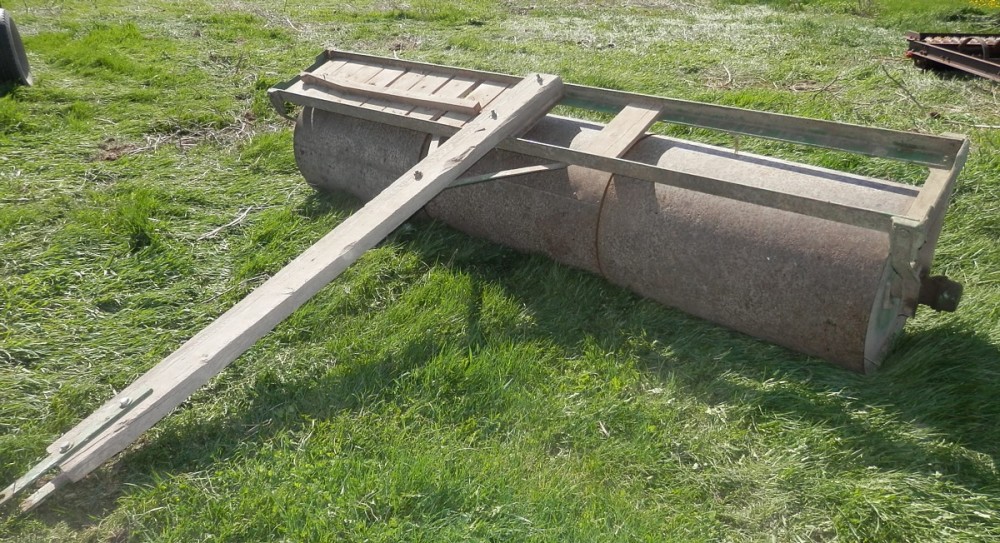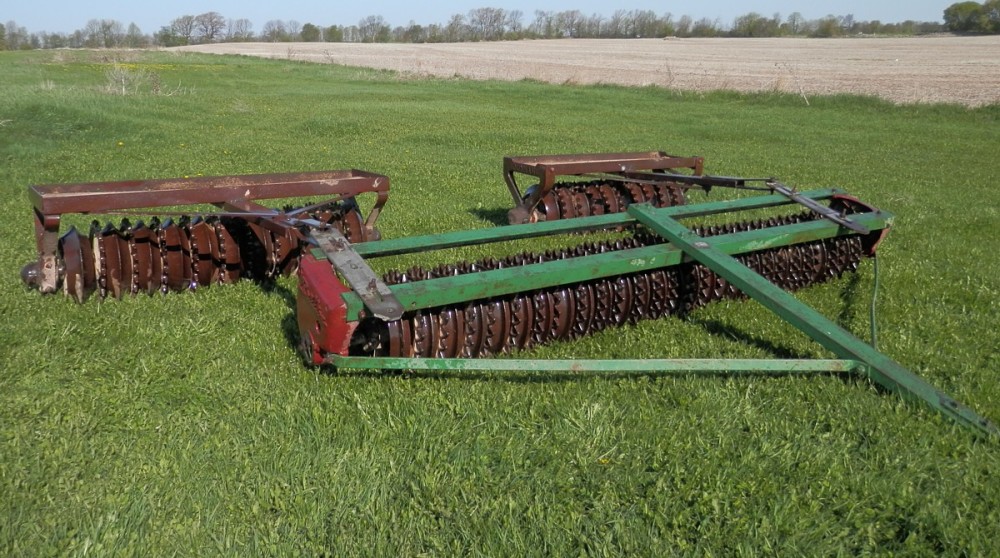 Brillion 9' cultipacker base with (2) 4' Dunham Packer Pups--a nice family!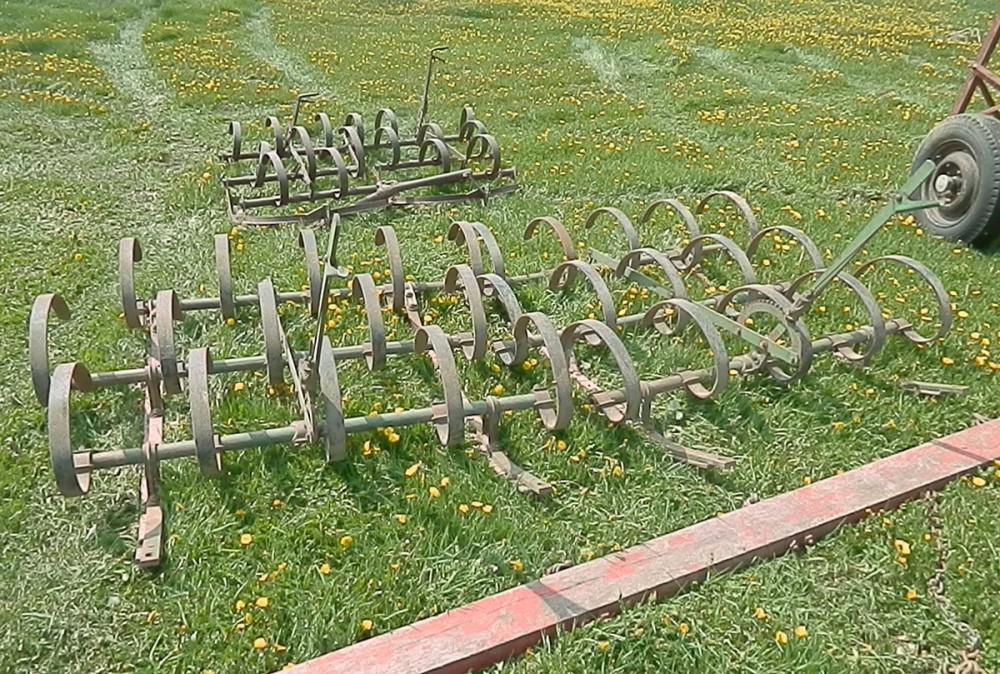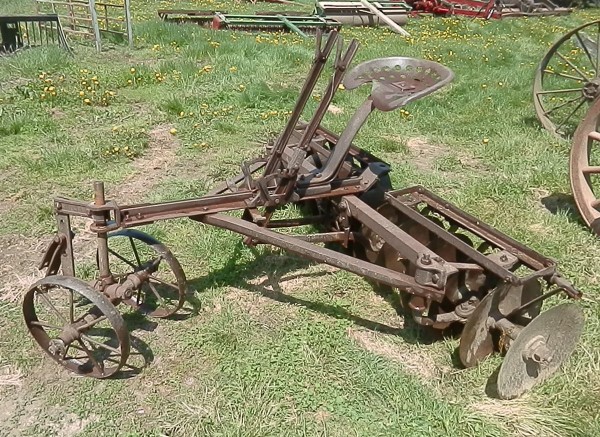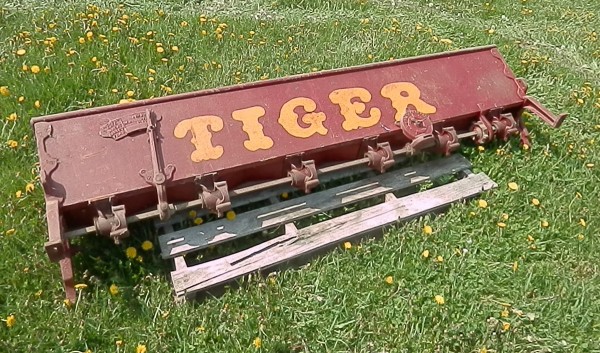 Old seeder base with removed box, great graphics!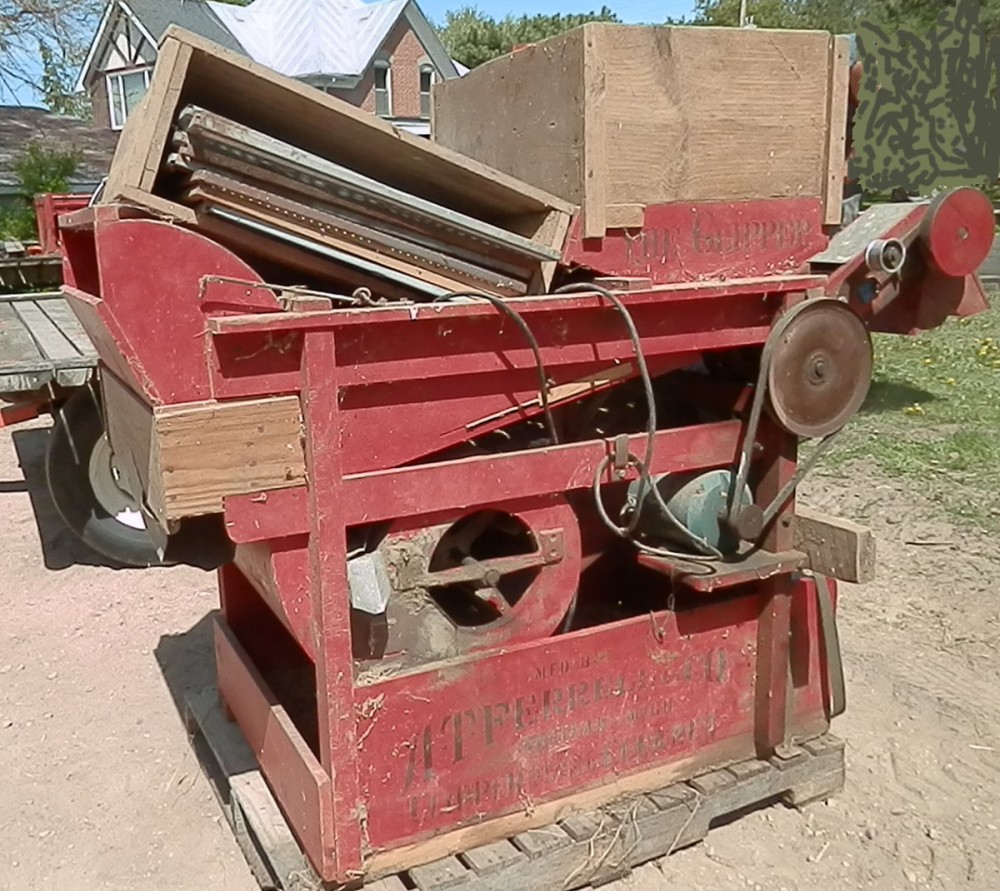 Nice fanning mill, complete with screens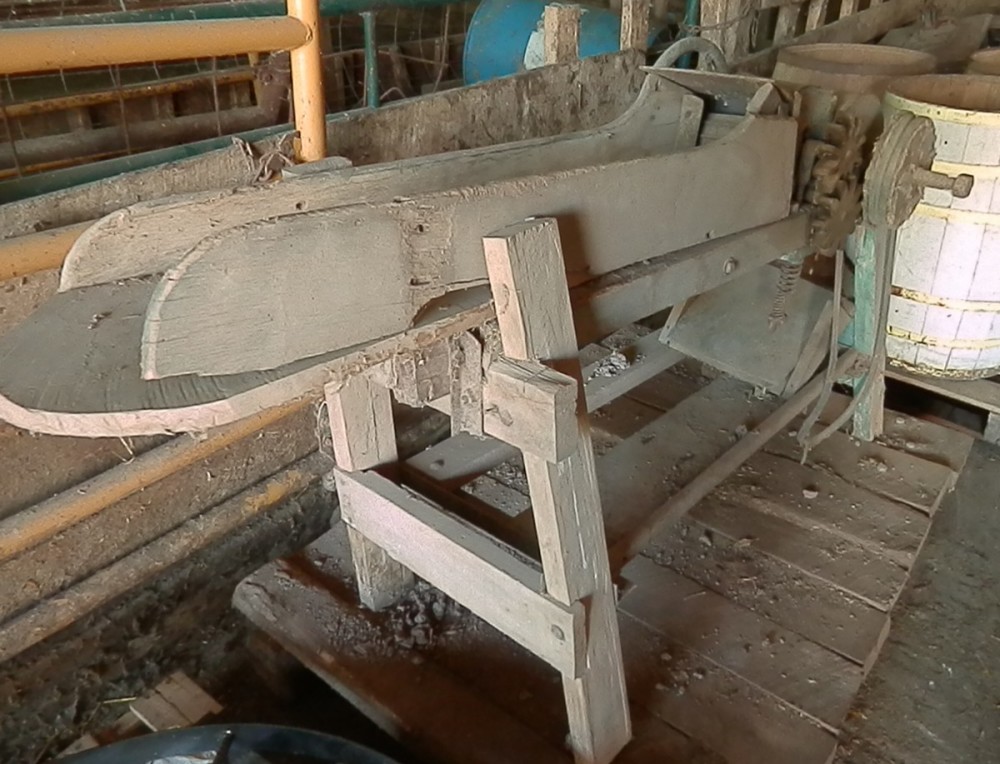 Clipper Feed Cutter, Manitowoc, WI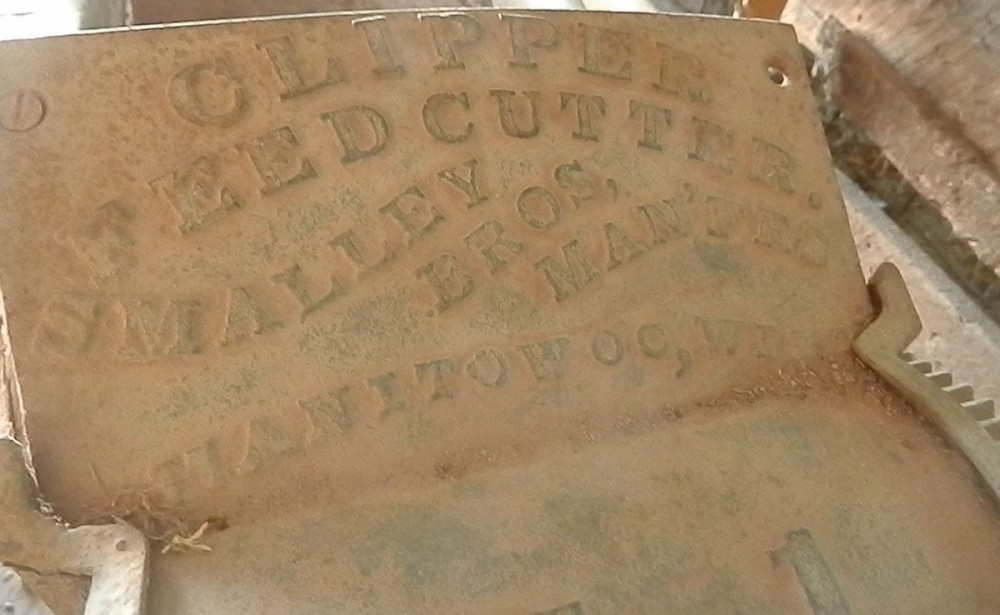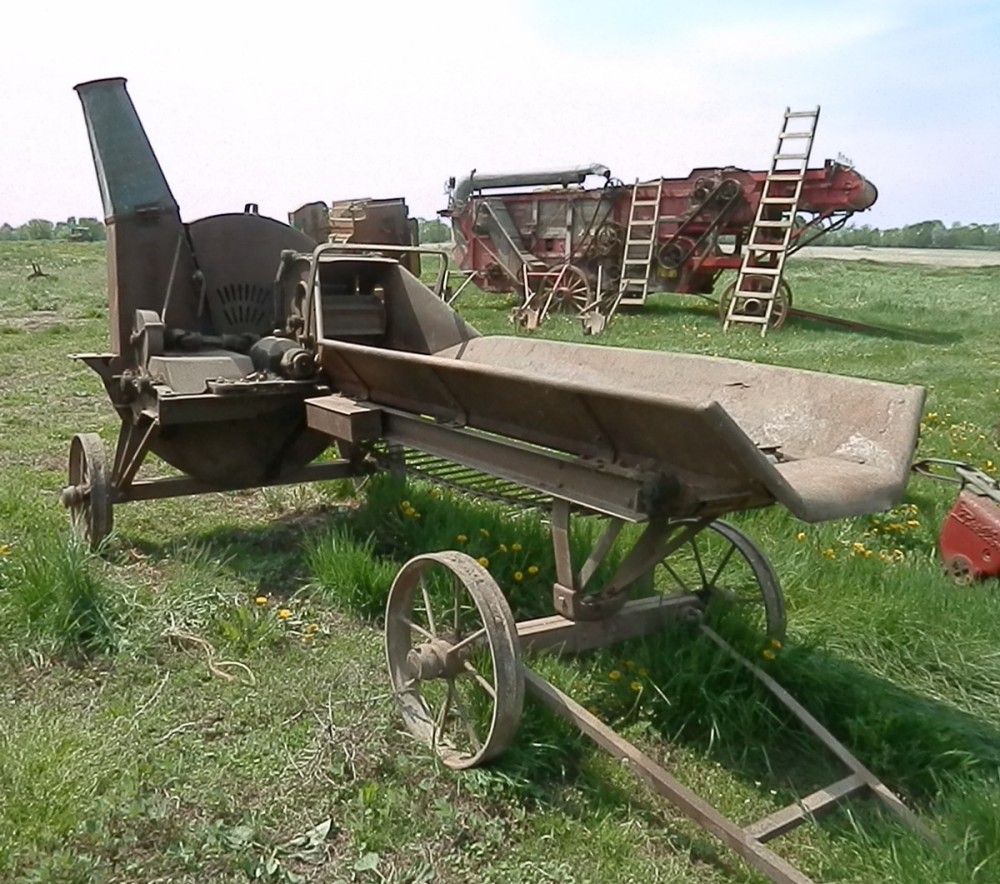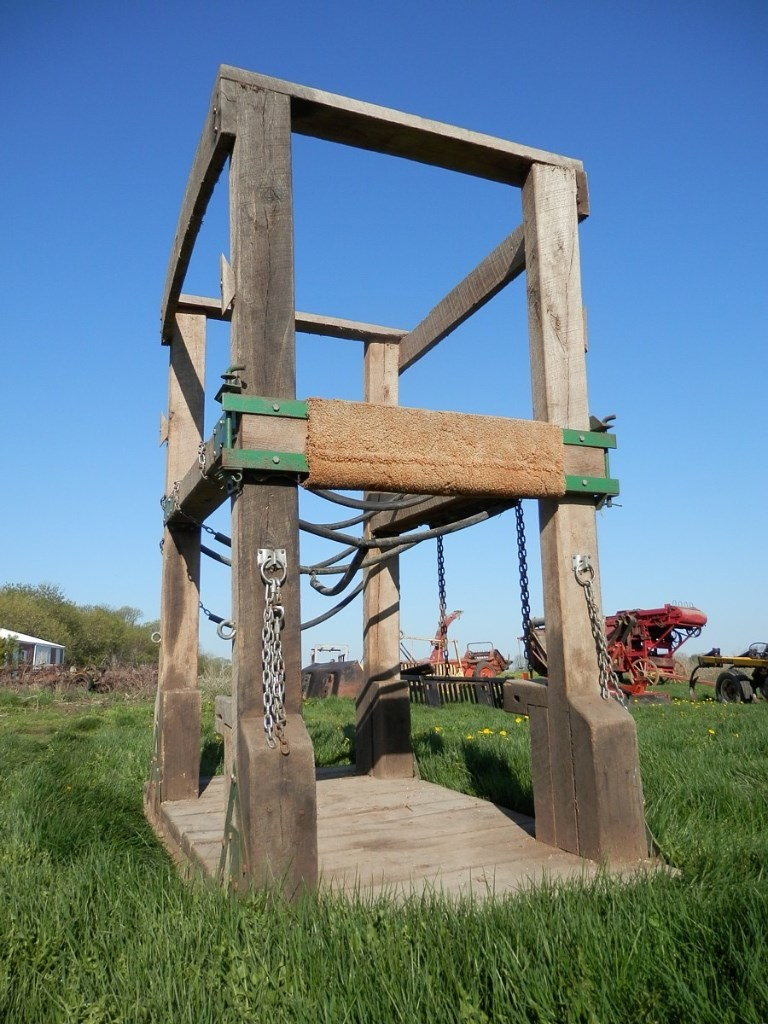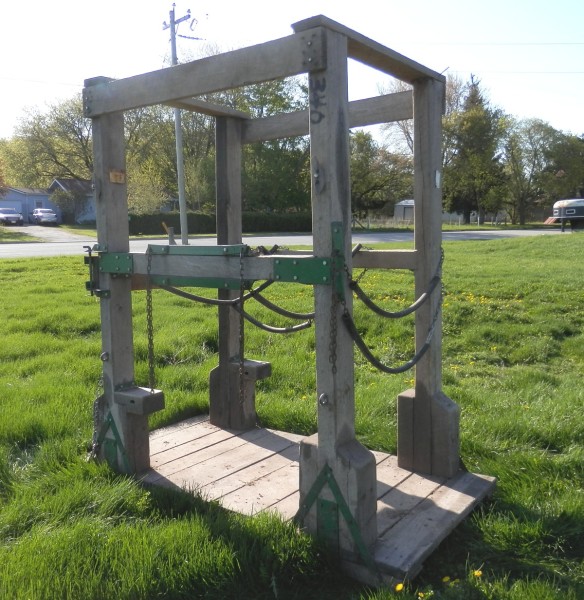 Horse Stock --very well built, always shedded, & ready to go to work! (offered on Bidspotter)


Home made Bobsled,  take a ride back in time! (offered on Bidspotter)
Below....Over 20 horse collars, draft horse harnesses, even a pony harness--
safely stored over the years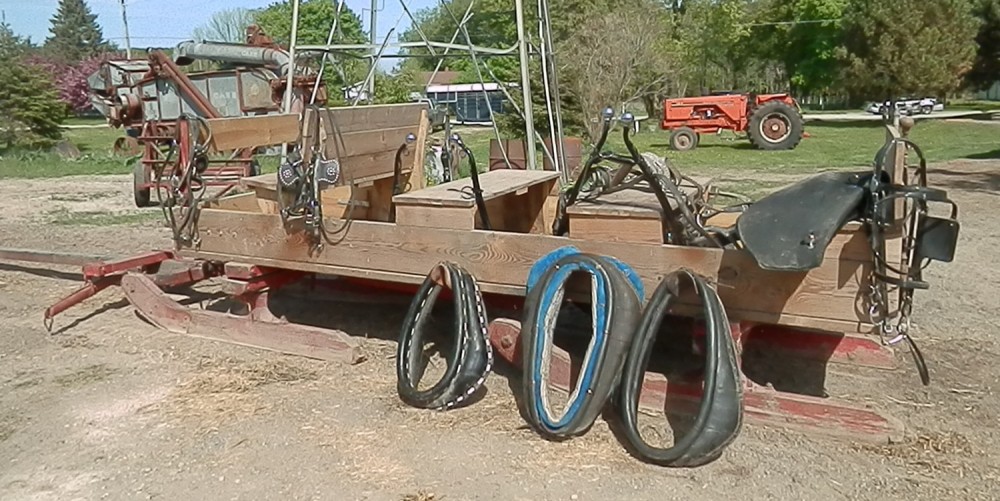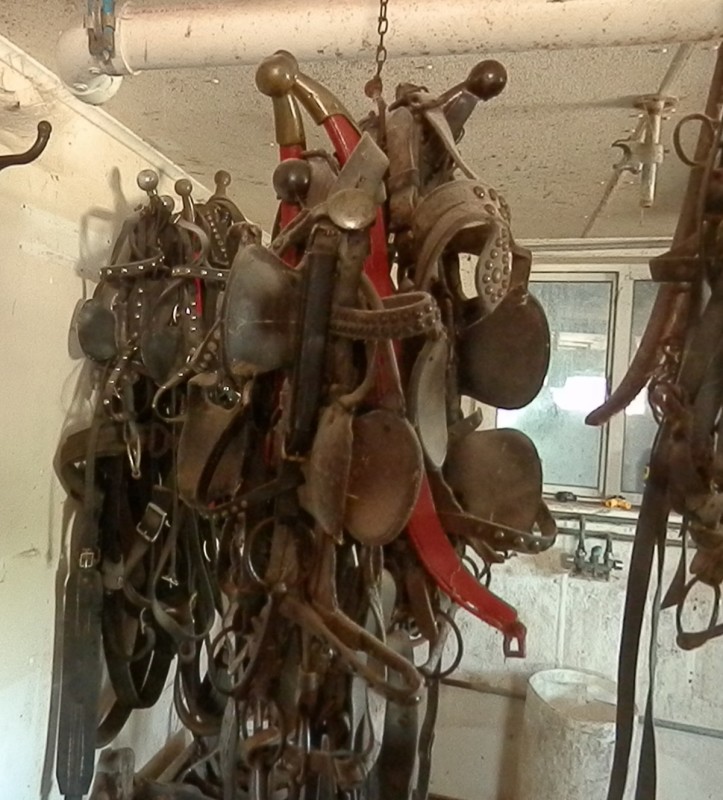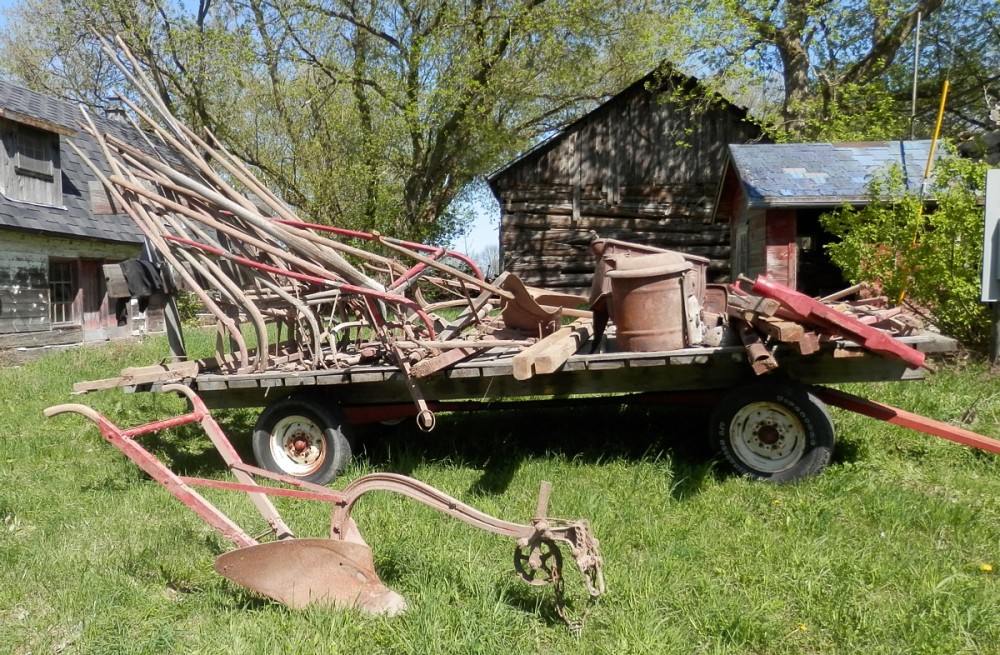 Lots and lots of horse related, fills, etc.
 The wedding wagon.....a nice rider, needing a little seat TLC before that special day!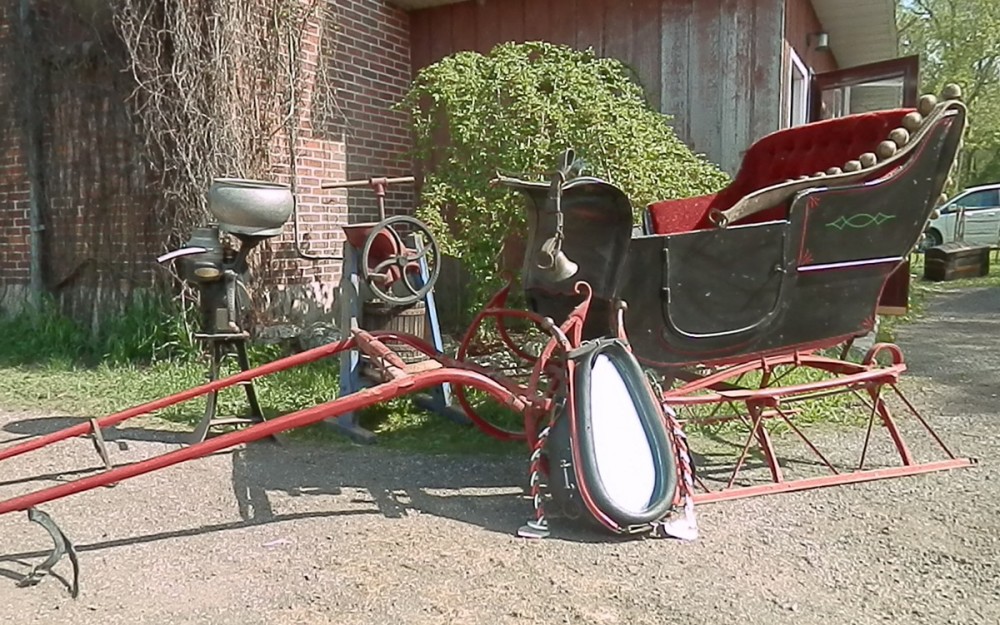 Nice sleigh....Lull Carriage Co--Refurbished by L Yoder & Sons (offered on Bidspotter)

 "Over the river and through the woods....."
Also pictured:   Big set of sleigh bells, large cow bell w/strap, Horse collar mirror,  
apple press, Delaval Cream Separator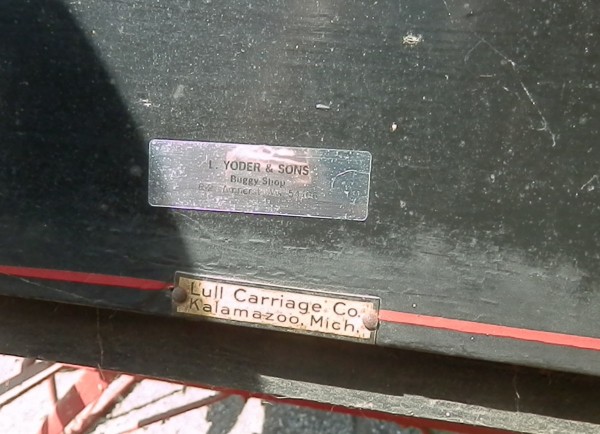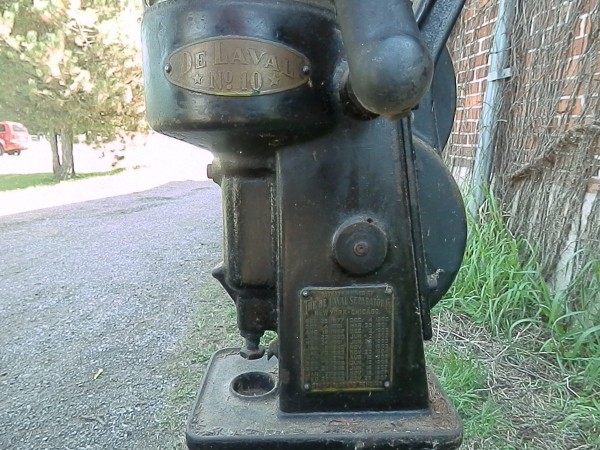 AROUND THE FARM & SHOP....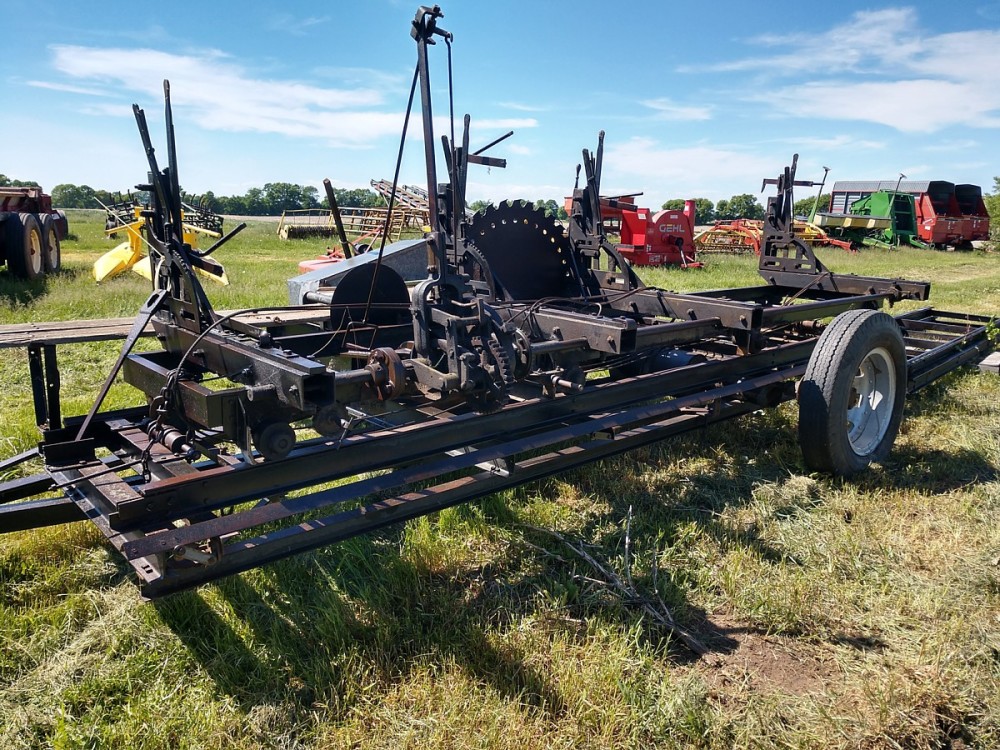 Portable saw mill, removed from the old farmstead---

tractor 540 pto powered, complete with rails & ready to work! (see more blades below)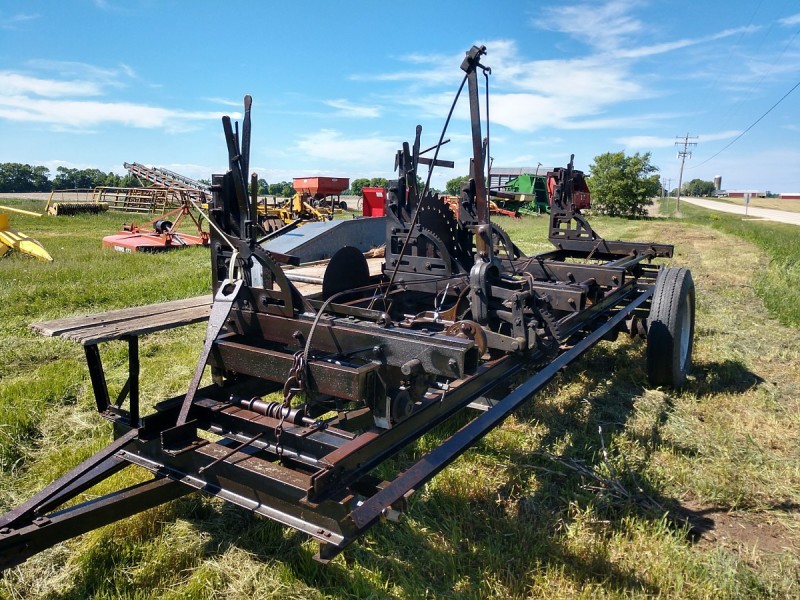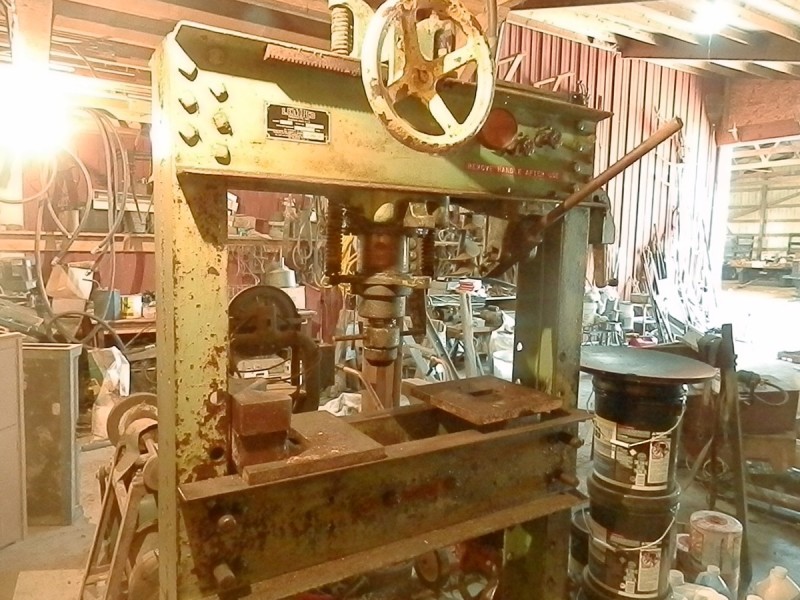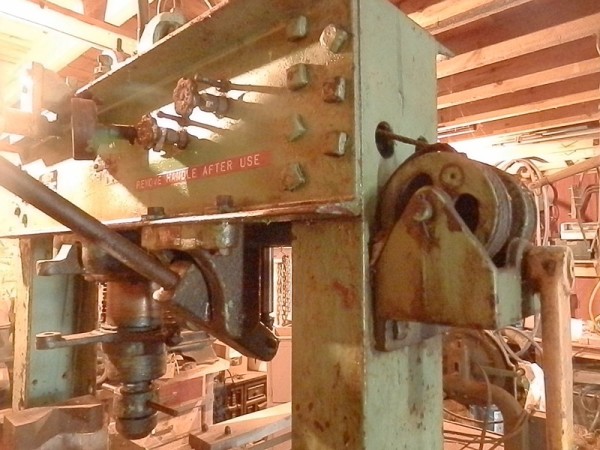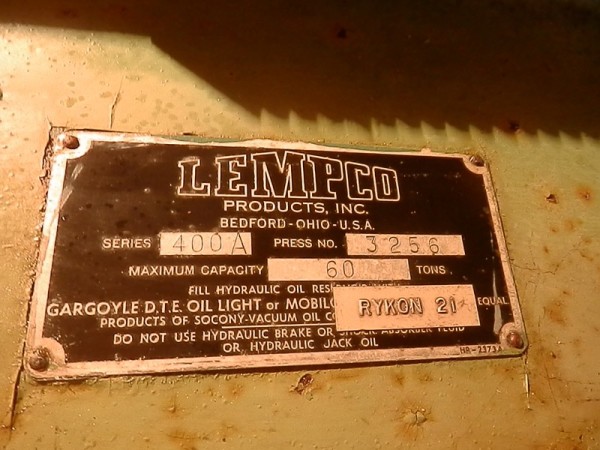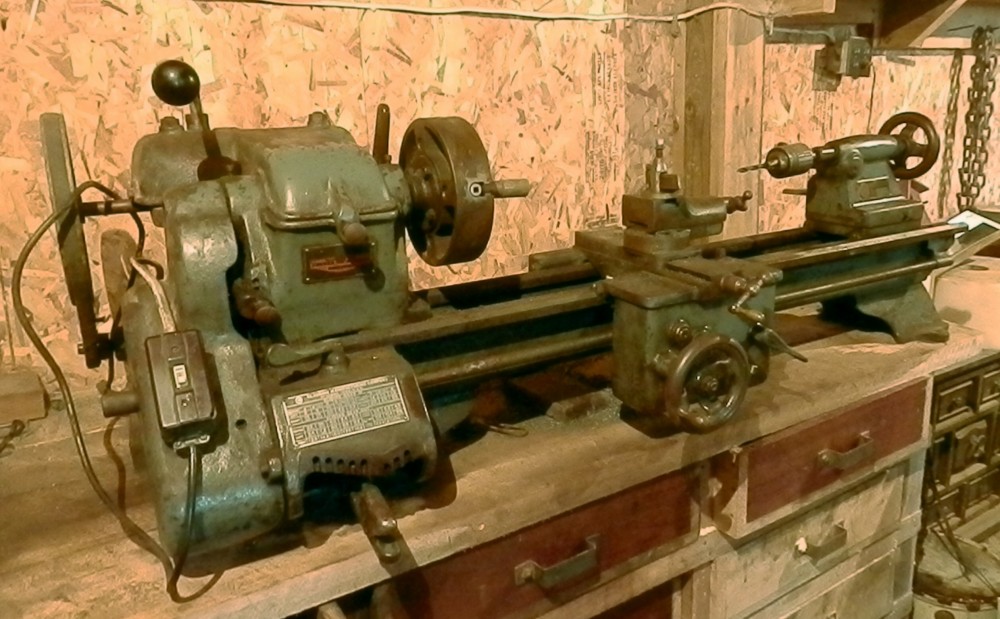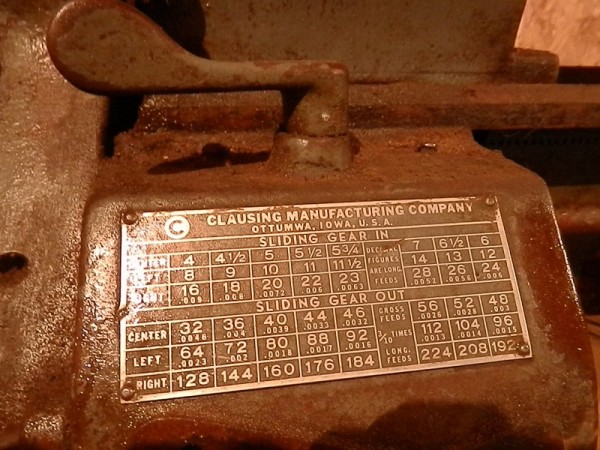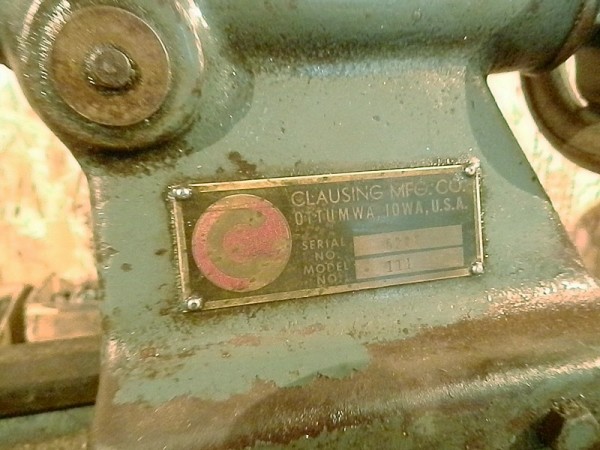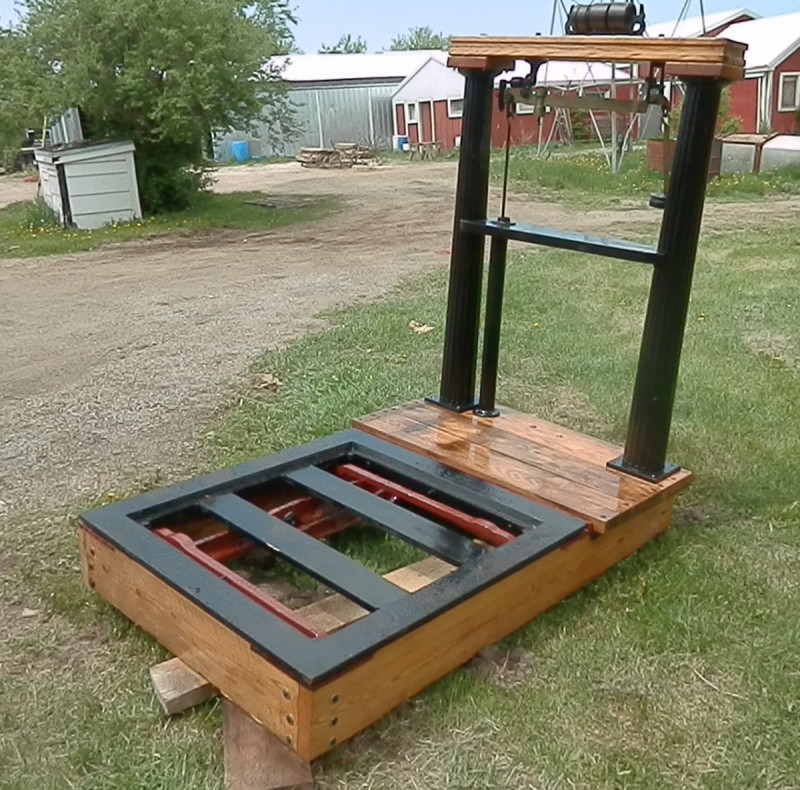 HOWE No. 3 Platform Scale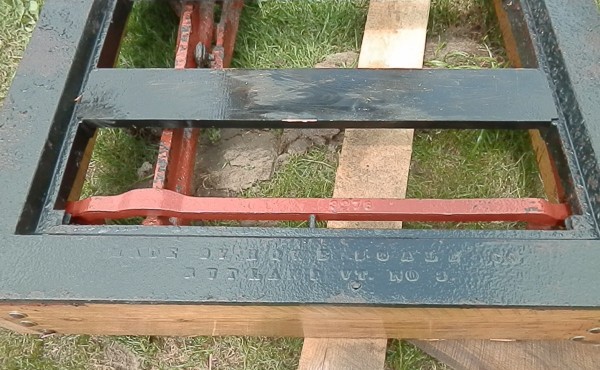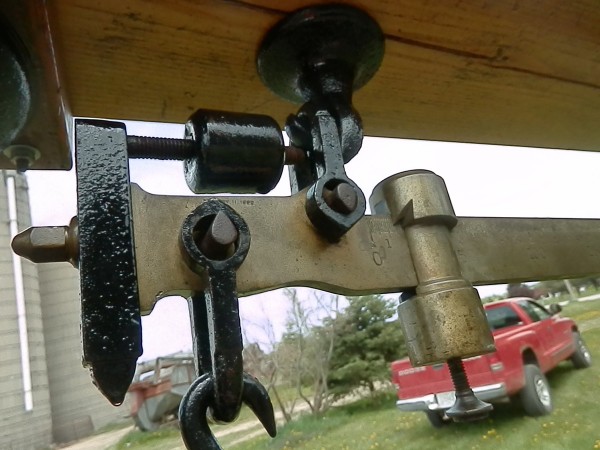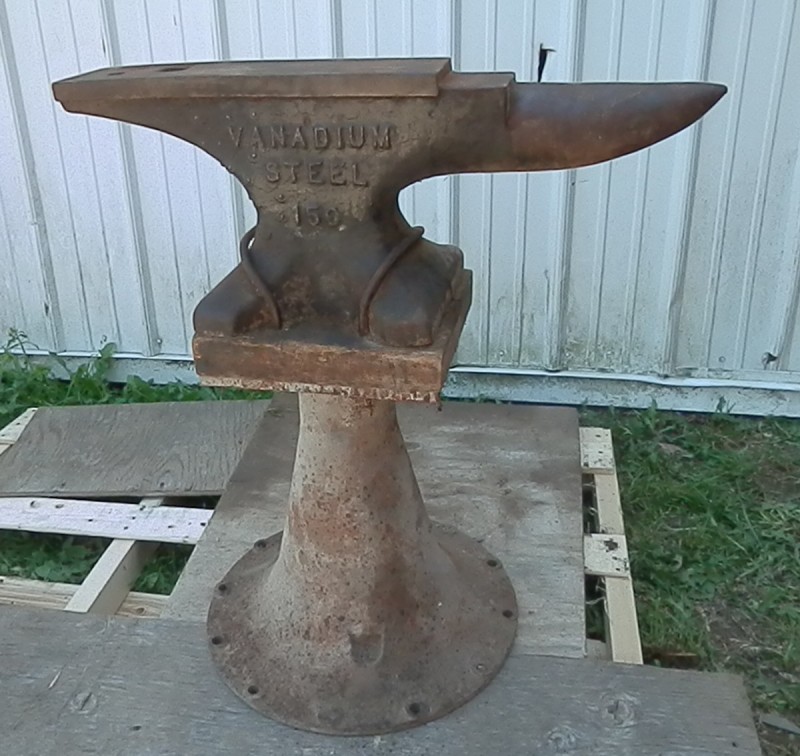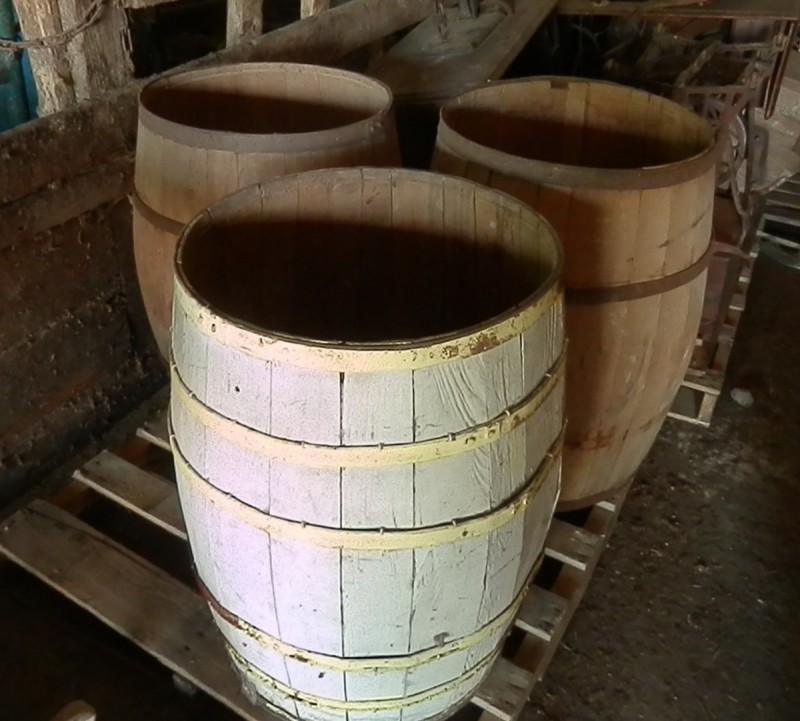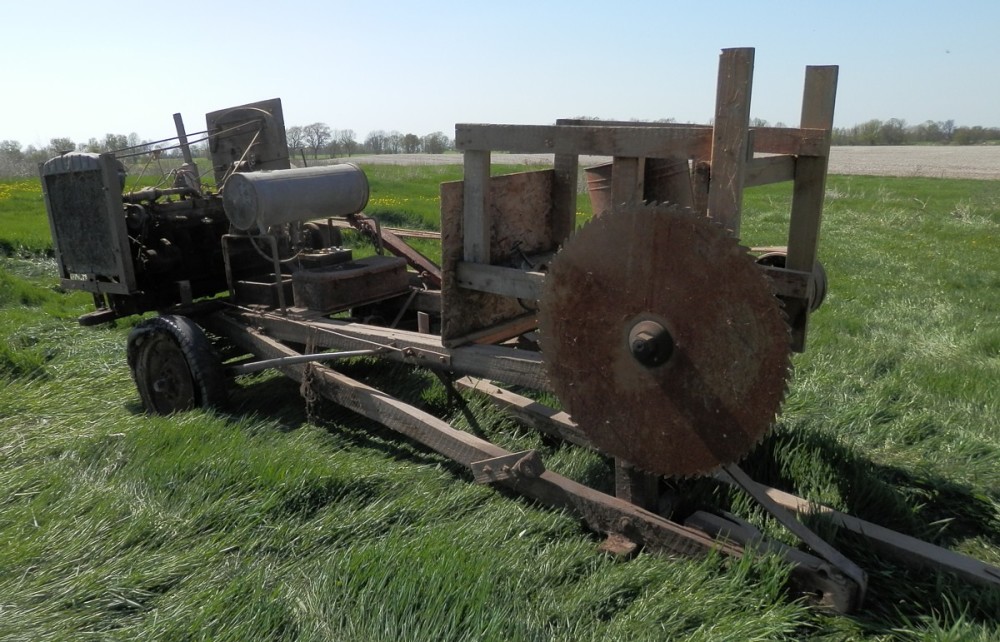 Home made buzz saw rig......or one of the original pieces of Steam Punk in Door County!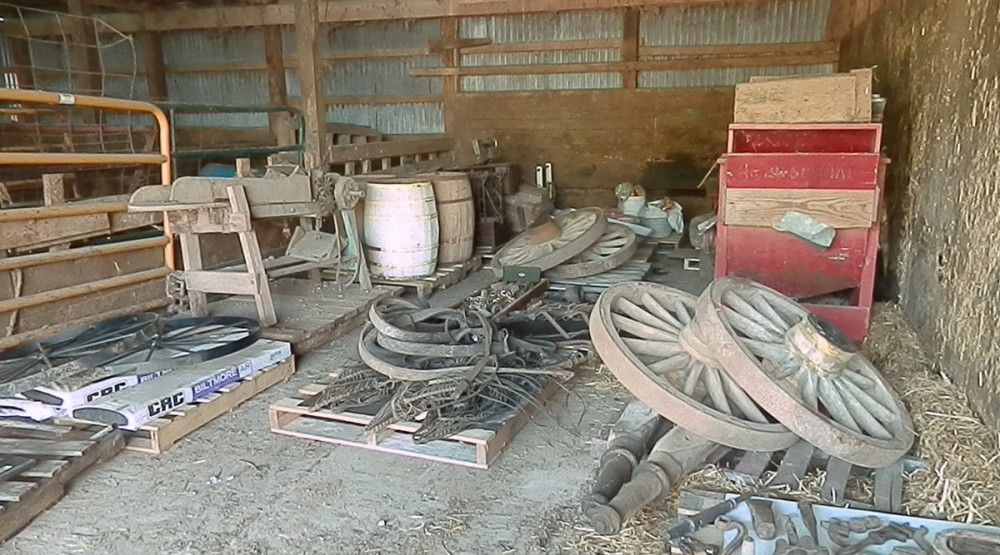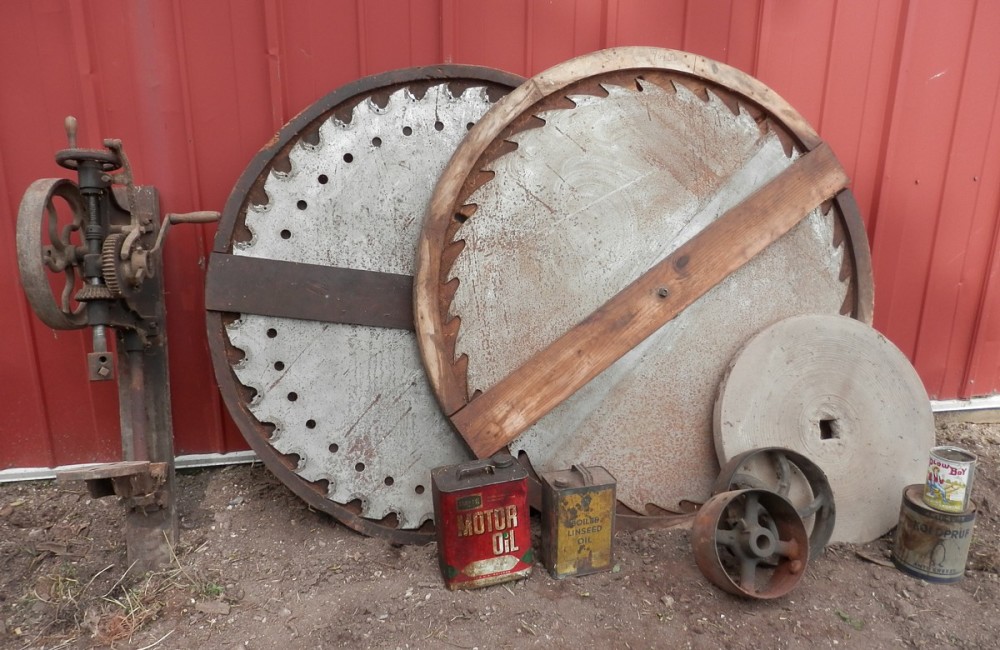 Hard to find.....Sawmill blades, one with carbide tips (blade offered on Bidspotter)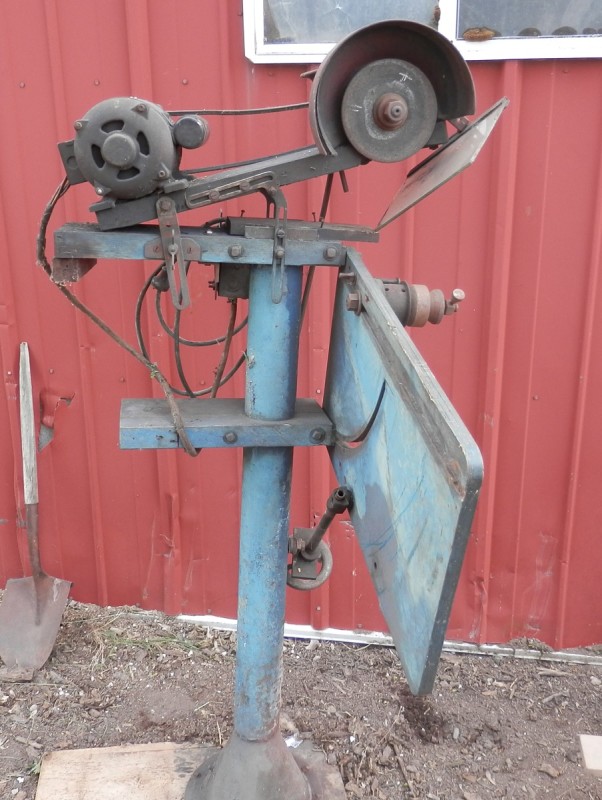 Circle  Saw blade sharpener,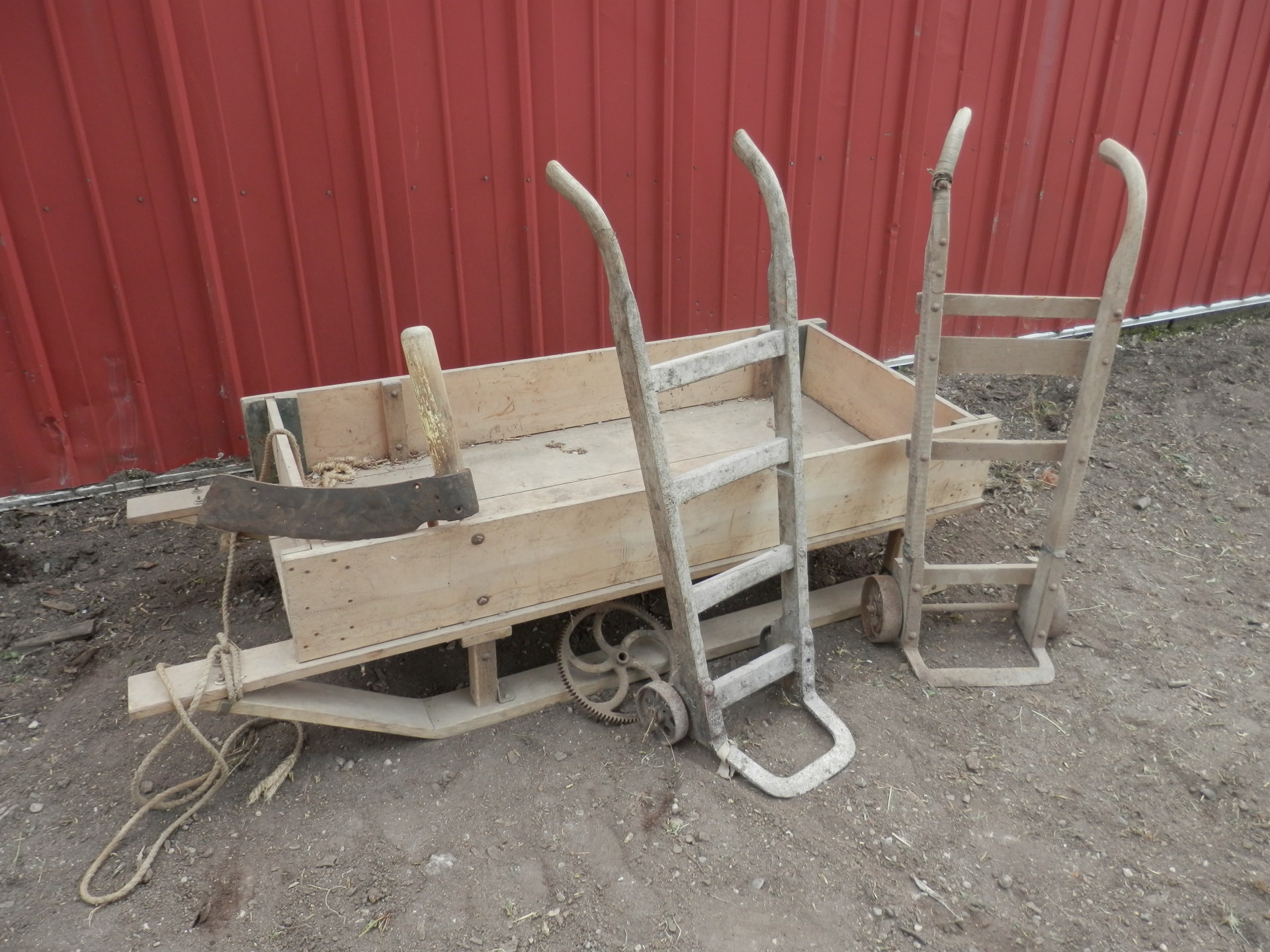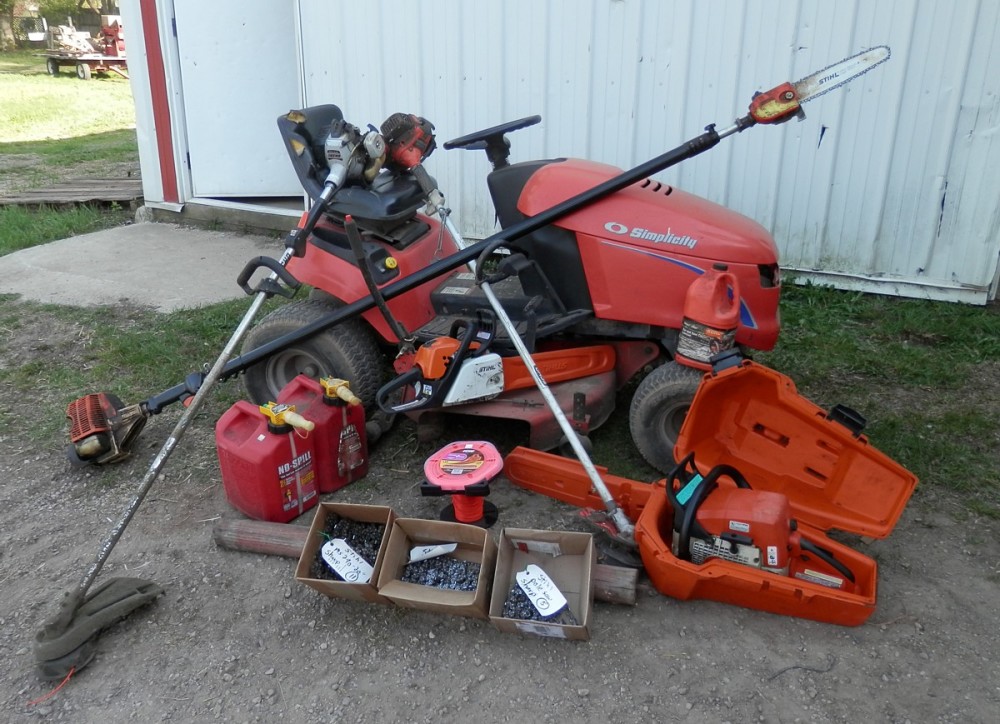 Quality Yard & Garden items....Simplicity mower, Stihl MS 290 20" chain saw in case;

Stihl MS 211 16" Chainsaw; Echo SRM-230 Weed Eater; Echo SRM 2200 Weed Eater;
Stihl Pole Saw w/Roll-o-matic Mini E

Power tools--Milwaukee 3/4" HD drill, 3/4" sockets, B&D Saw, Table Top Drill Press,

Elec. Fencers, cattle fogger, and more more more!
(Imagine....) 14 wagons and over 80 pallets of parts, tools,
primitives,  antiques & collectibles--so far, too much to mention, we'll let the
pictures tell the story!  Lots of rural local history, too!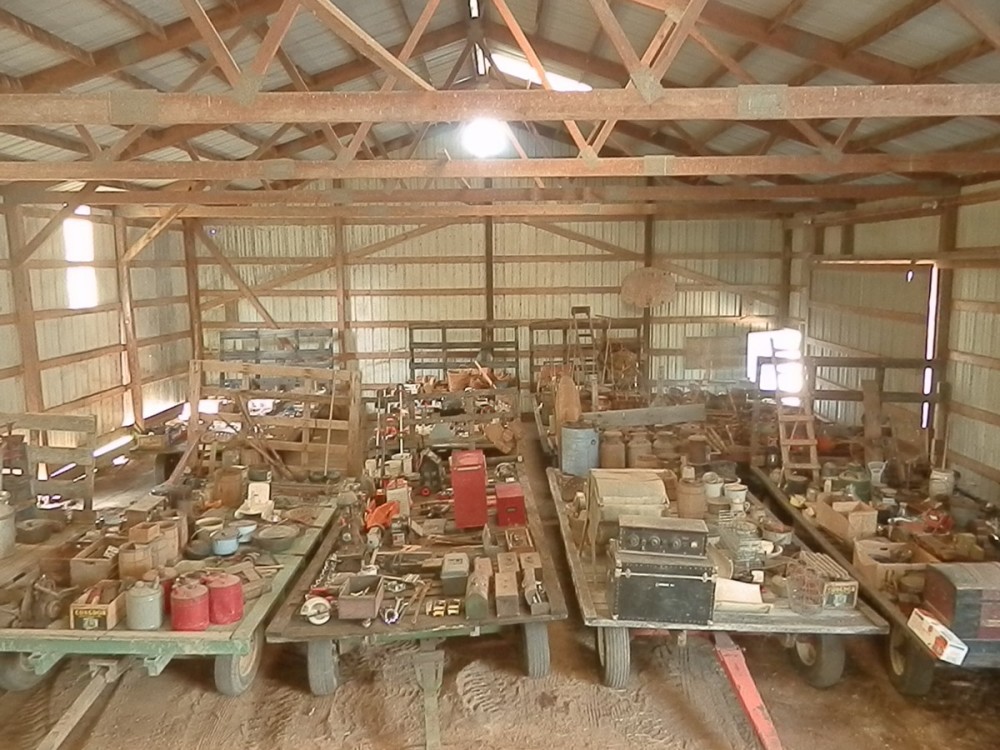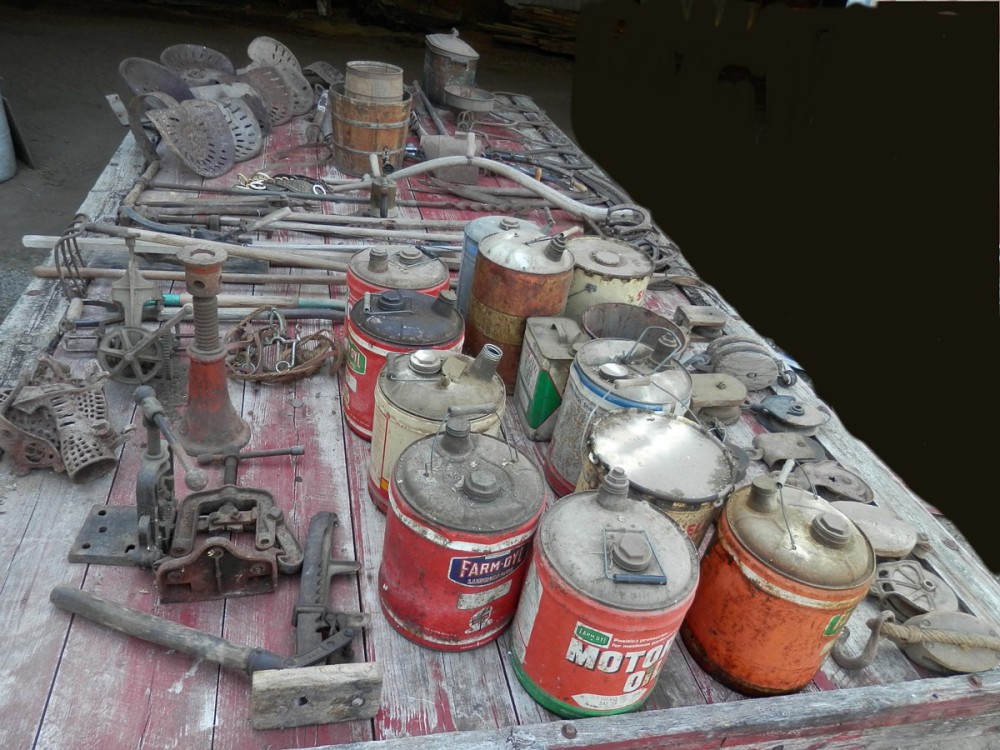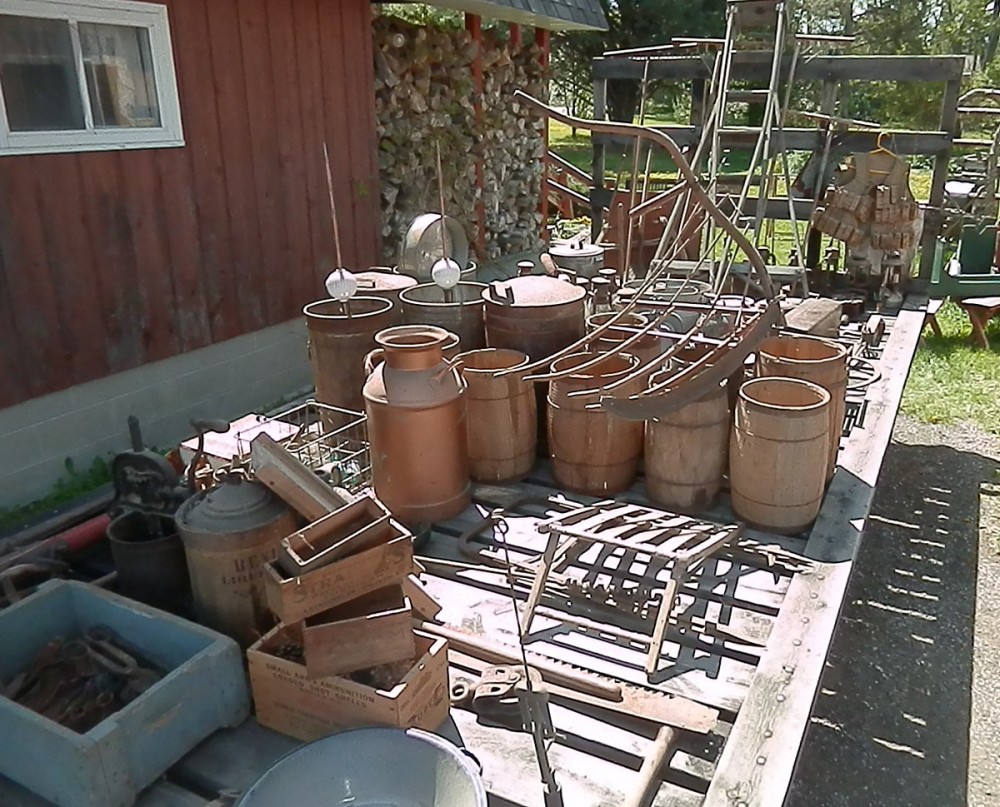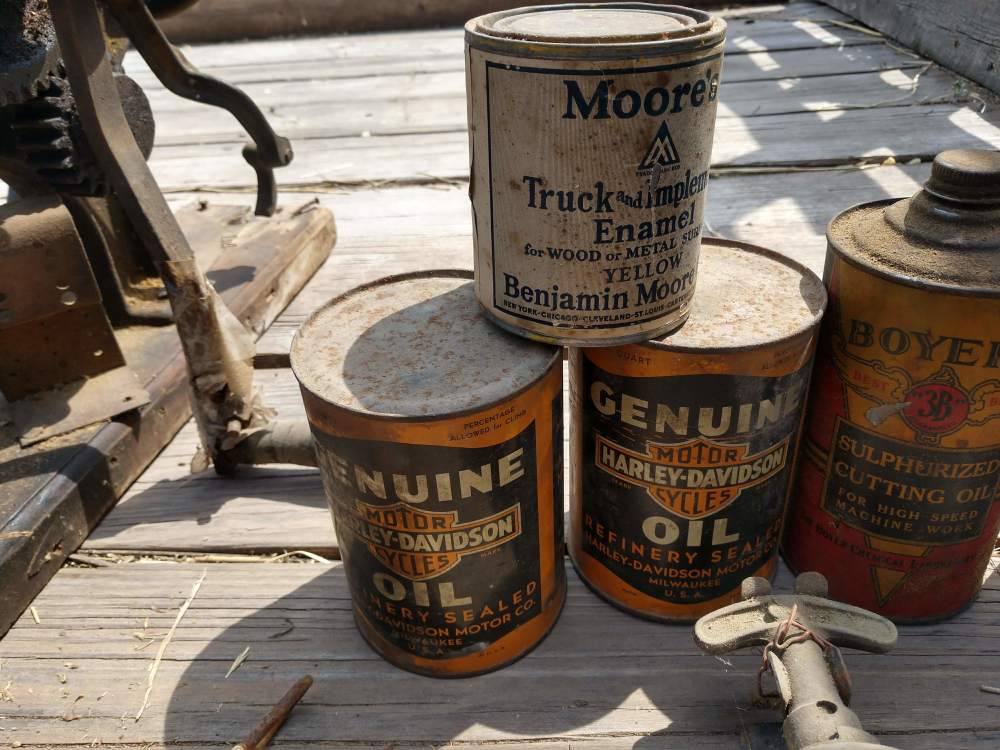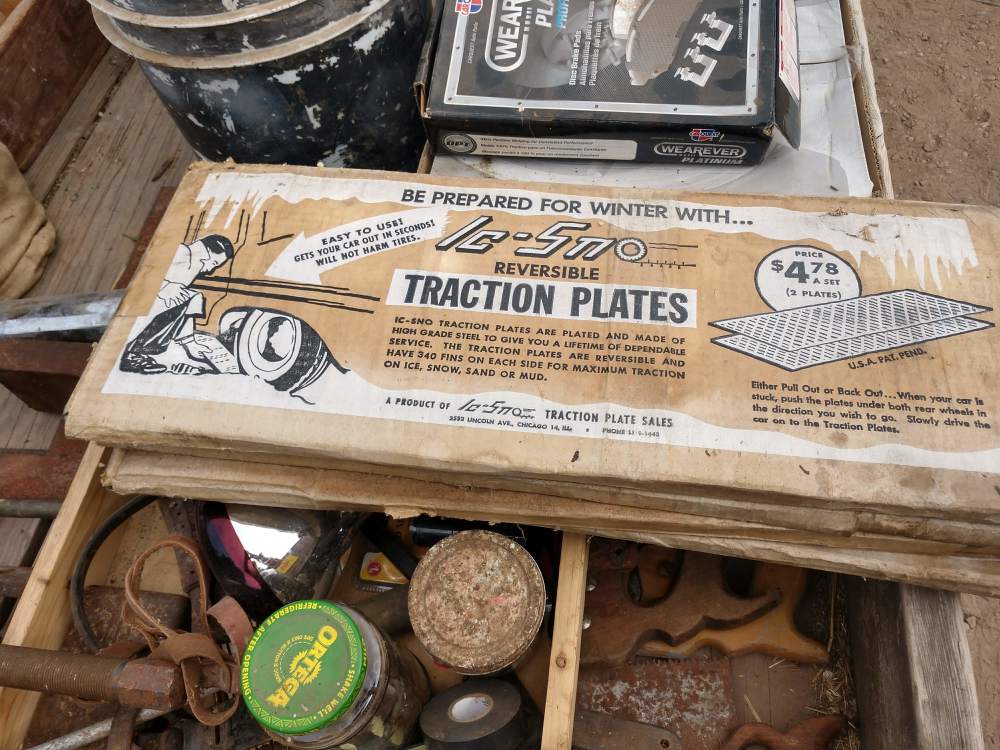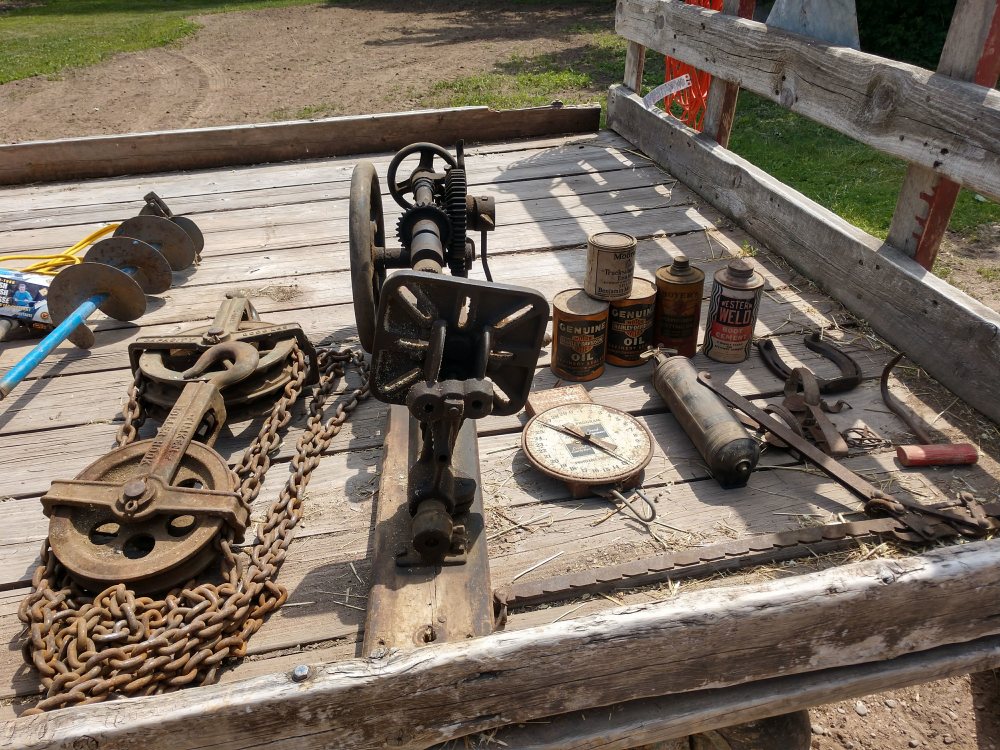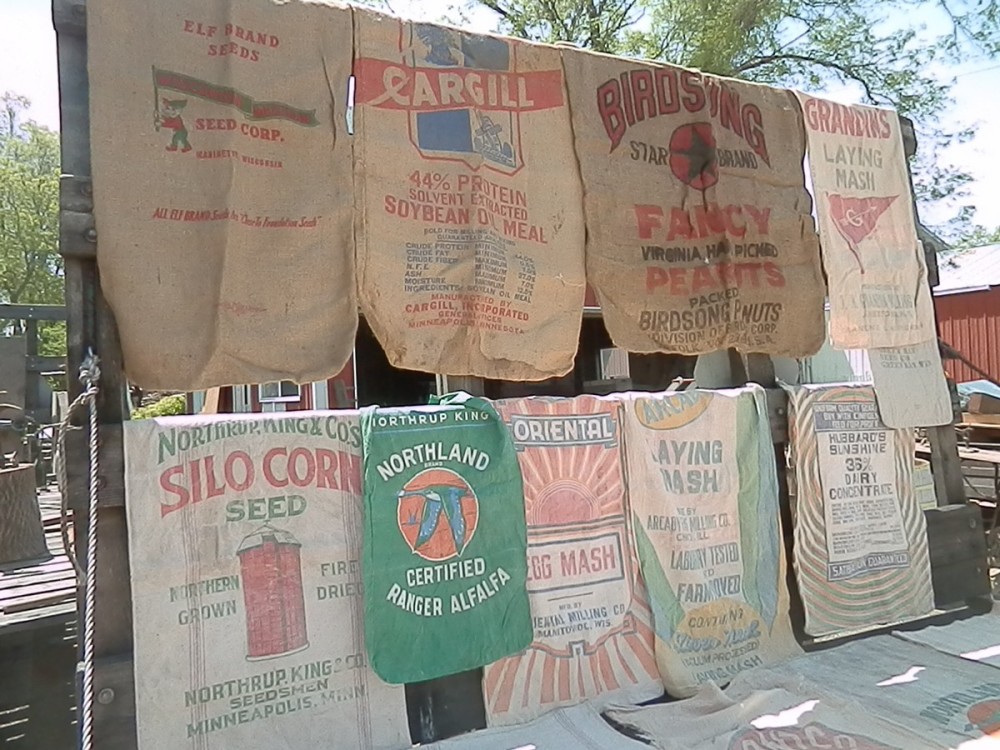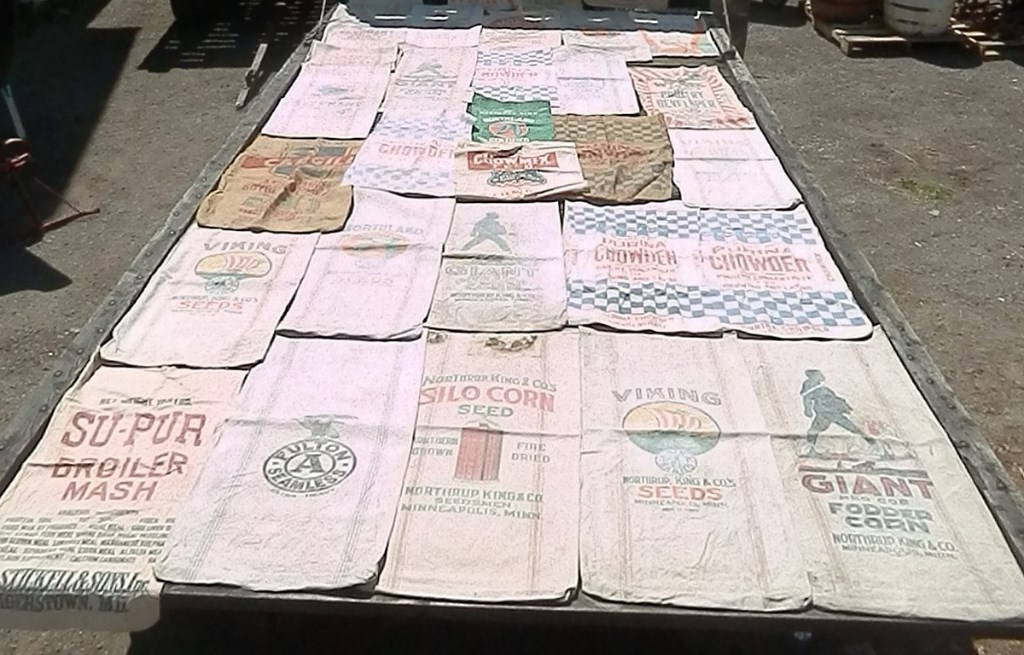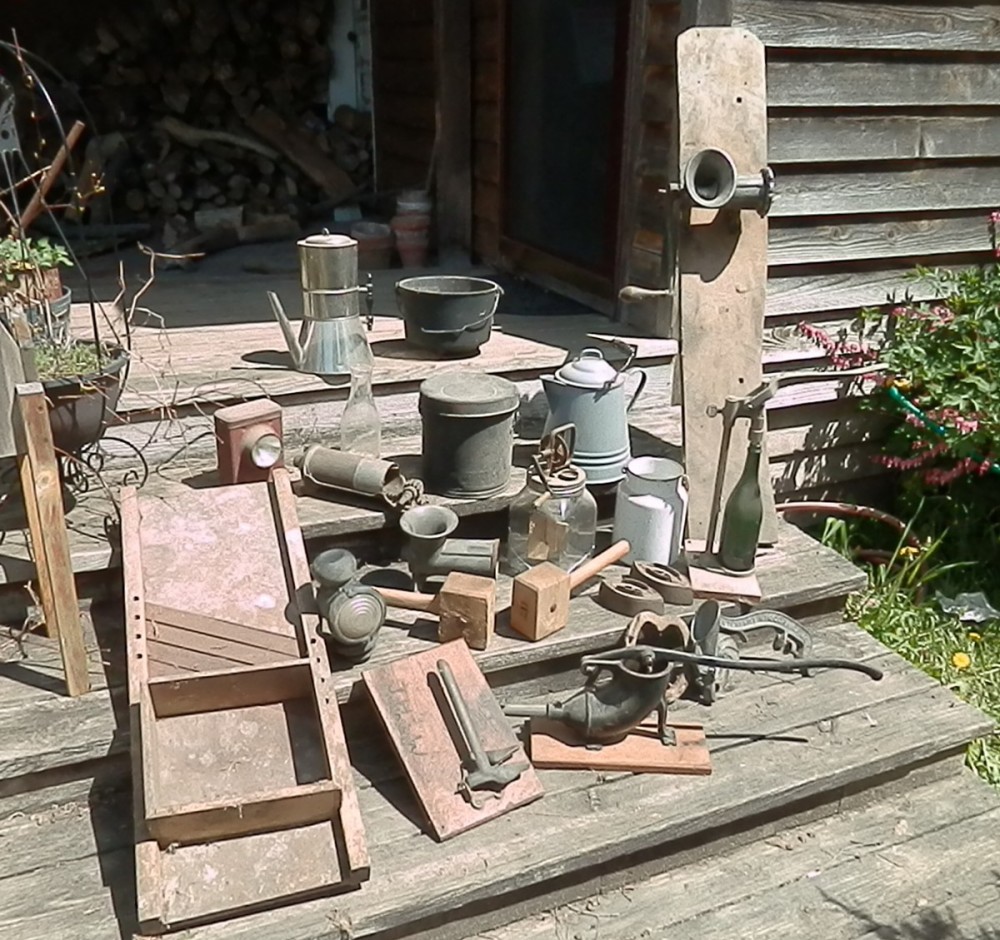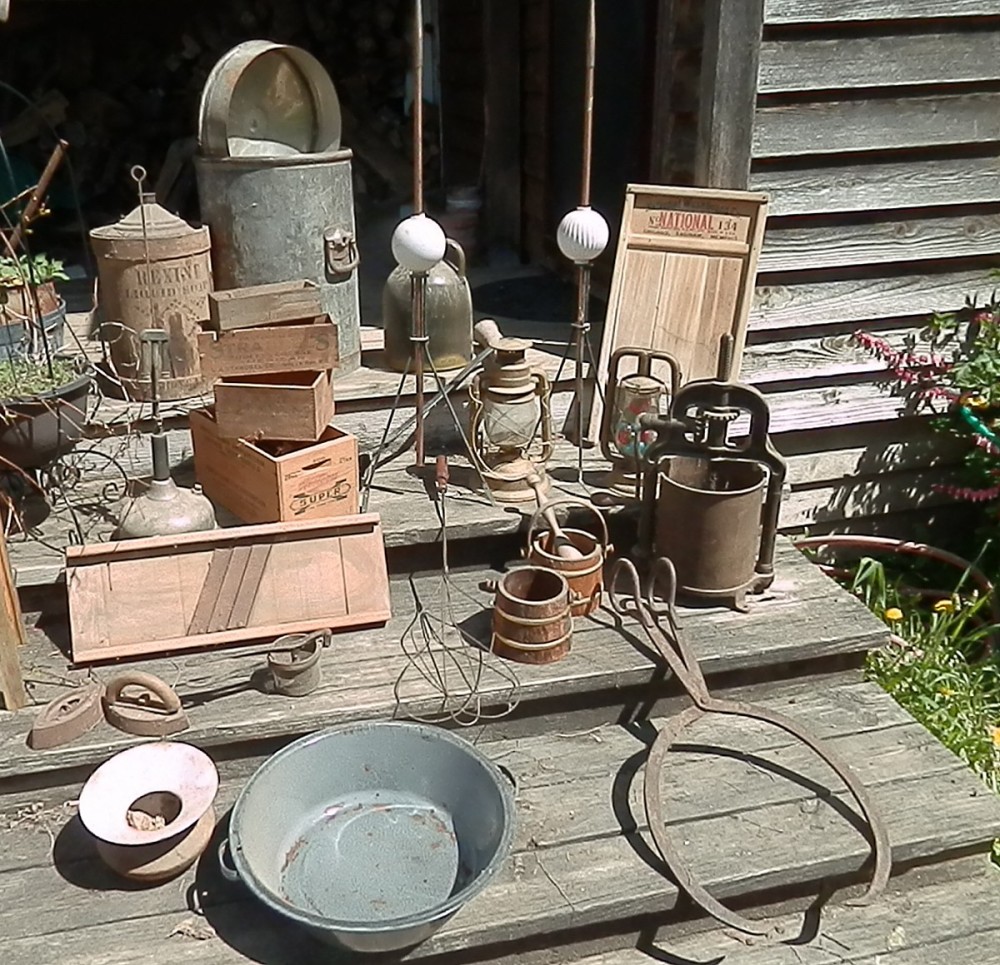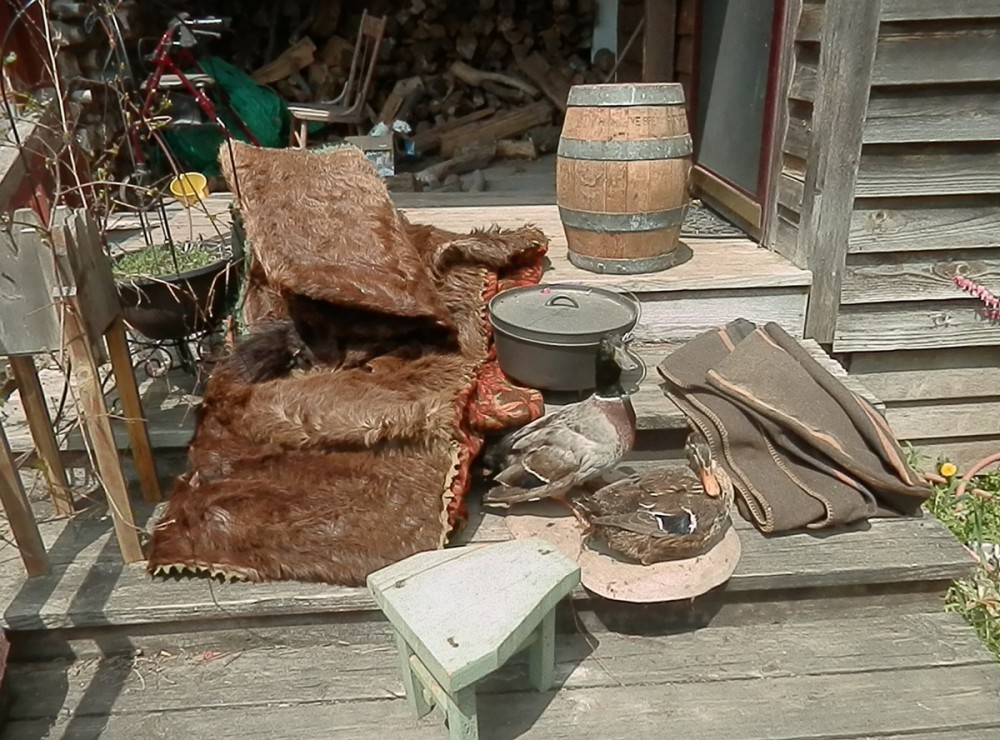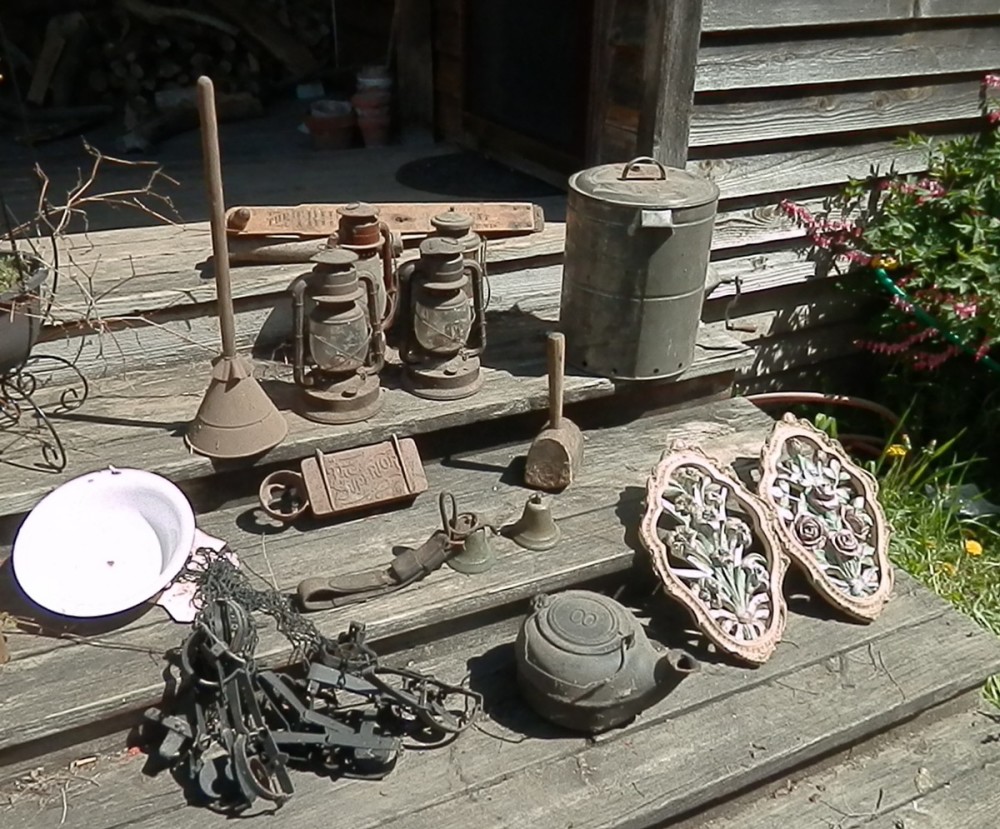 Watch for even more in the morning!!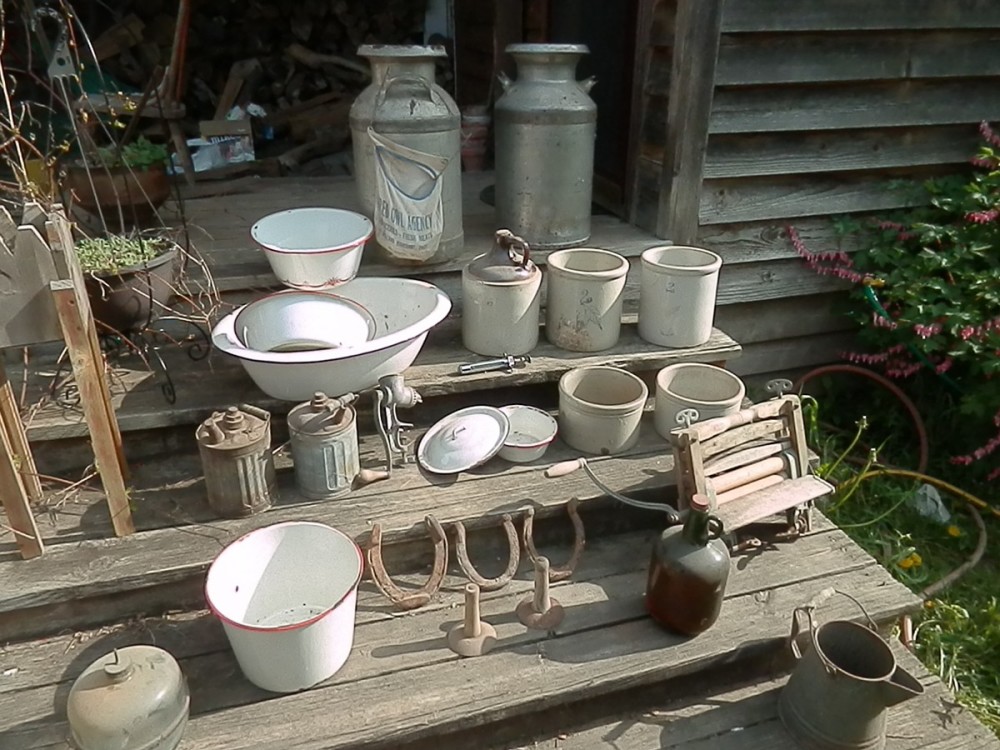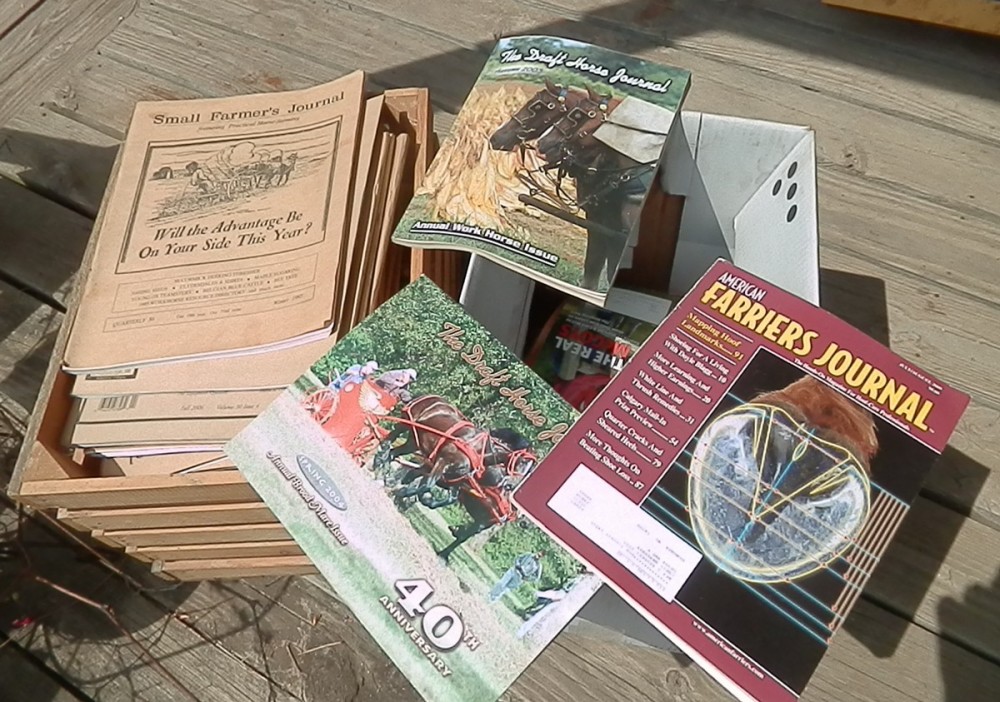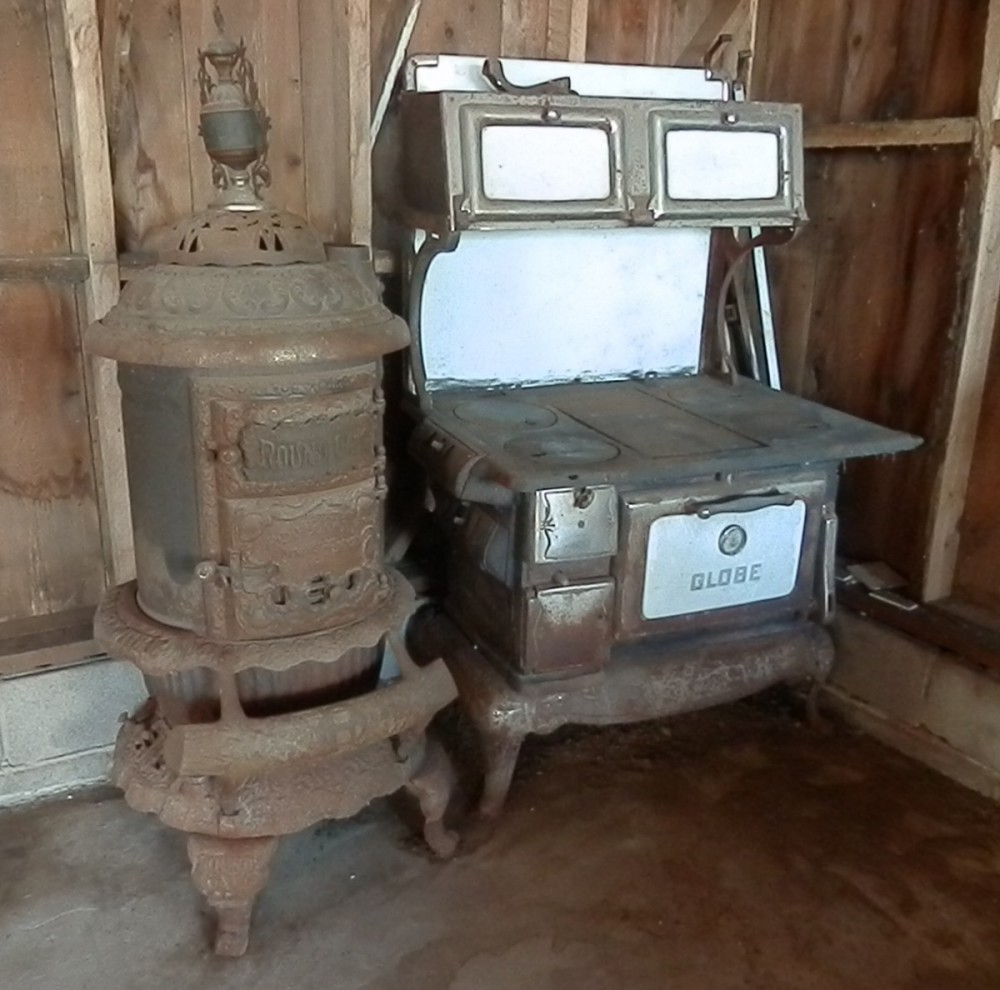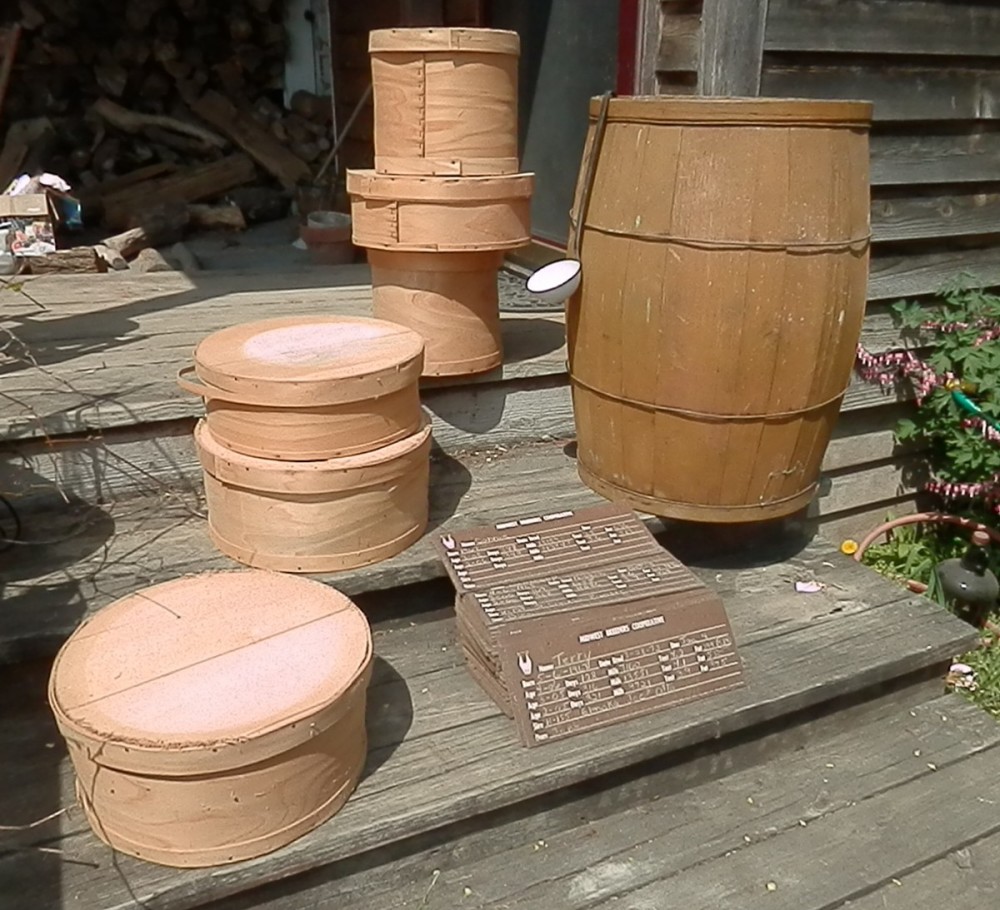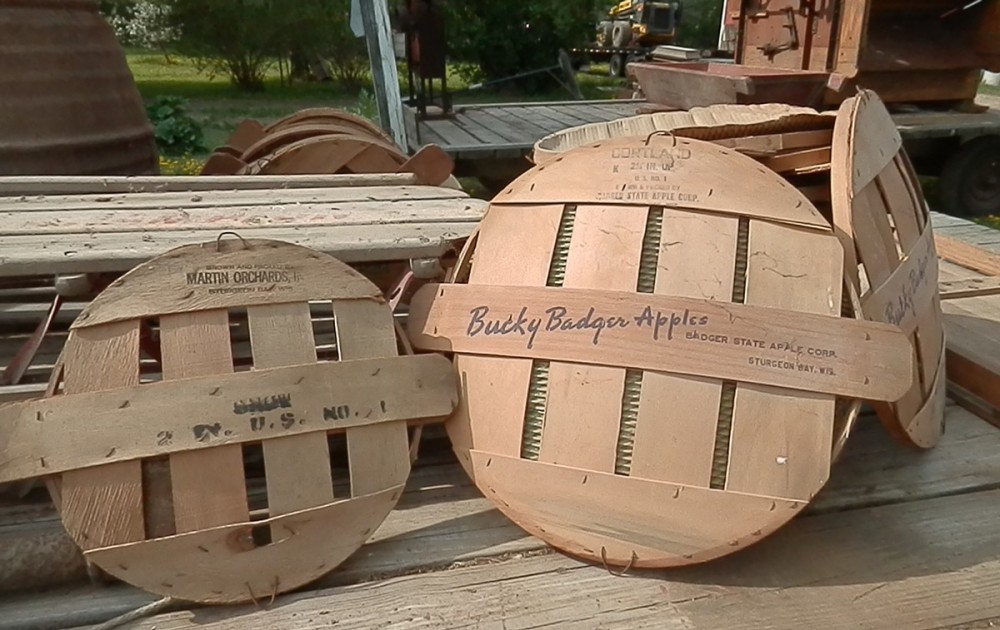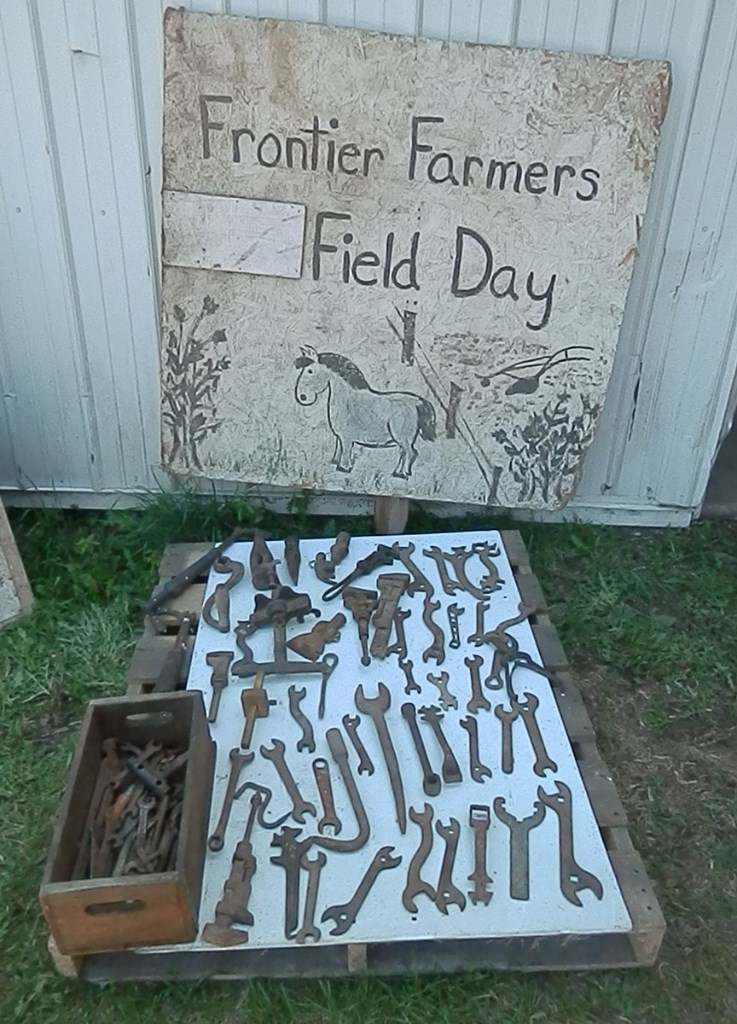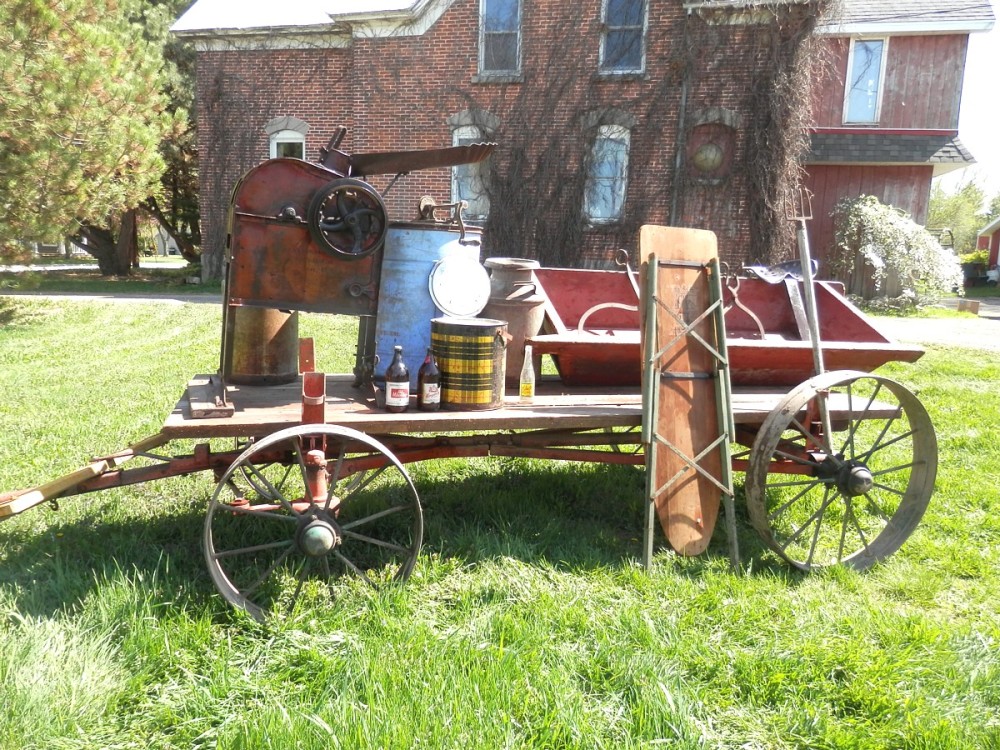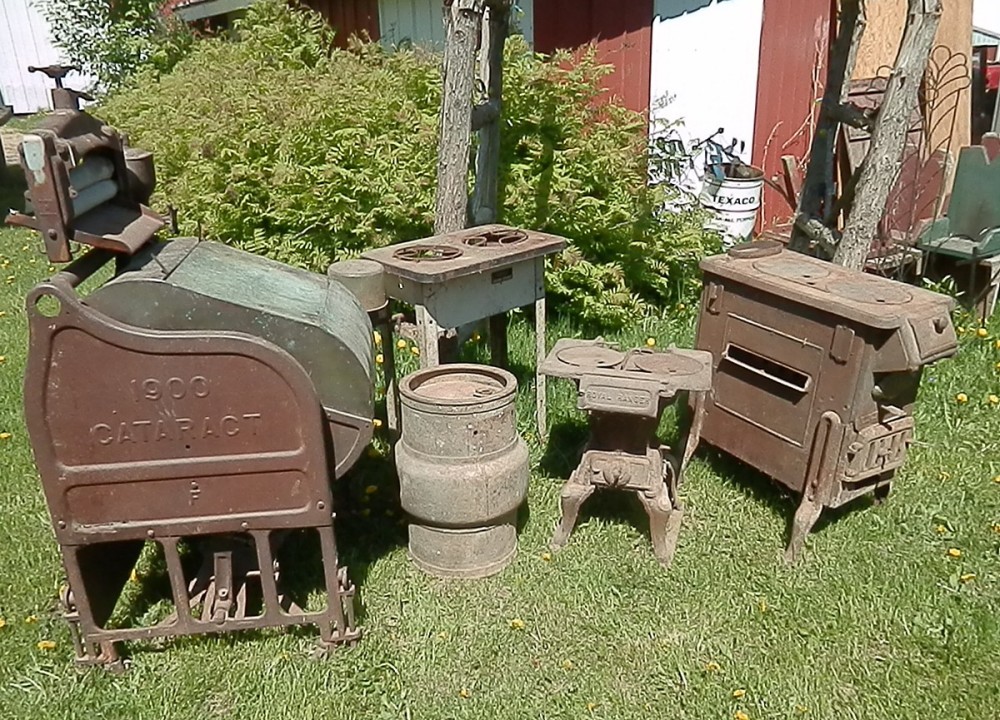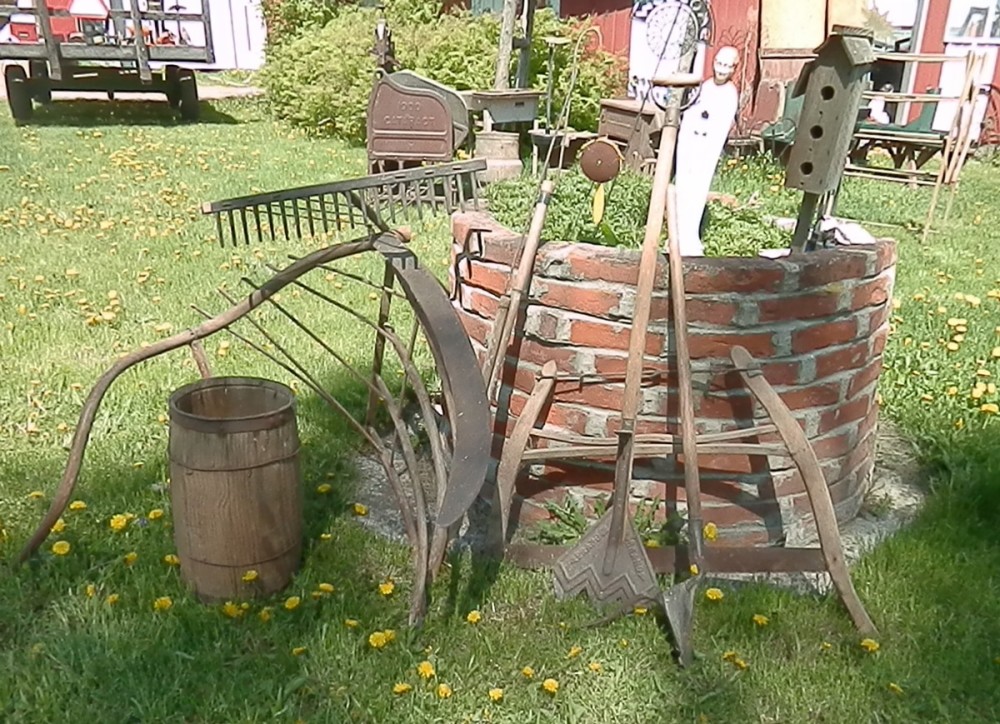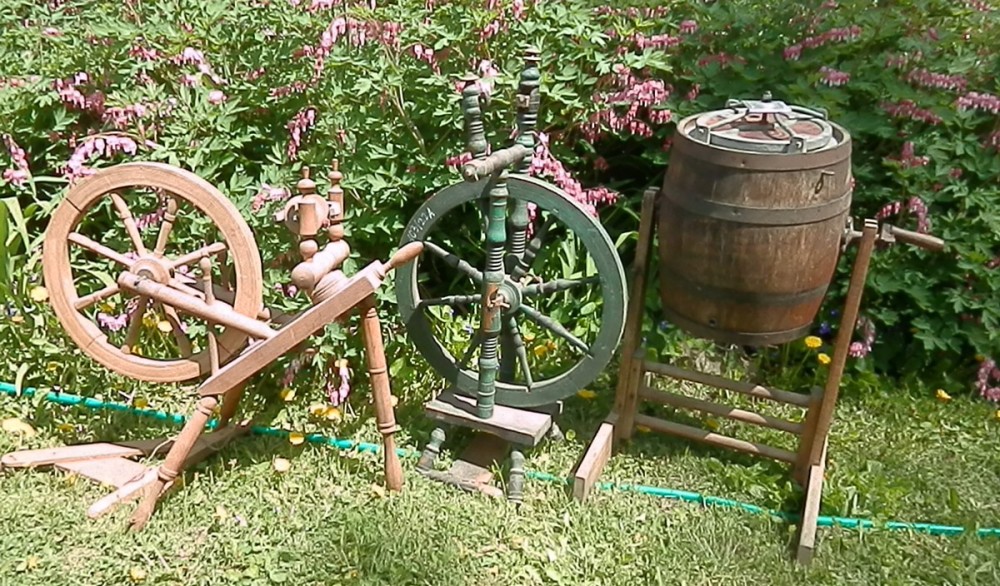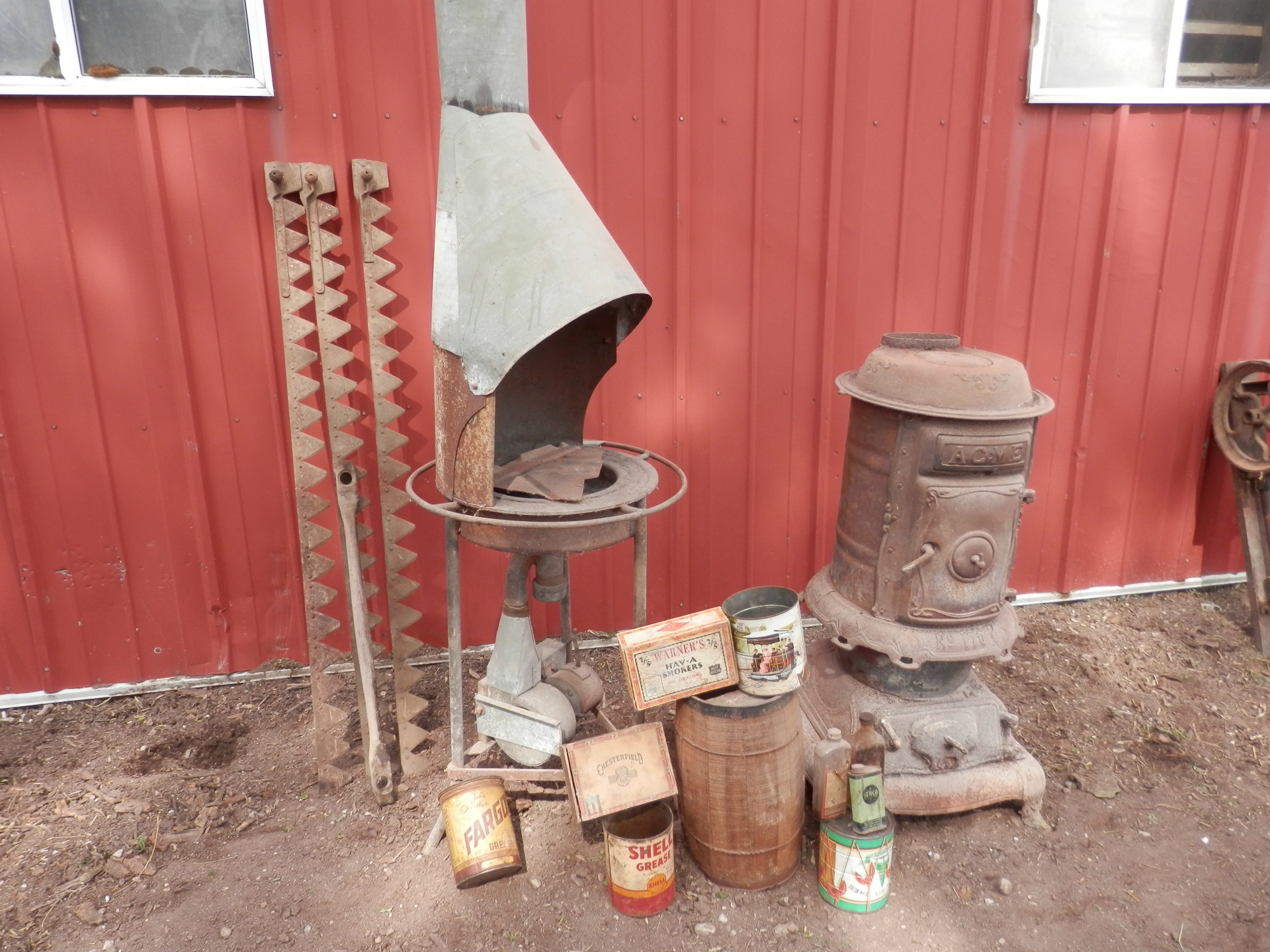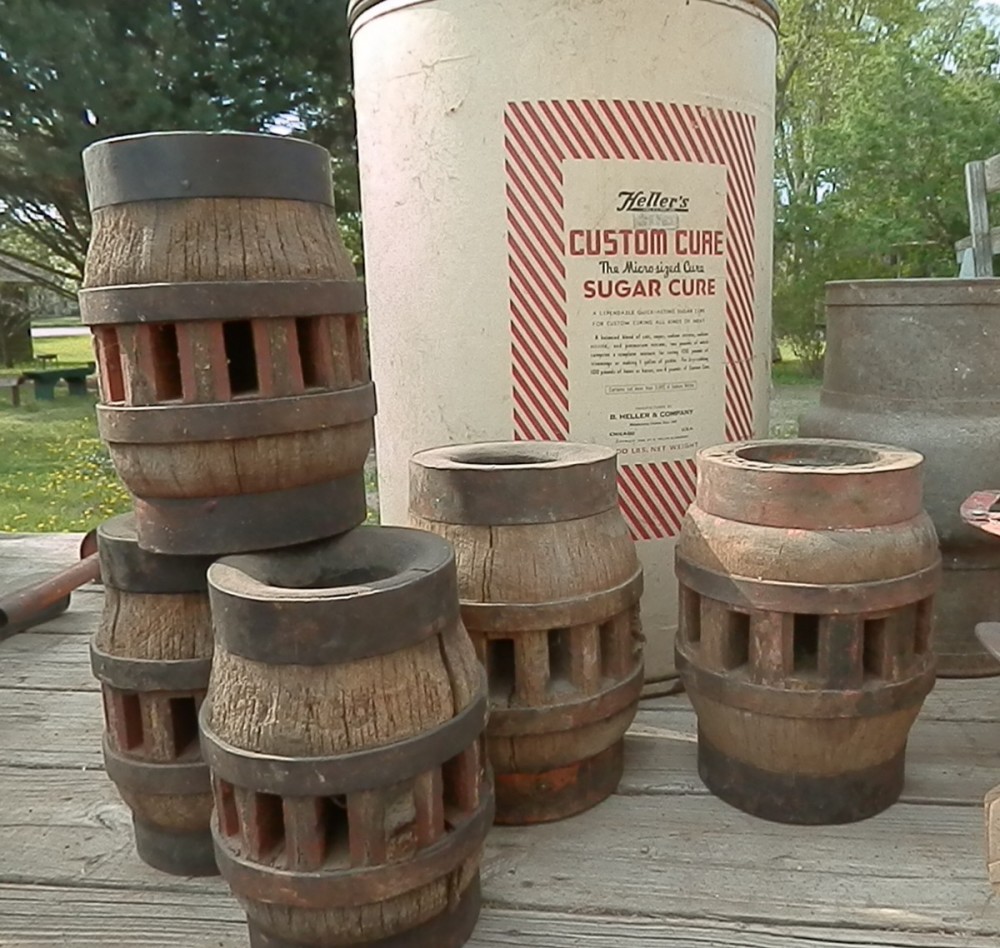 Close up of center hubs for making wagon wheels---Walmart doesn't carry them anymore!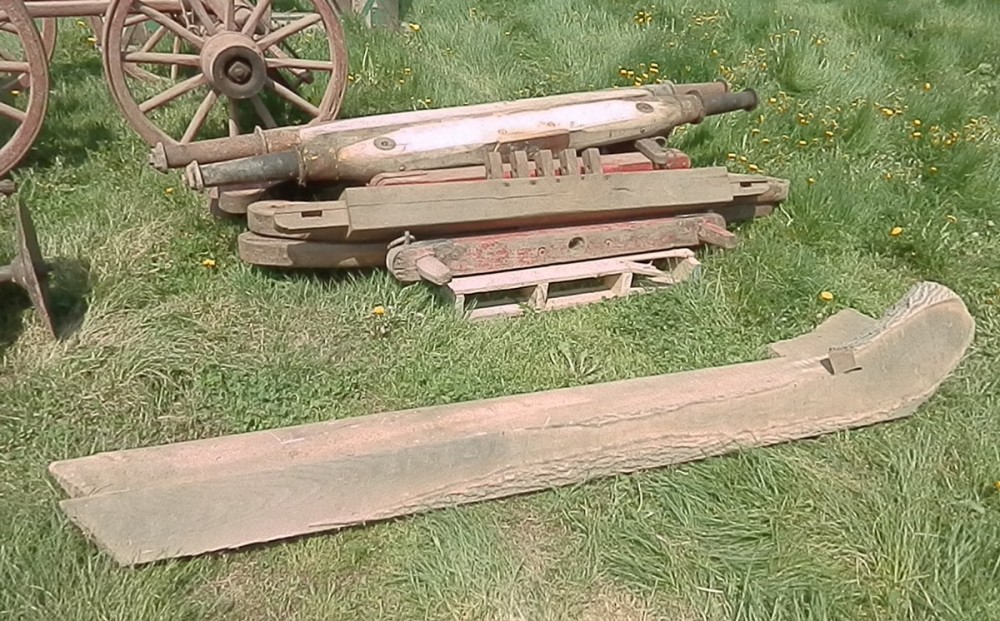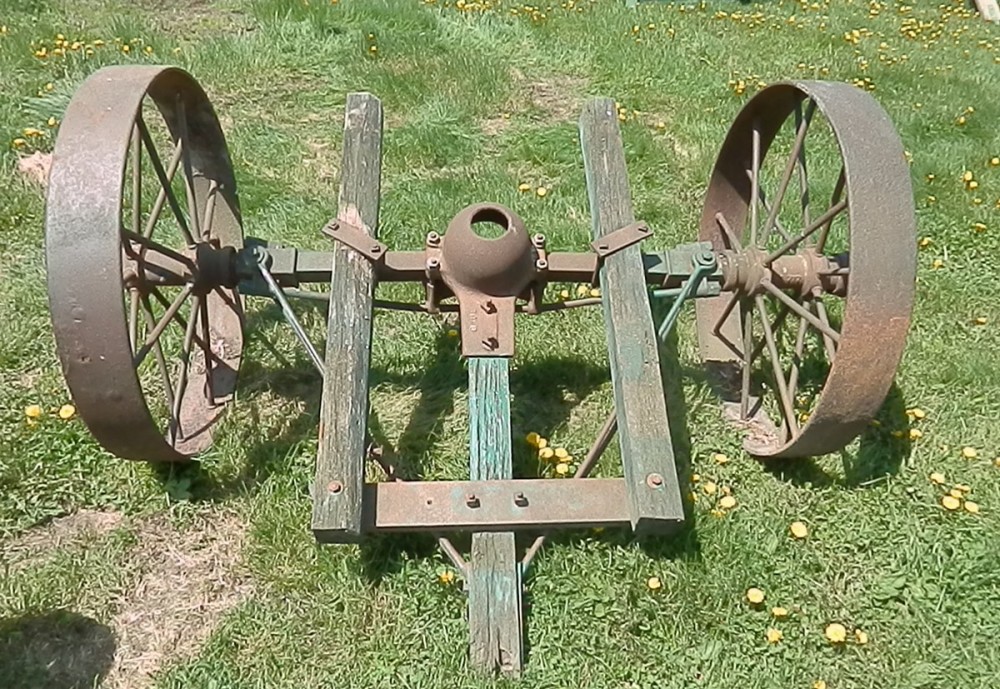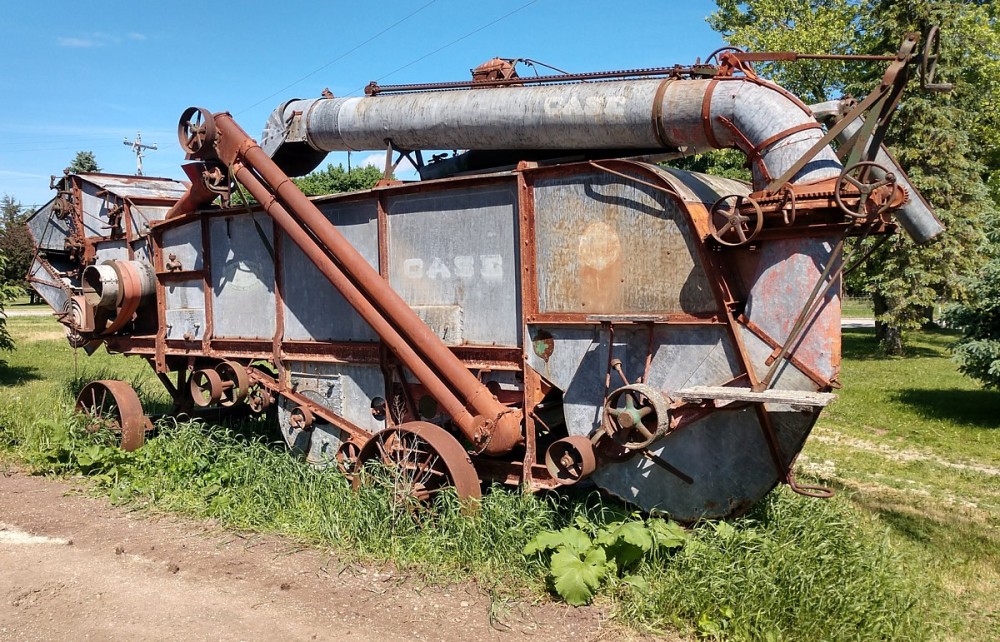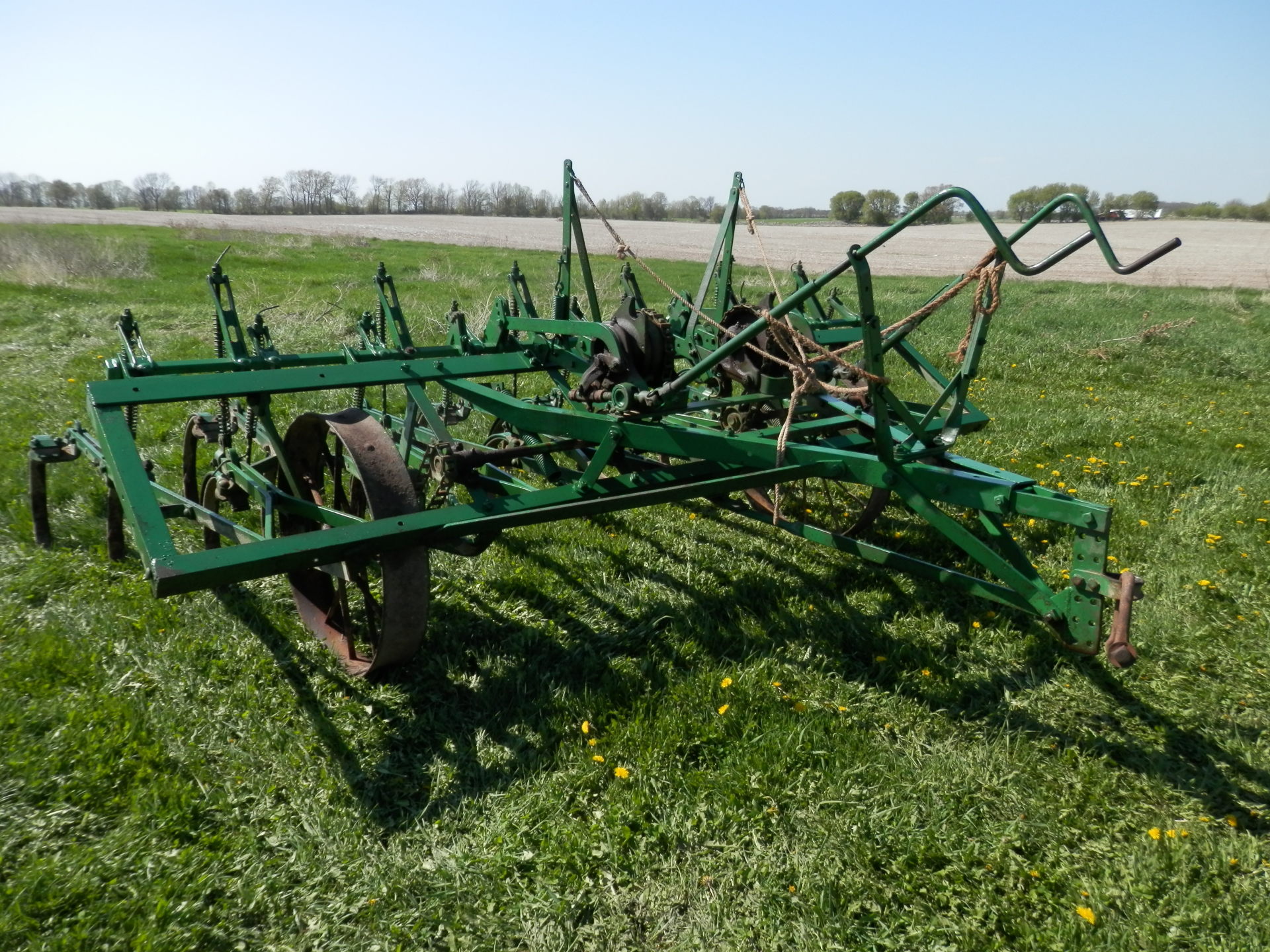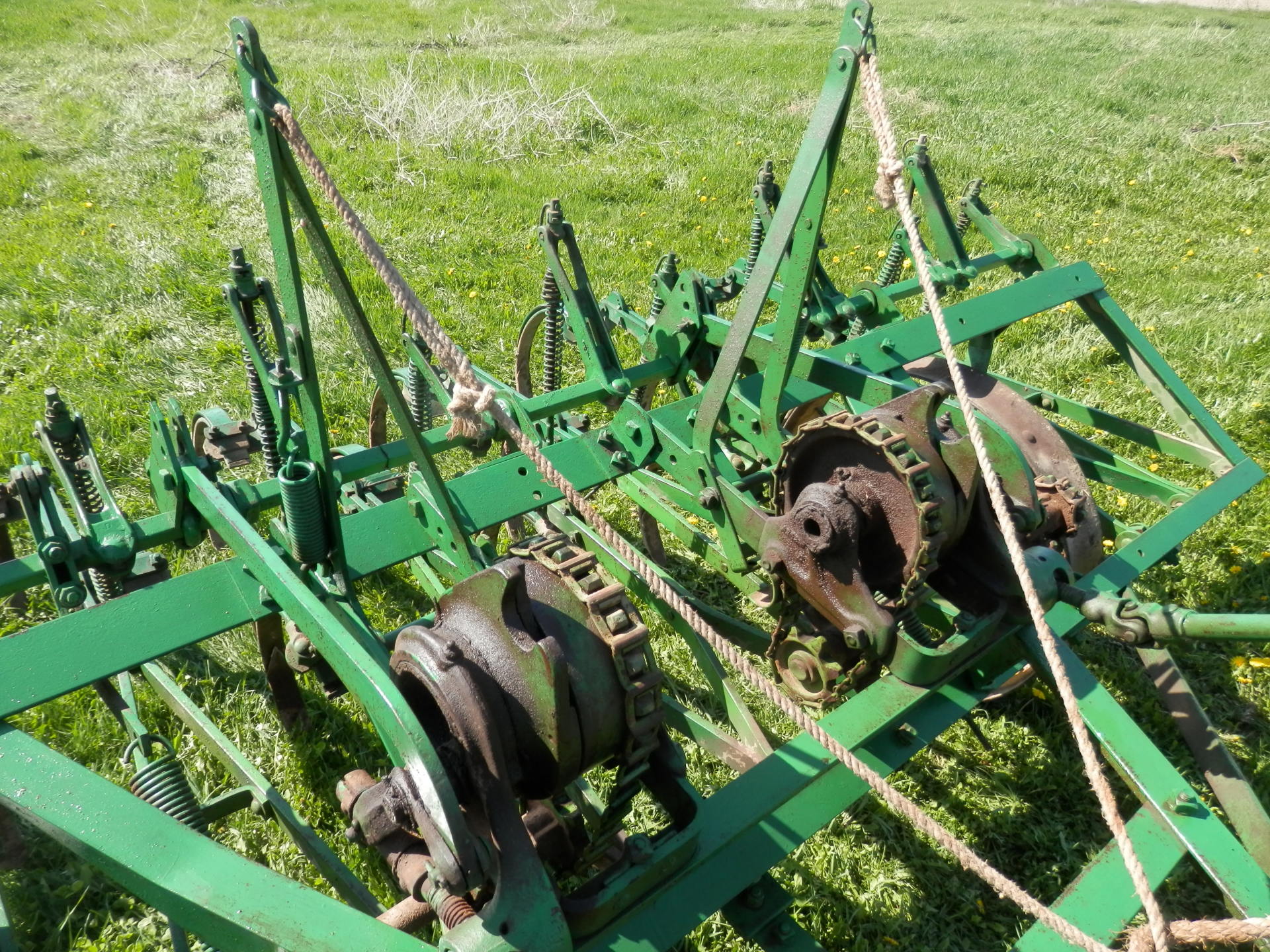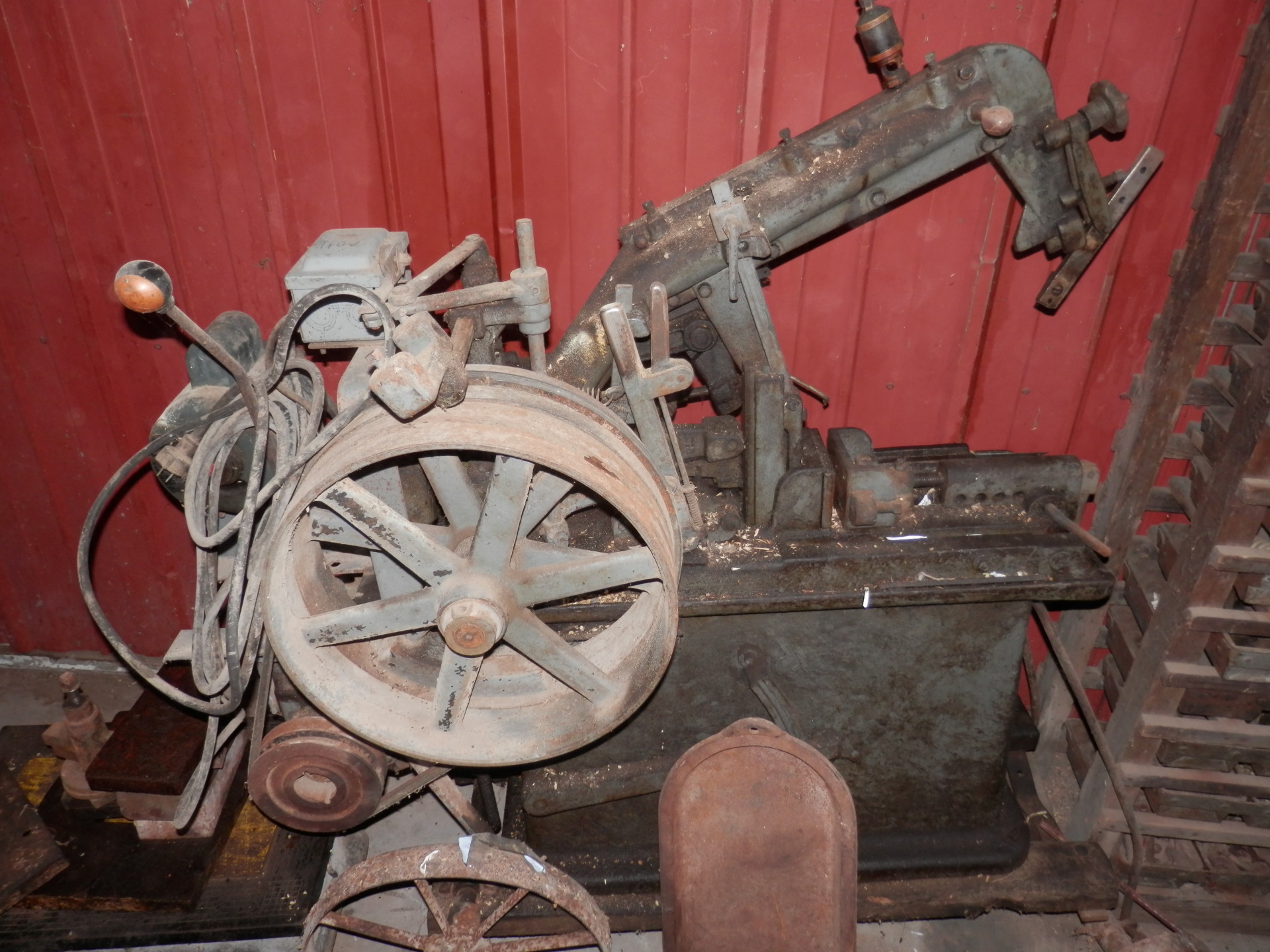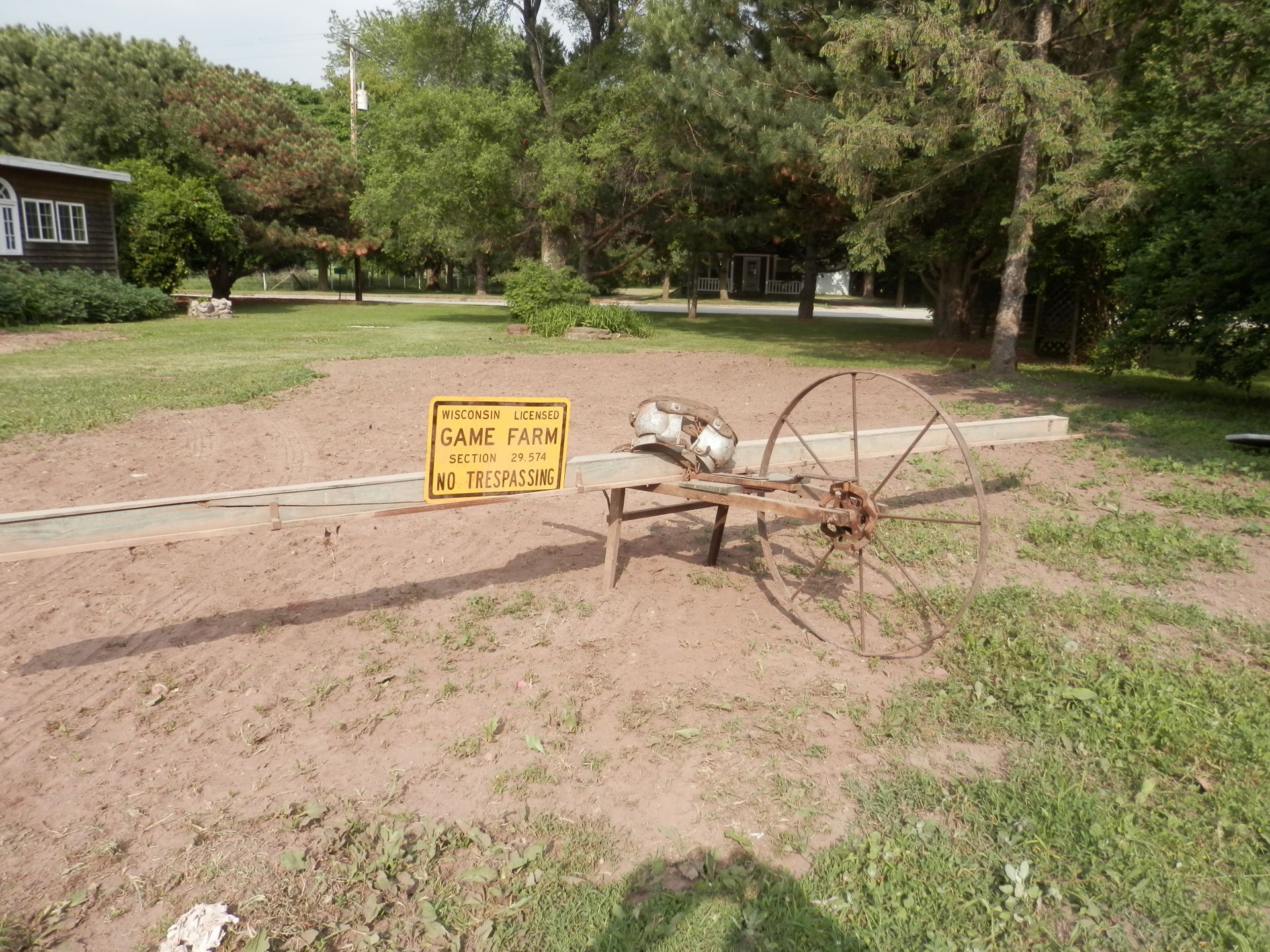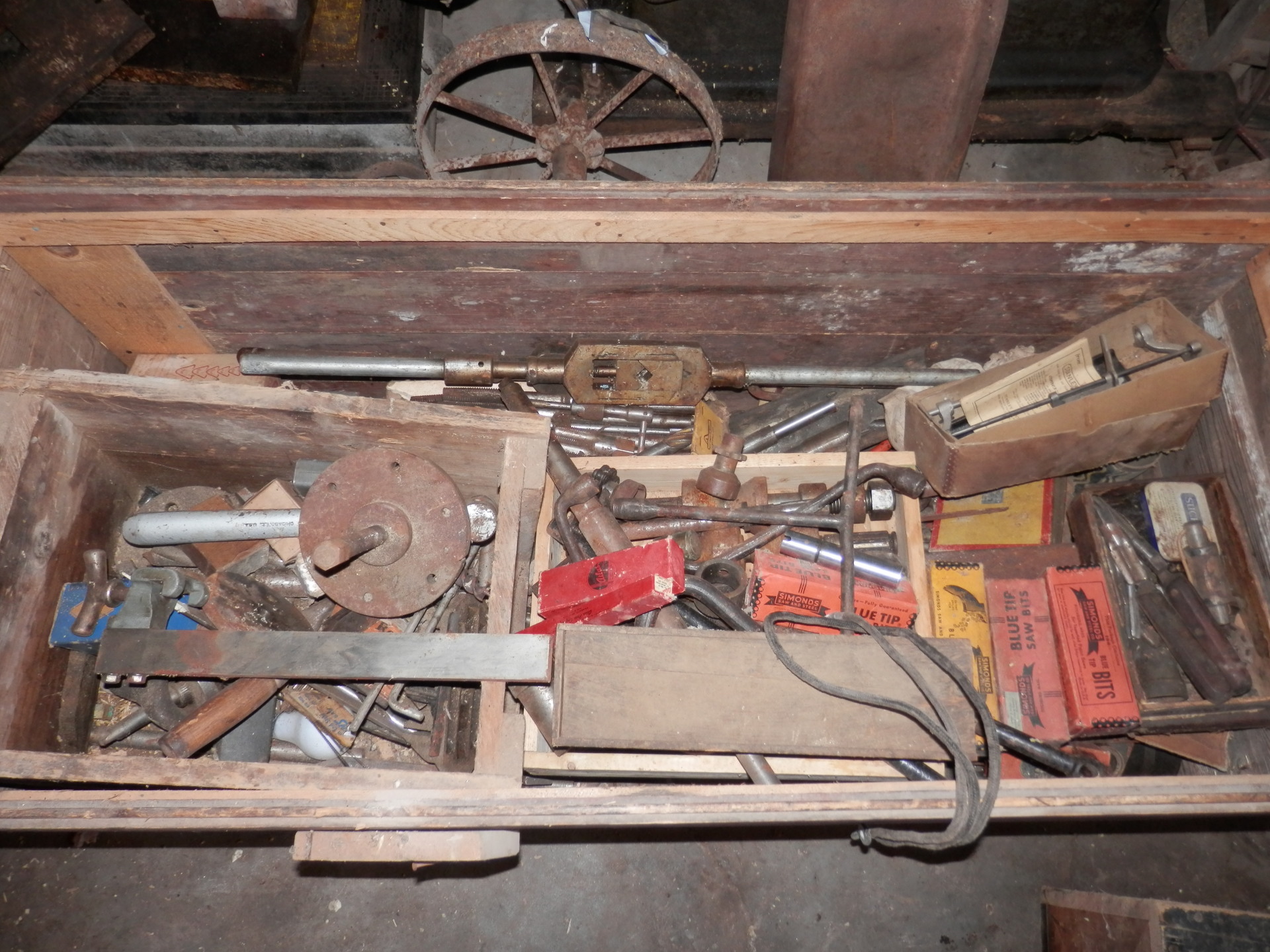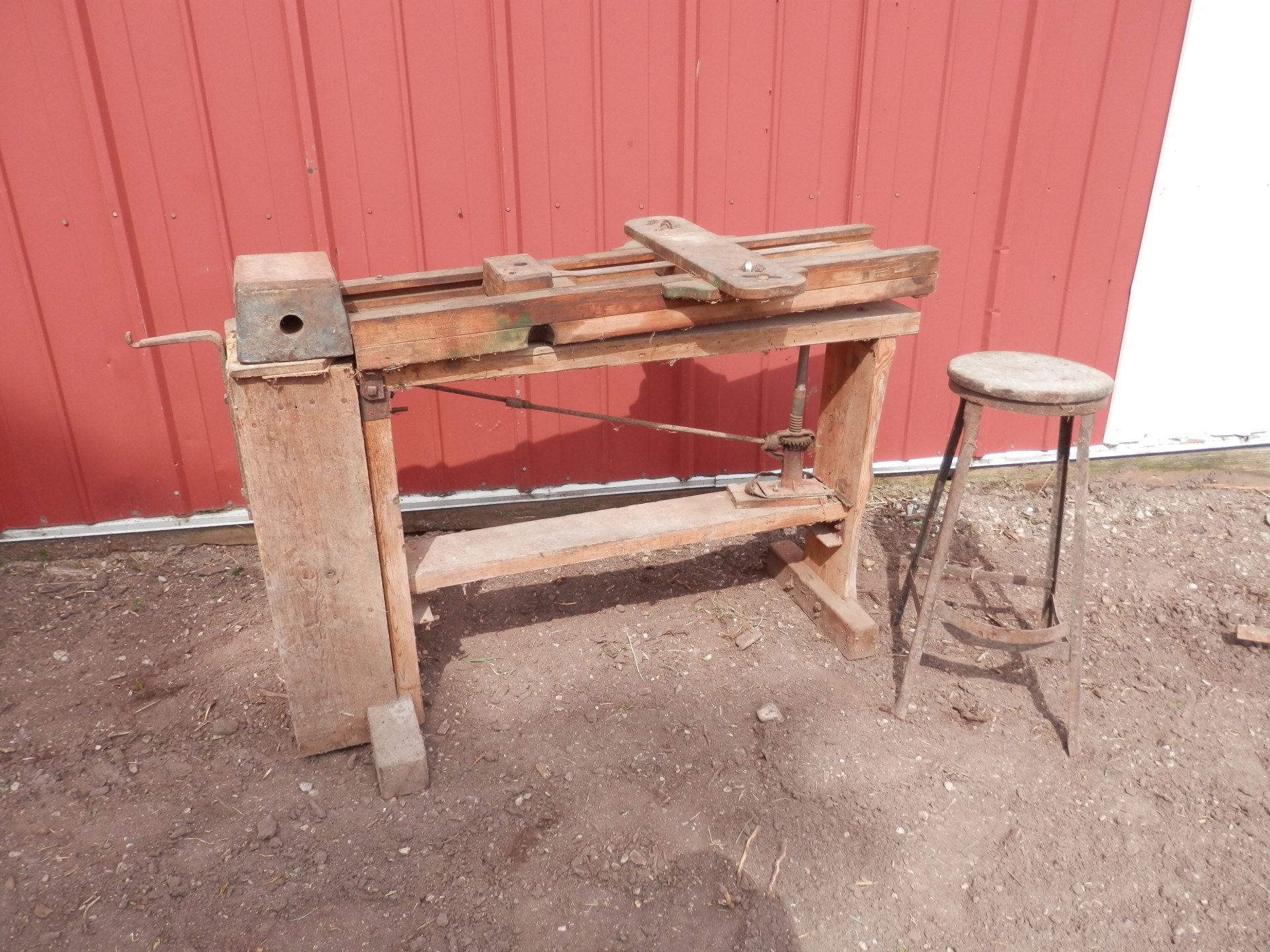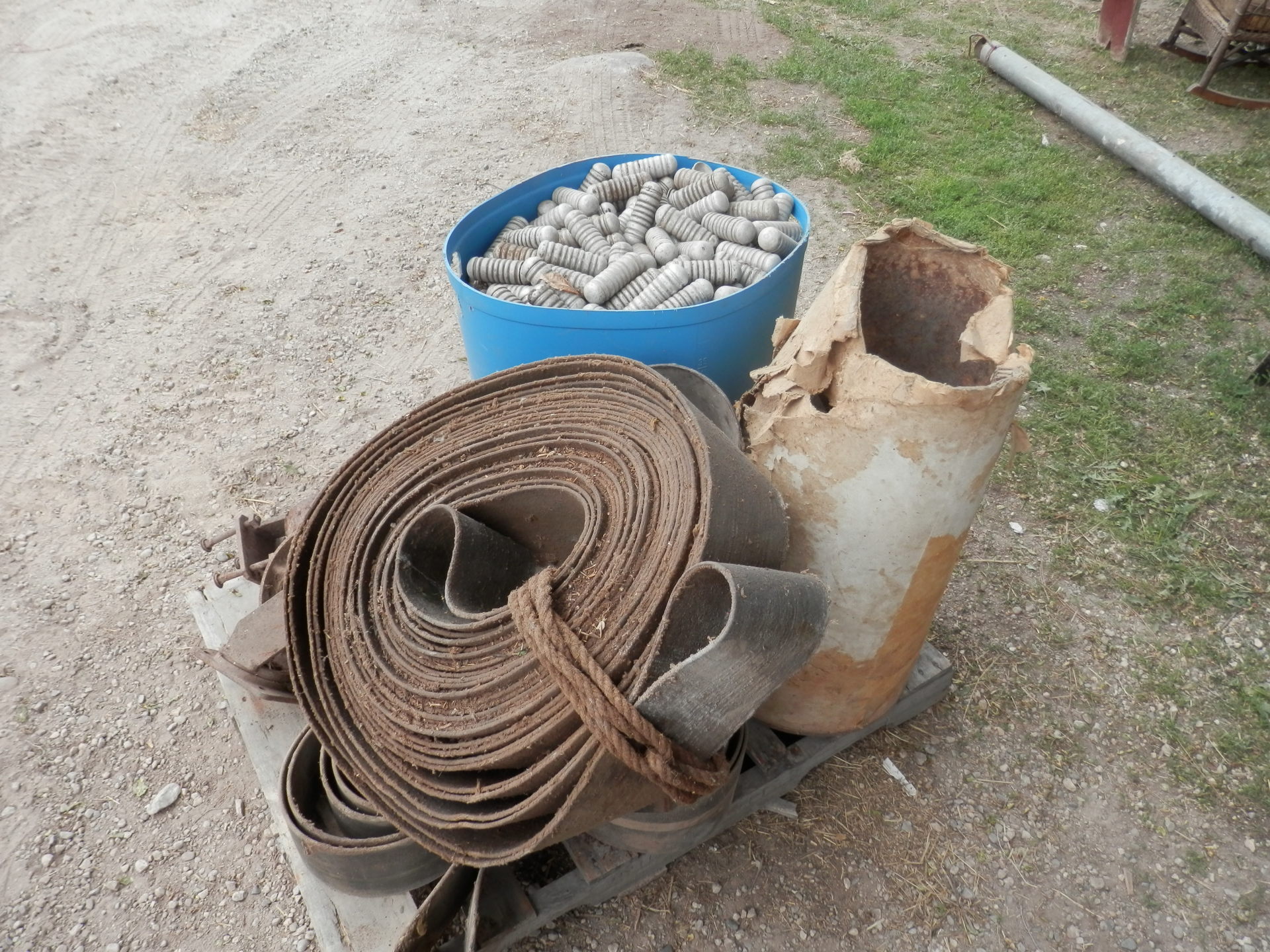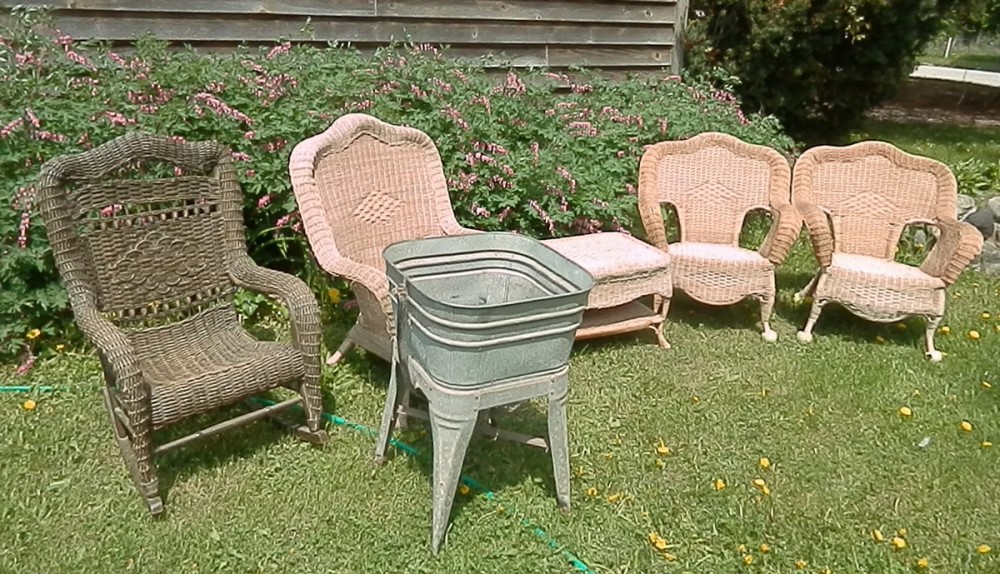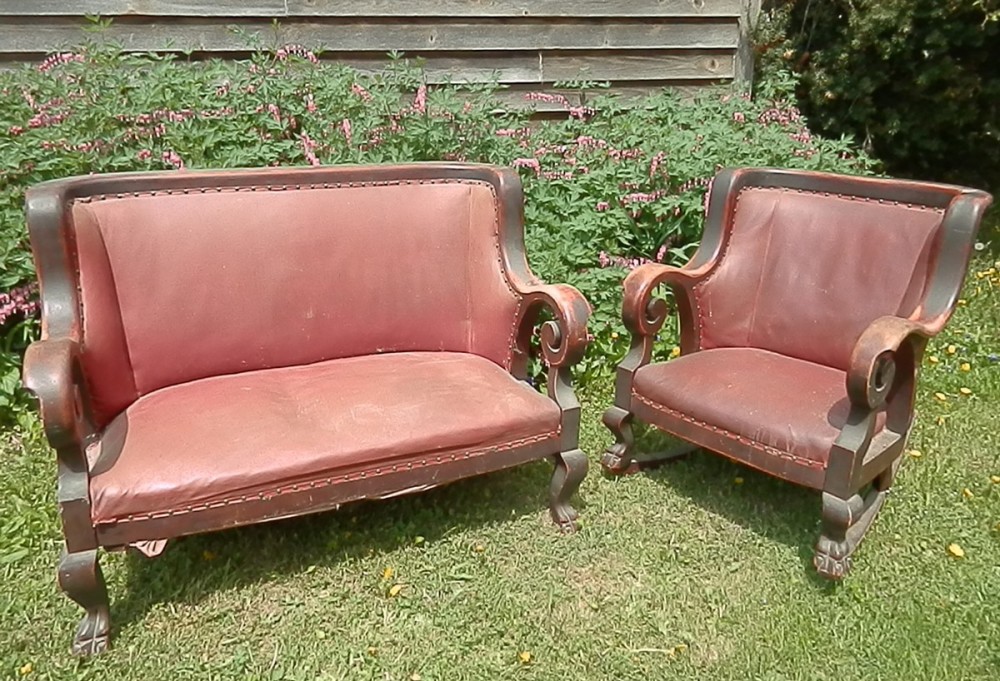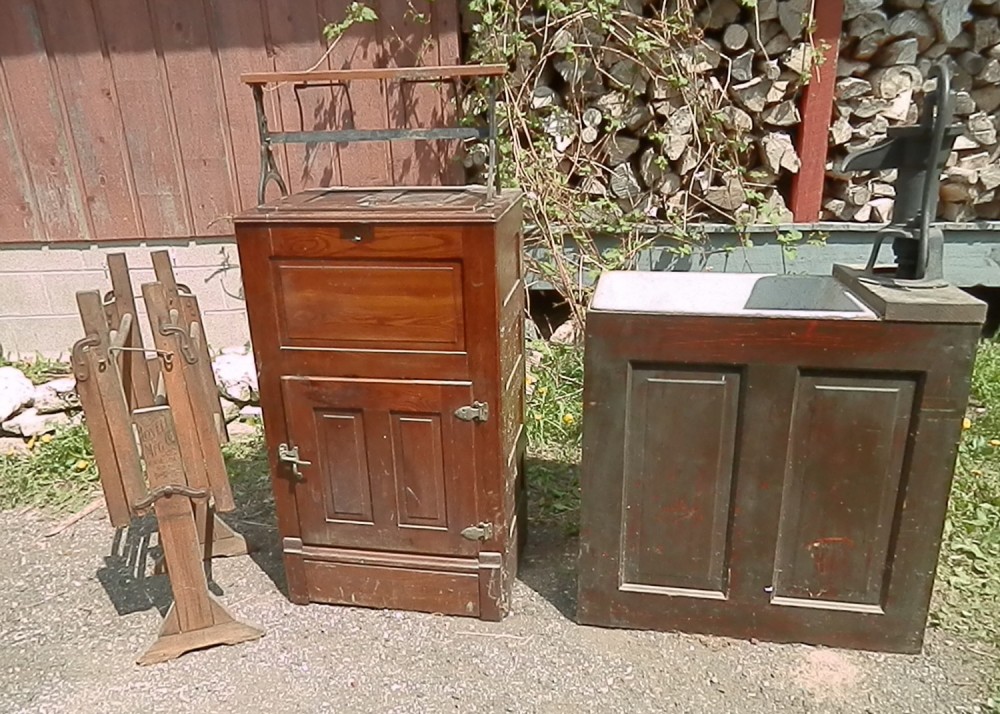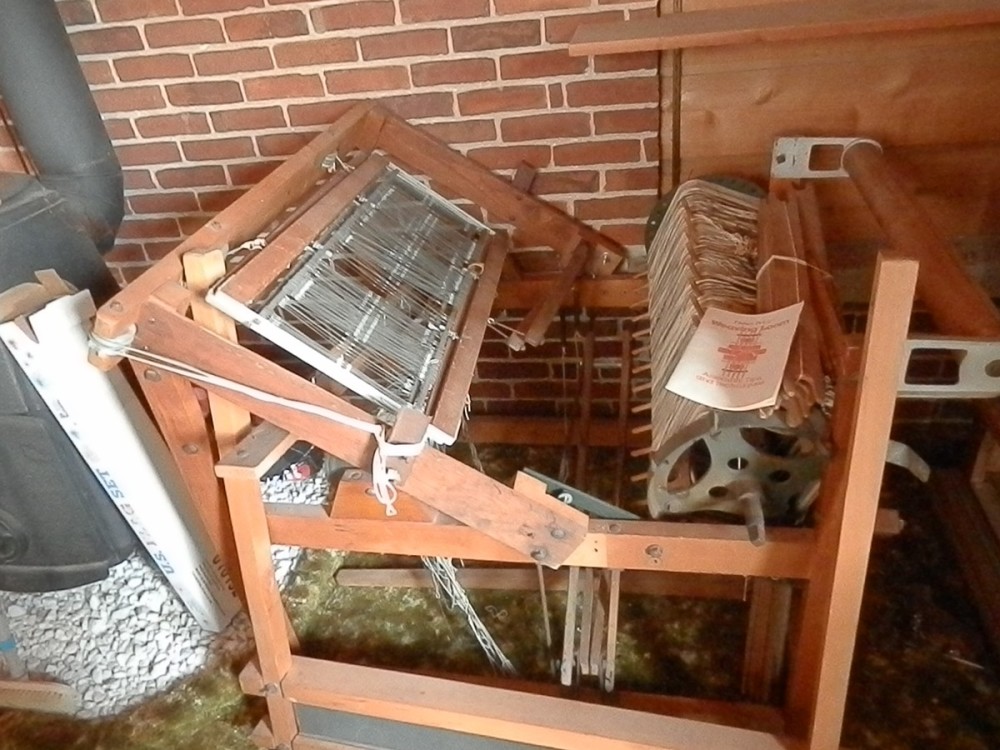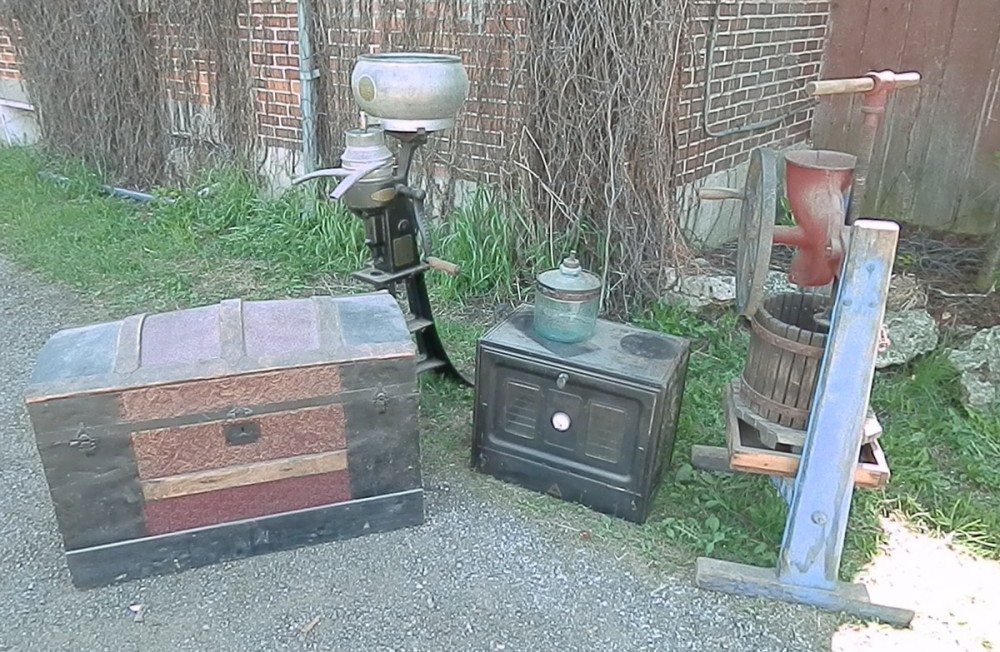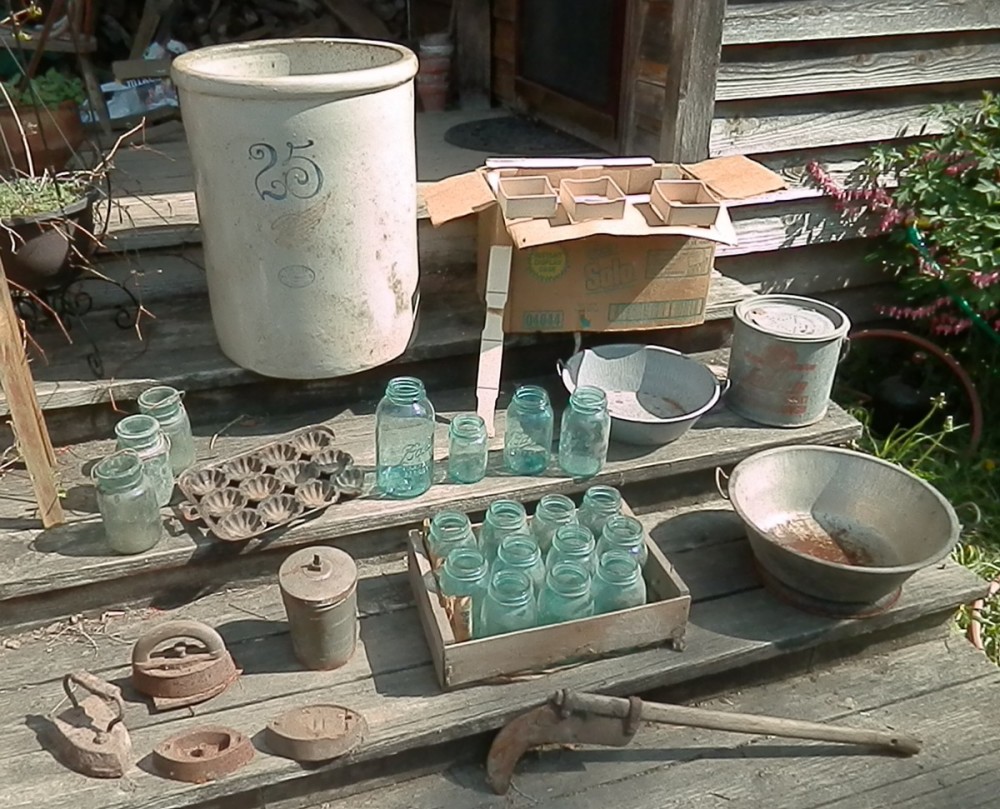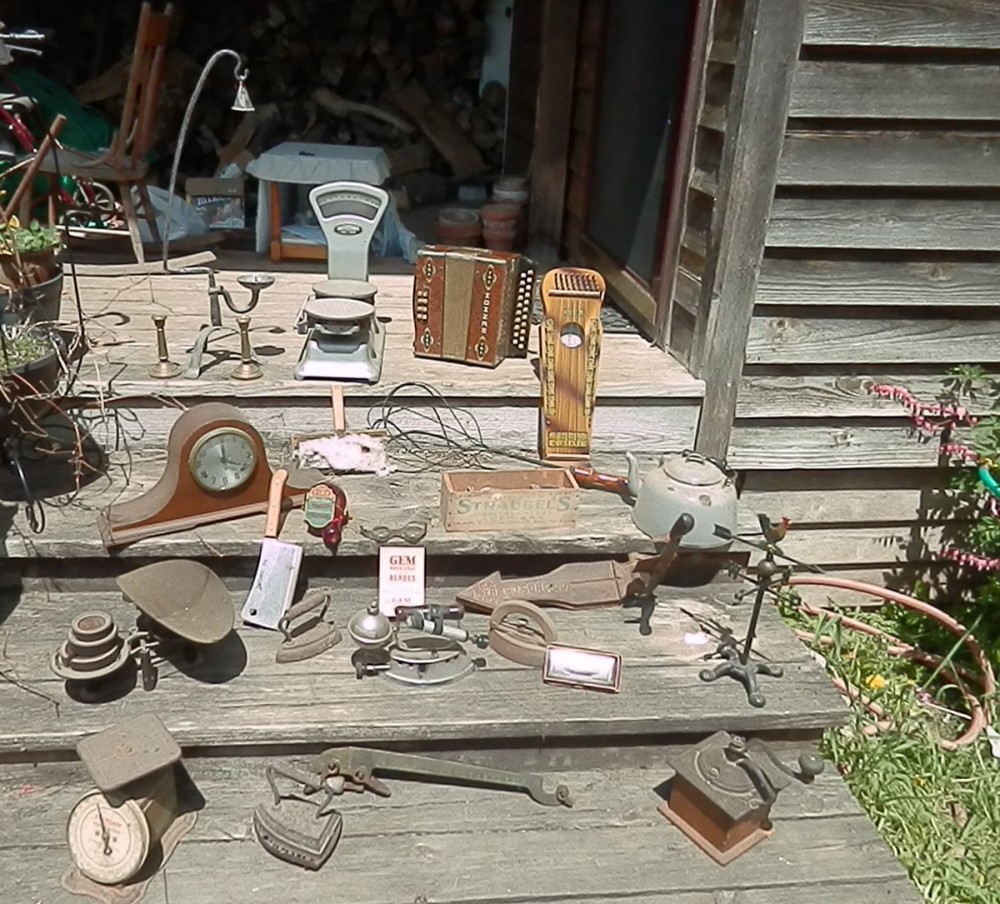 So much to see......so many places to be,

we know how busy summer can get, so--

if you can't make the auction, some larger items will be offered
live & online starting at 1 p.m. with Bidspotter.com
Check out the Bidspotter catalog and sign up to bid auction day!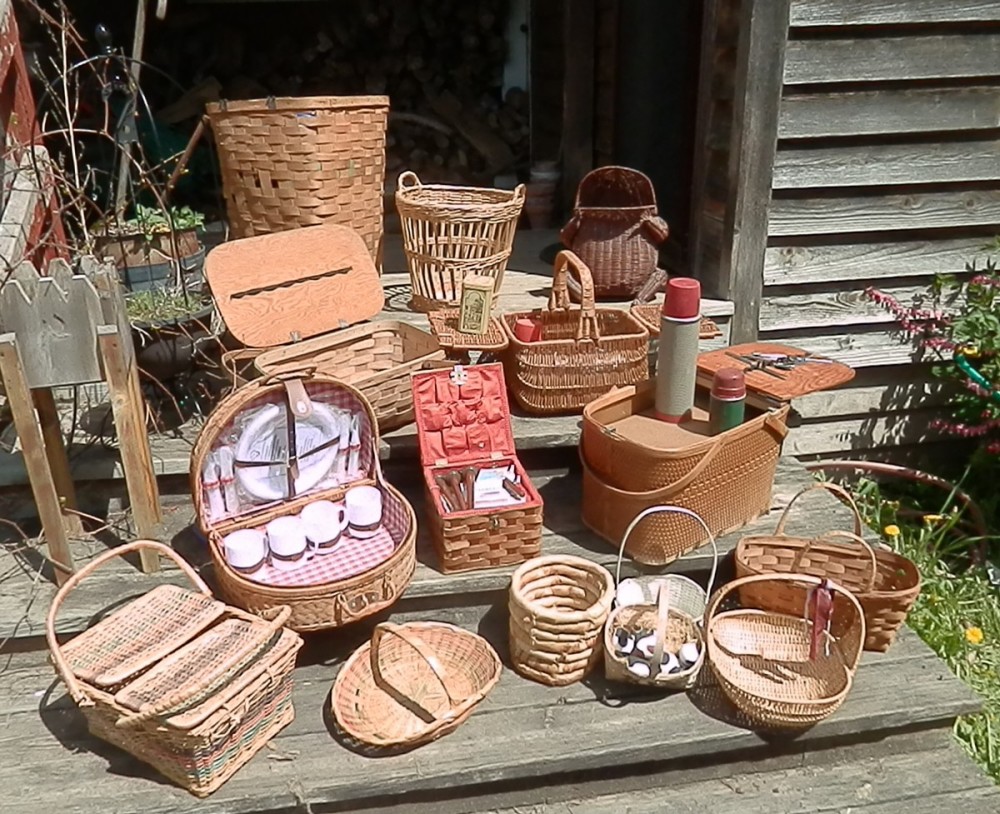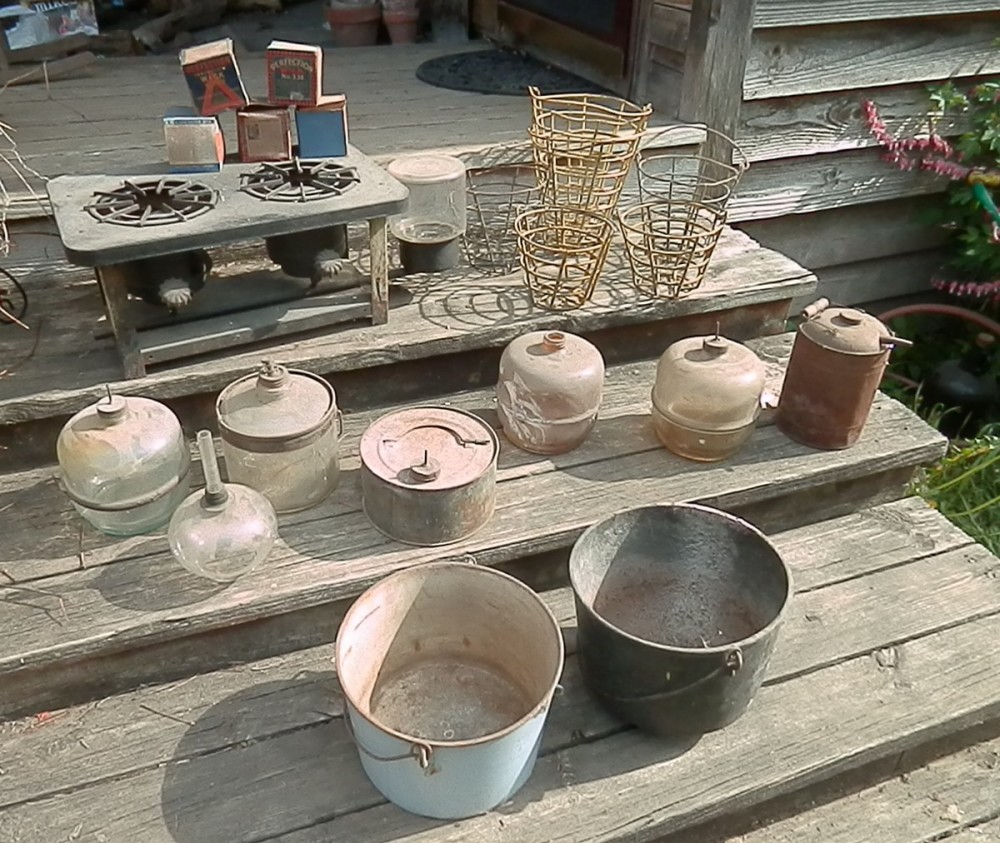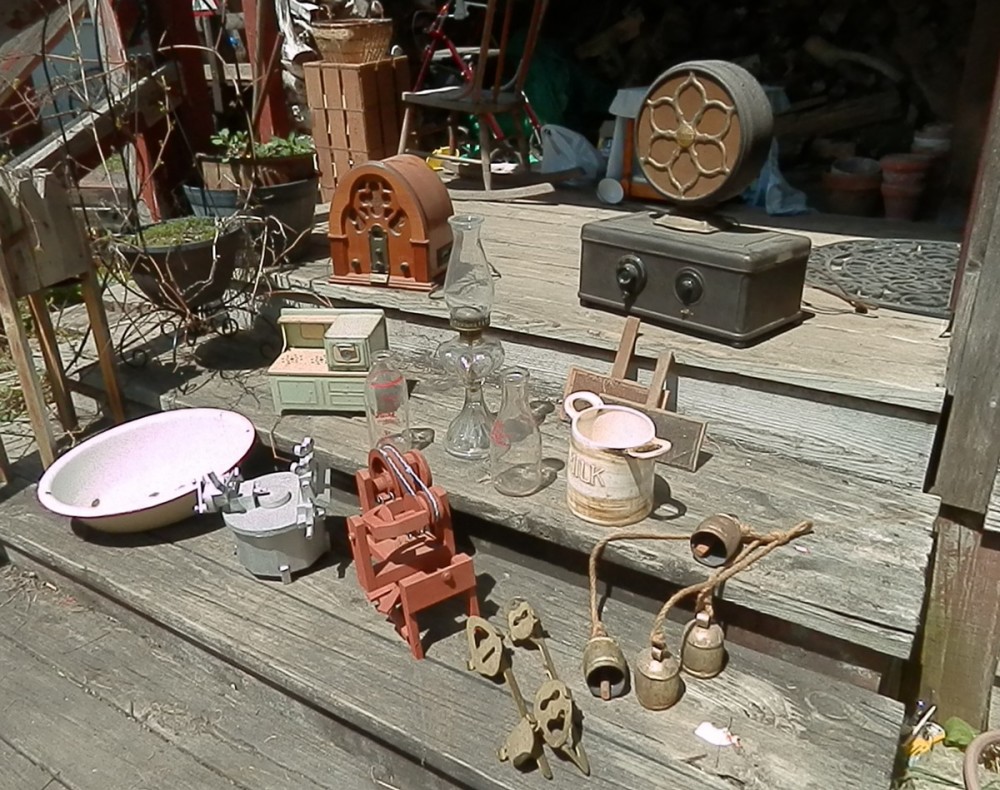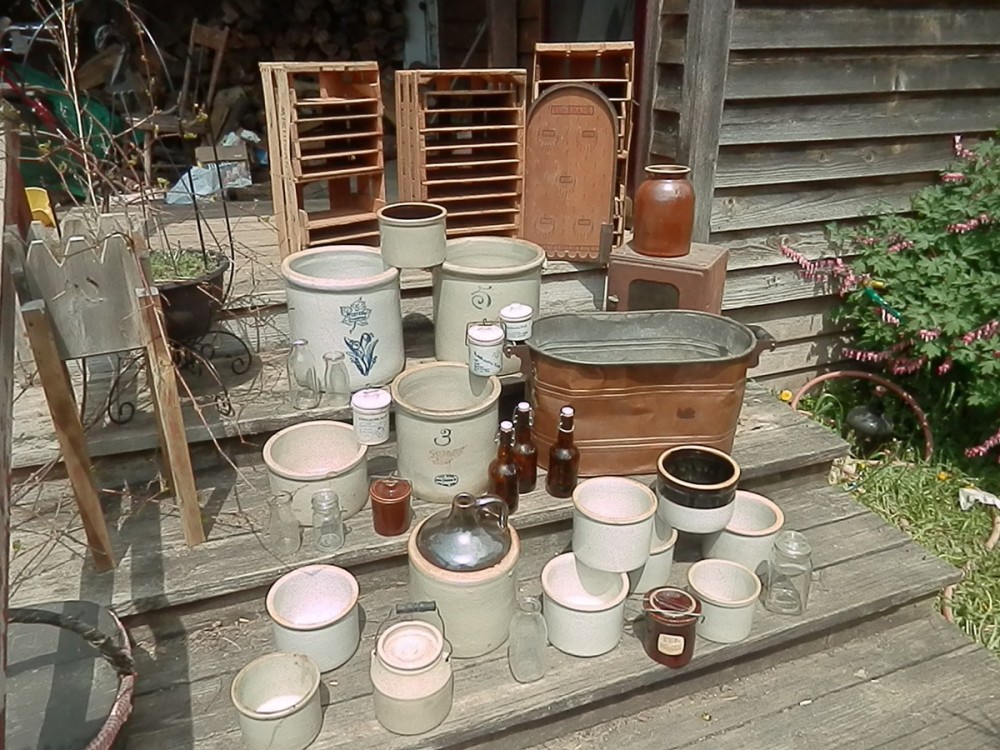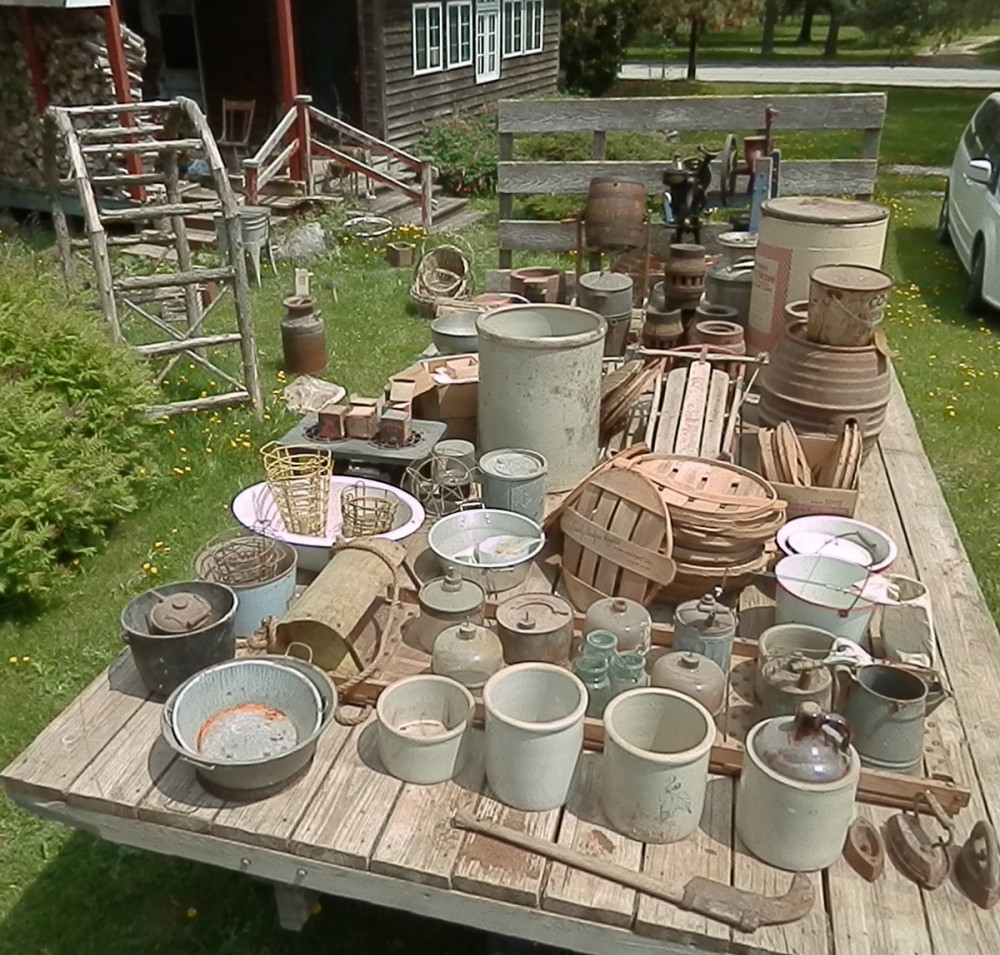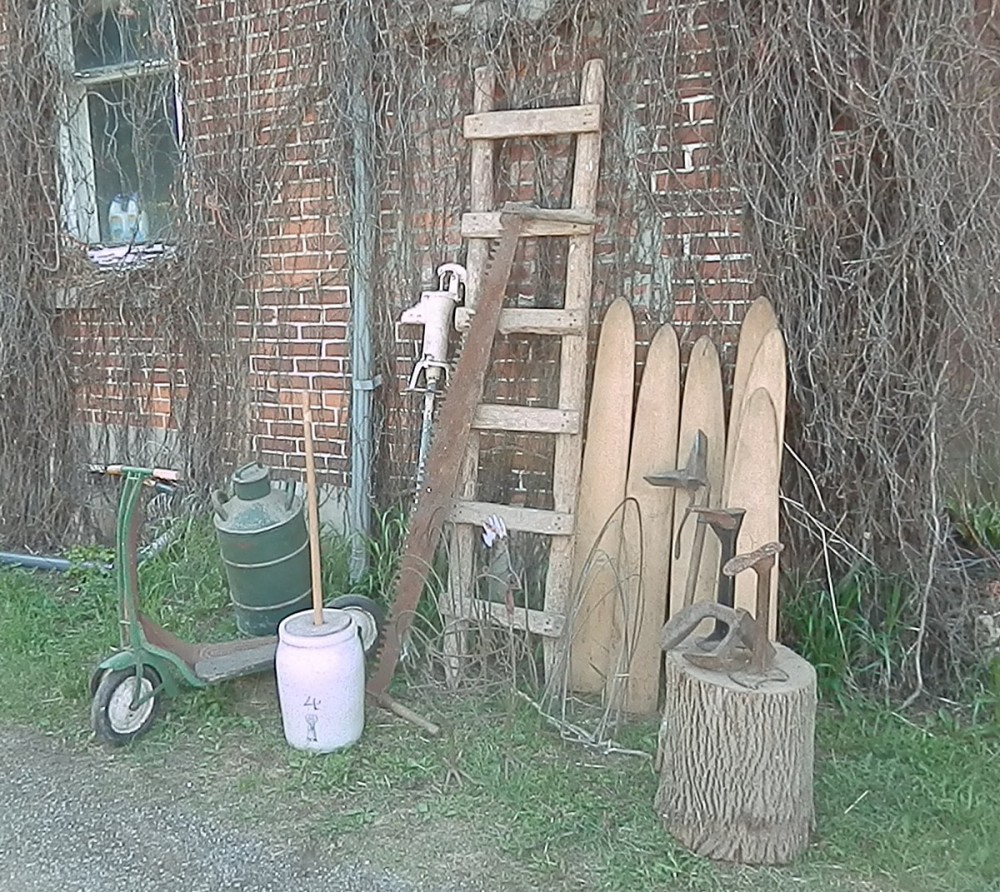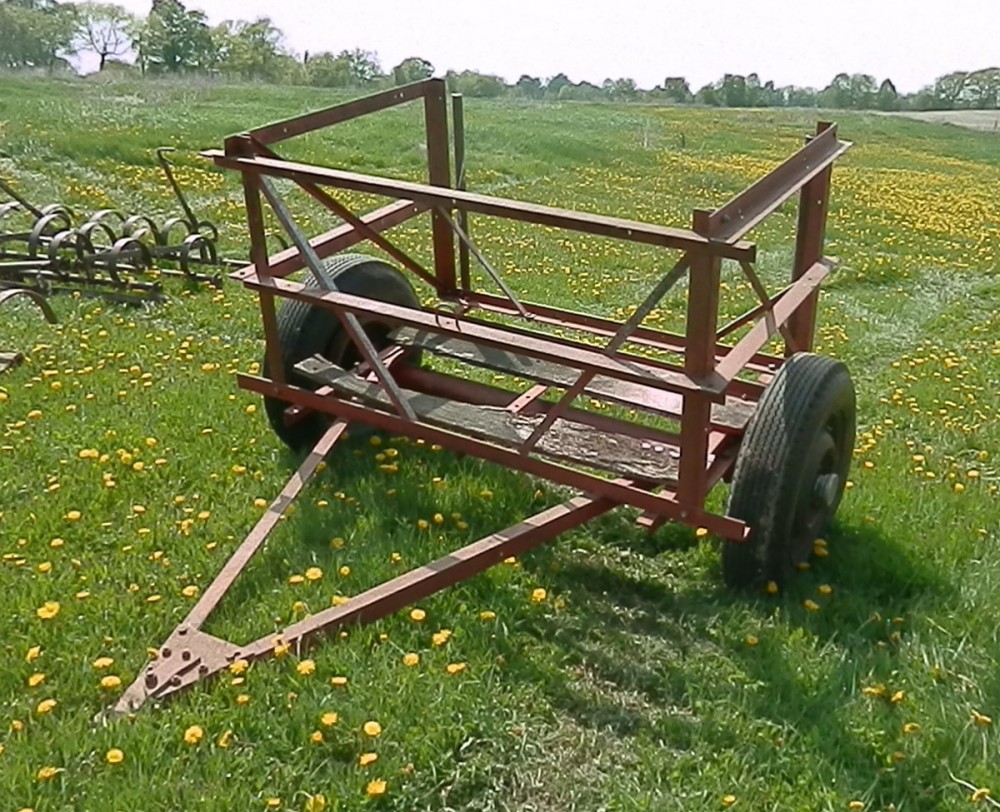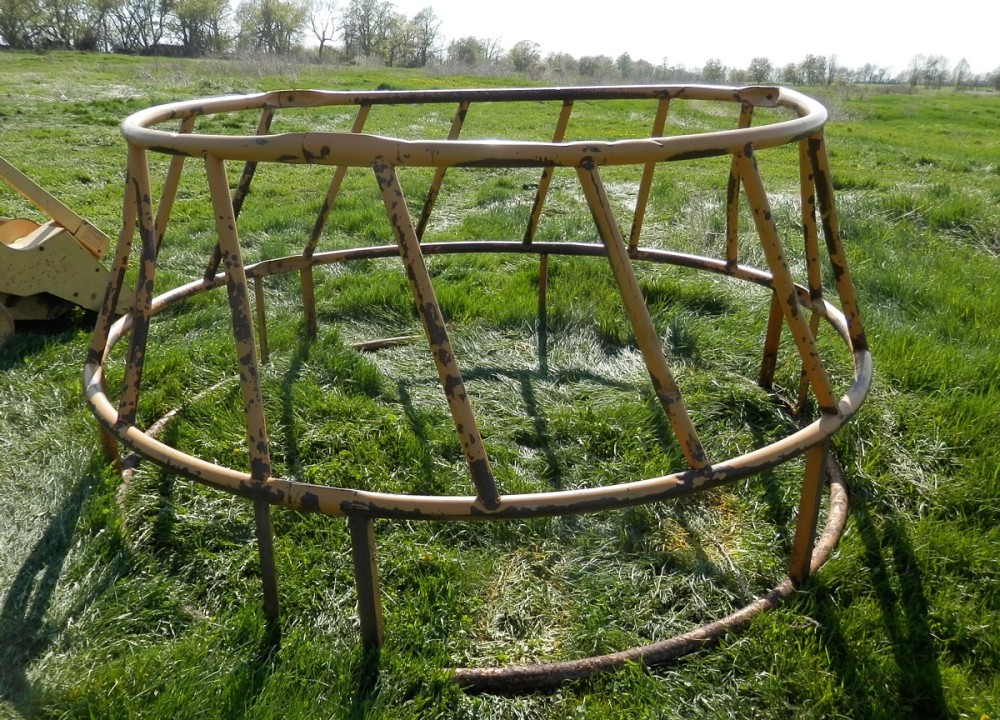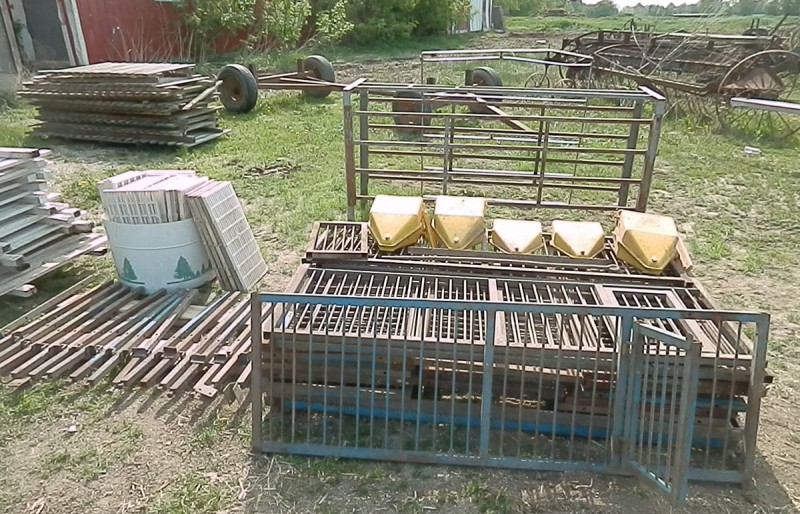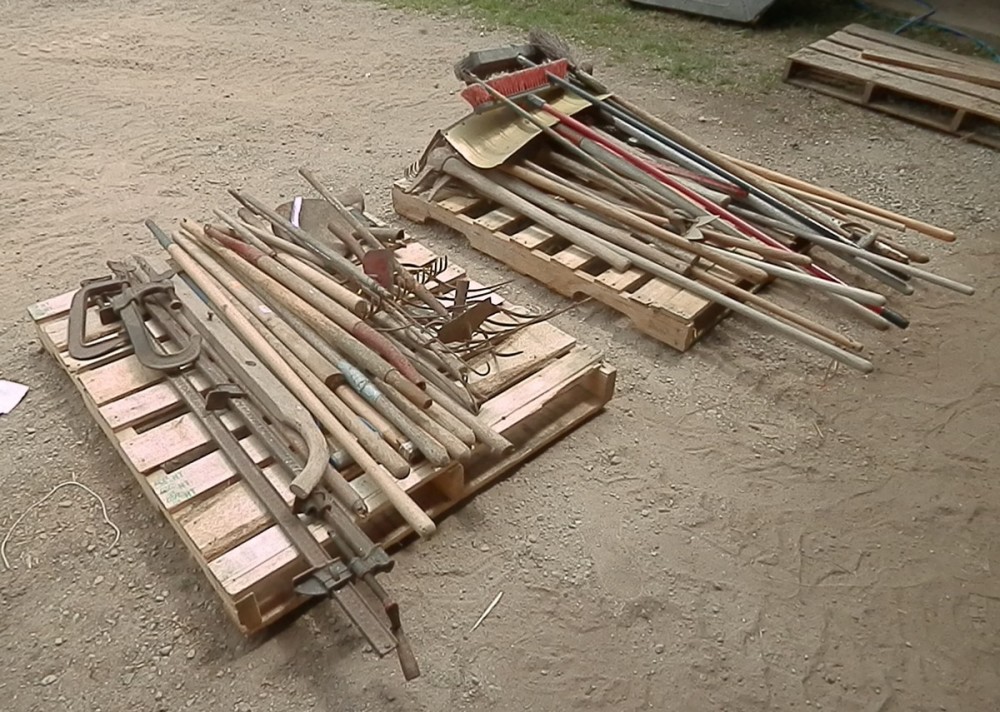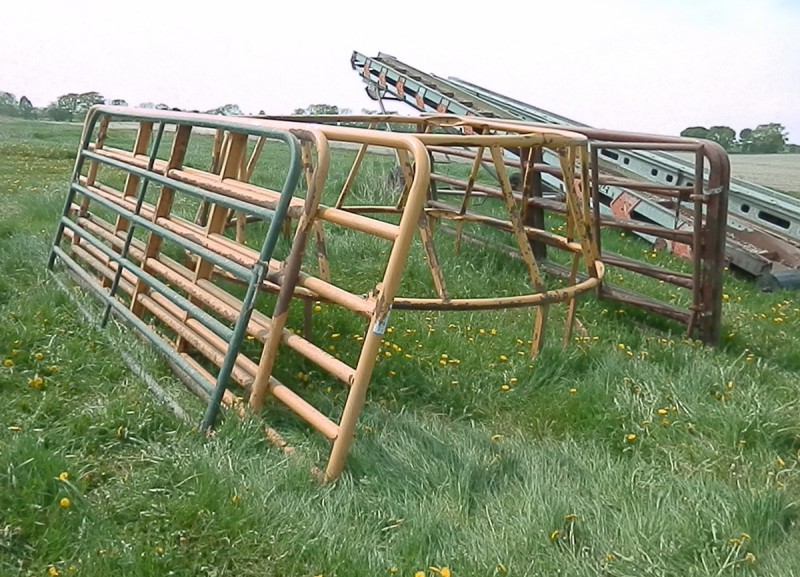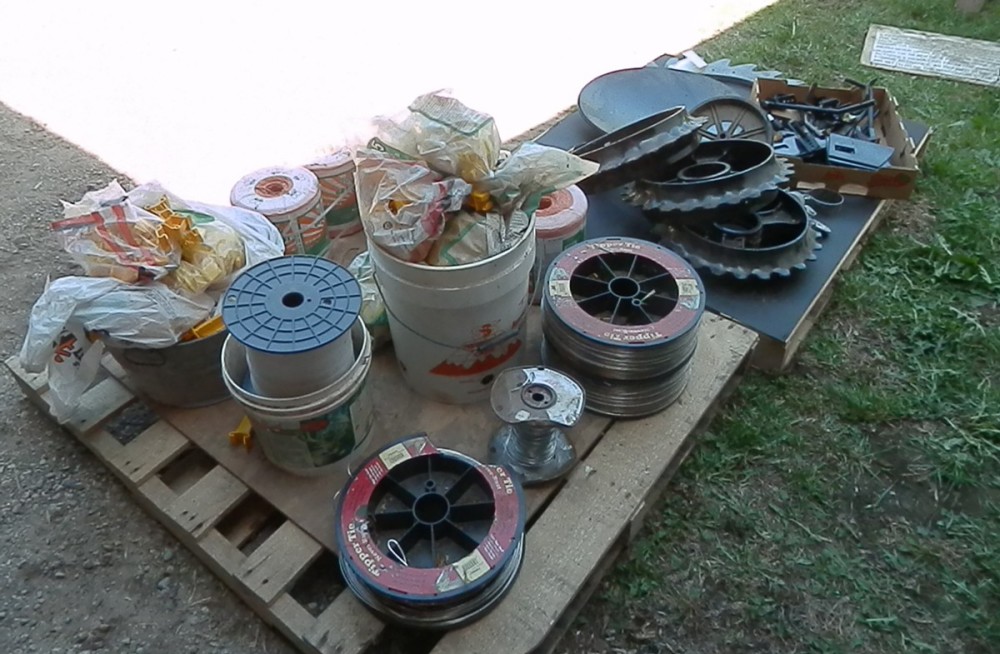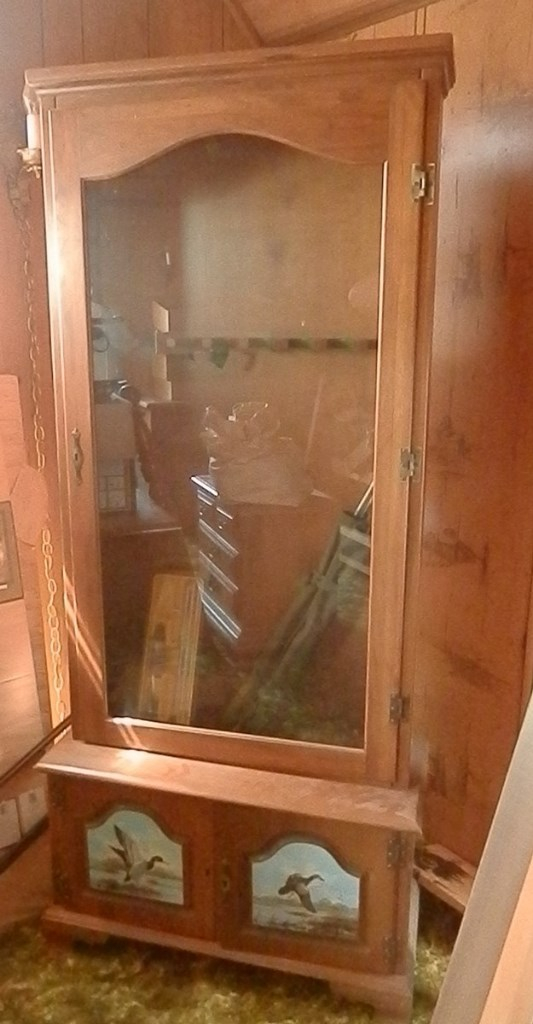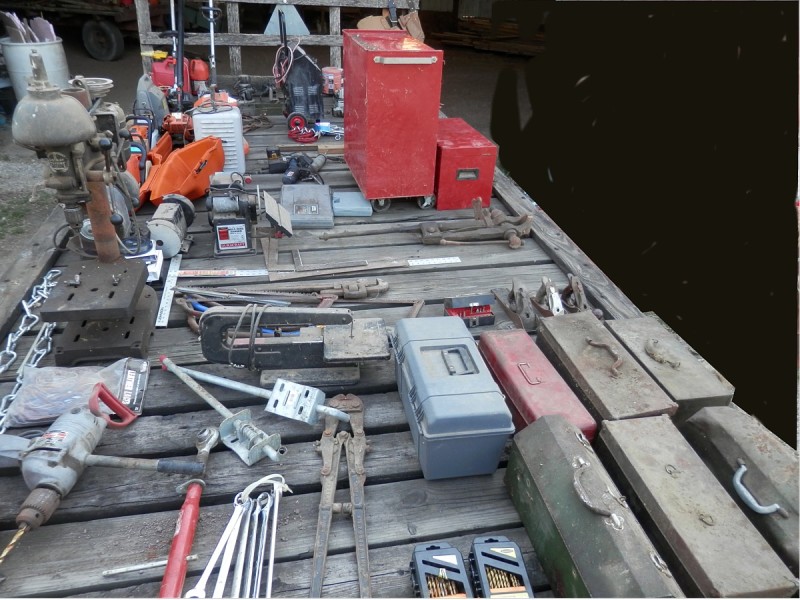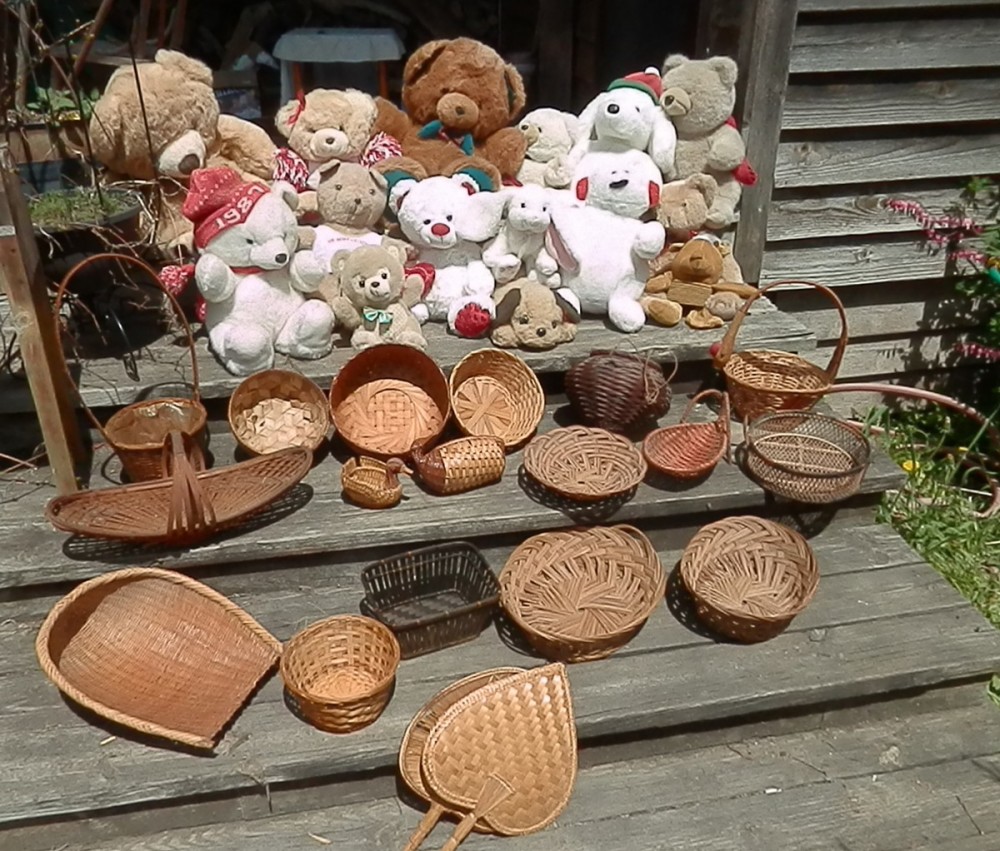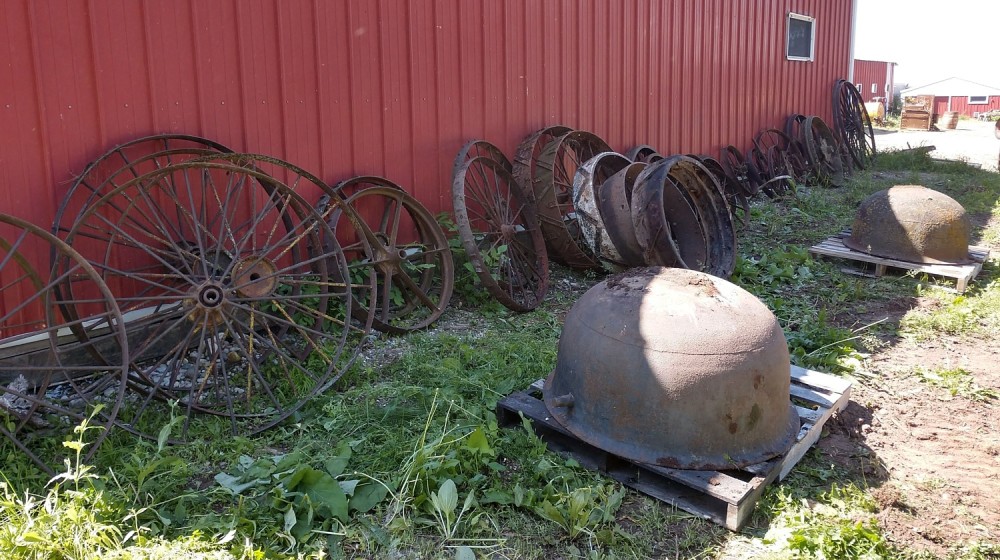 Something for everyone!
The Englebert Estate is interesting, diversified,

and truly holds a piece of Door County History!
Also available sale day will be Mary Ann's book of short
stories of growing up in Door County "Forever Yesterday, We Are Young"

We hope you'll be able to join us June 23rd!
Look for any new updates on Facebook!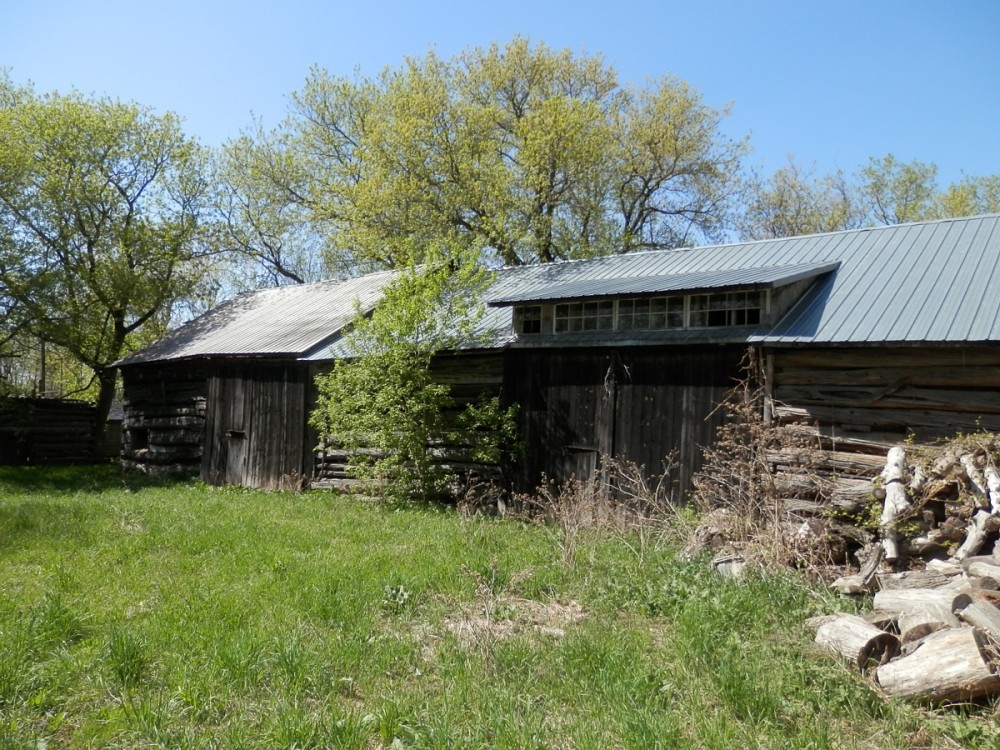 TERMS: Cash, good check or if unknown to auction company, bank letter of credit with state issued ID must accompany payment.   All items must be paid for at completion of sale and before removal. Number system will be used.  All items sell as is, where is.   All announcements sale day take precedence over all matters in print.
Not responsible for accidents or merchandise after it is sold.

A 5% buyers fee will be added to online purchases to cover online fees.
Miller 'N Co. Auctions & Appraisals, LLC   
Gregg Miller, Newton, WI     (920) 980-4999 or 980-4995    
Wisconsin Registered Auctioneer #488